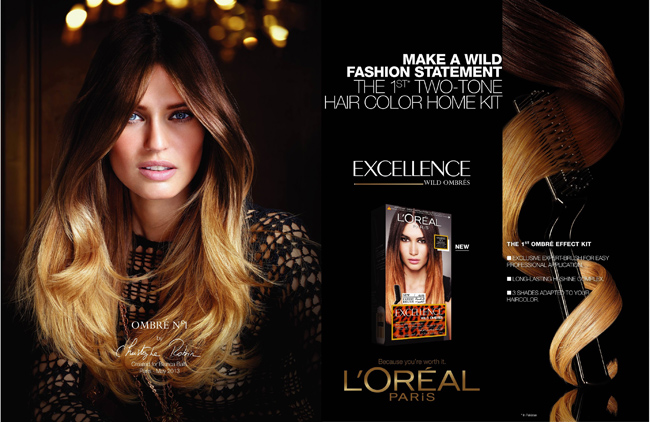 L'Oréal Paris, the world's leading beauty brand, has introduced the 1st ever revolutionary range of dip-dye hair color kits to the Pakistani market, Wild Ombré. The new kit helps achieve the Ombré hair look, which consists of dual colored hair with dark roots and light ends, and is fashion's 'IT' phenomena this season.
The Ombré trend has become the latest must-have accessory for an ultra high-fashion look, directly inspired by the world's brightest stars. L'Oréal Paris makes the Wild Ombré look super easy to achieve: With a specially designed brush applicator, the hair color is easy to apply and adapts to 3 distinct base shades: No. 1 for Light Brown to Dark Brown hair, No.2 for Dark Blonde to Medium Brown hair and No.3 for Blonde to Dark Blonde hair. The new hair color kit is available for PKR 1,200 at all leading retailers nationwide.
L'Oréal Paris Excellence Wild Ombrés combines lightening cream technology and a care complex with nutria-ceramides and Hi-Shine for customized results and lustrous, silky hair. It includes a patented expert brush that allows for easy, customizable Ombré looks from subtle and sexy to bold with the tools to only color parts of your hair that you desire. It is specifically designed to create the ultimate two tone look from the comfort of one's home and is as easy to apply as brushing one's hair.
Speaking about the launch of the new L'Oréal Paris Excellence Wild Ombrés color kit, General Manager (Consumer Products' Division) at L'Oréal Pakistan, Moazzam Ali Khan said, "We are proud to expand our diverse portfolio of beauty products available in Pakistan with the L'Oréal Paris Excellence Wild Ombrés hair color range. Ombré is currently the hottest trend in hair color right now and is the new fashion forward way to lighten your hair. Using our 100 Years of global expertise in Beauty, L'Oréal Paris has used innovation in modern hair color practices to make this fashionable and trendy look achievable through an easy to use hair color kit. It has never been easier to get the on-trend Ombré look yourself!"