The card features a nod to one of the most talked-about weddings in the country: Benazir Bhutto and Asif Ali Zardari's.
Celebrity weddings are always highly anticipated — but a wedding in one of Pakistan's most famous political dynasties kicks up the excitement a notch further.
The most recent such announcement has come from the PPP camp (no, it's not Bilawal who has been asked the marriage question multiple times); the party on Saturday formally announced that Bakhtawar Bhutto-Zardari, daughter of former prime minister Benazir Bhutto and former president Asif Ali Zardari, is set to be engaged.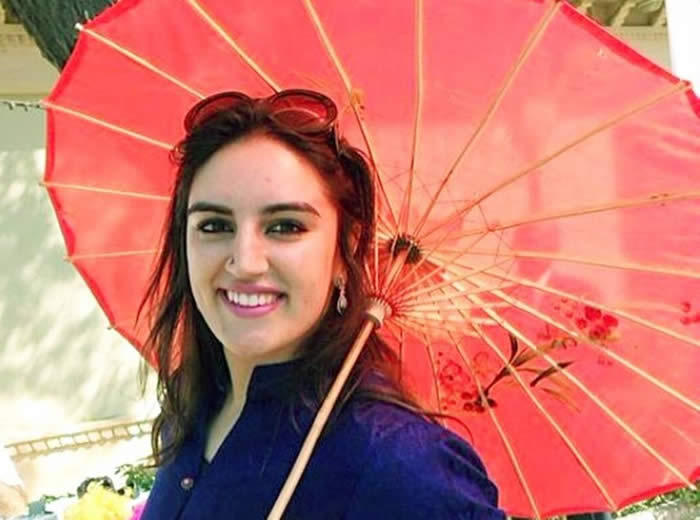 Here's what we know so far: Bakhtawar's beau is Mahmood Chaudhry, the engagement will take place at Bilawal House in Karachi, and the couple's Mehndi, scheduled for January 27, 2021, is also expected to be held at the same venue — and all attendees have been requested to email a scanned copy of their negative Covid-19 PCR test result 24 hours prior to the event.
But what caught our eye the most was the engagement's invitation card, which features a picture of Bakhtawar's parents on their wedding day. The late Benazir and her husband Zardari, both decked in white, are seen sharing a light moment on the day.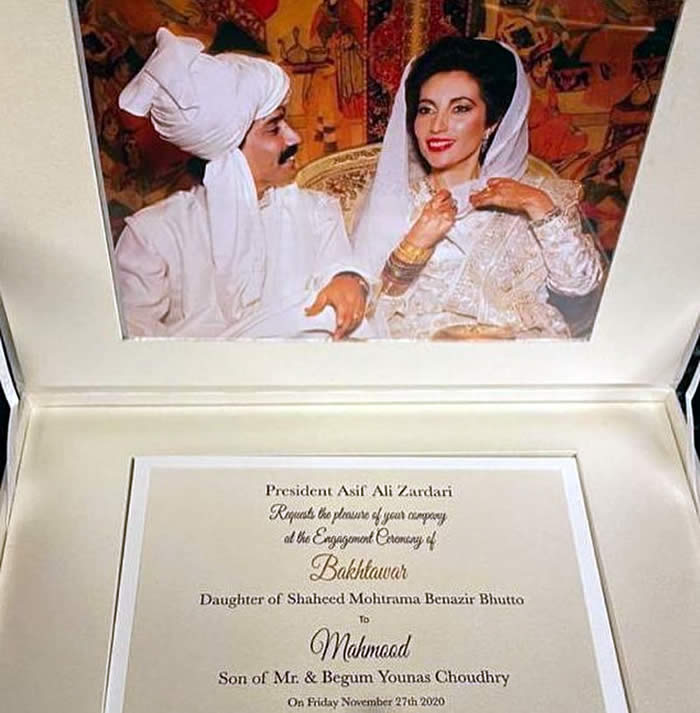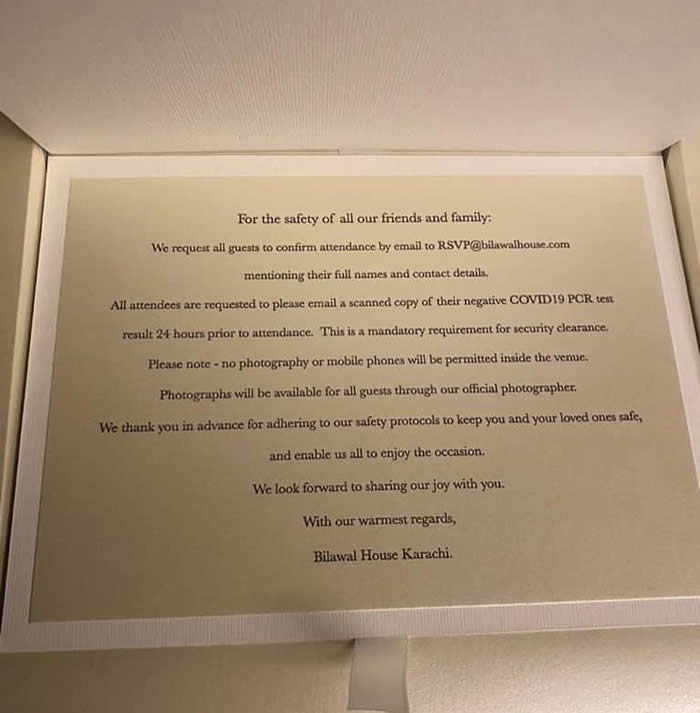 The wedding was anything anyone could talk about at the time. The Nikah ceremony took place amidst a huge crowd; it could easily be mistaken for a huge public meeting. Zardari's gift for Benazir was a heart-shaped ring, studded with diamonds and sapphires.
The announcement of Bakhtawar's nuptials has us going down memory lane and with the help of an article from Dawn's archives, revisiting one of the most talked-about weddings in the country.
The proposal
It all began in London almost a year before the marriage. On July 29, 1987, Begum Nusrat Bhutto received a formal proposal by Zardari for Benazir Bhutto, led by Zardari's stepmother, Begum Zarin. Zardari was studying at the London School of Economics and intended to take up a housing business after completing his studies.
While in London, he occasionally visited Begum Nusrat Bhutto during Benazir's exile days; during these visits, Zardari earned Begum Bhutto's confidence.
Begum Bhutto clearly told the Zardari family that since Benazir was in politics, she would continue doing so and no hurdles should ever be created for her. Once the proposal was accepted, there was no hassle for the ceremony. Benazir asked her mother not to arrange dowry. When the probable date for marriage was fixed, Benazir asked to postpone it because of violence in Karachi. The date was then fixed to Dec 17, 1987.
An arranged marriage
According to Benazir, she was introduced to Asif Ali Zardari only five days before agreeing to the proposal.
On Feb 17, 1987, a huge marriage ceremony was organised in Karachi that bound two influential families of the country into a relationship. Benazir Bhutto had married Asif Ali Zardari, son of Hakim Ali Zardari, a businessman and landowner.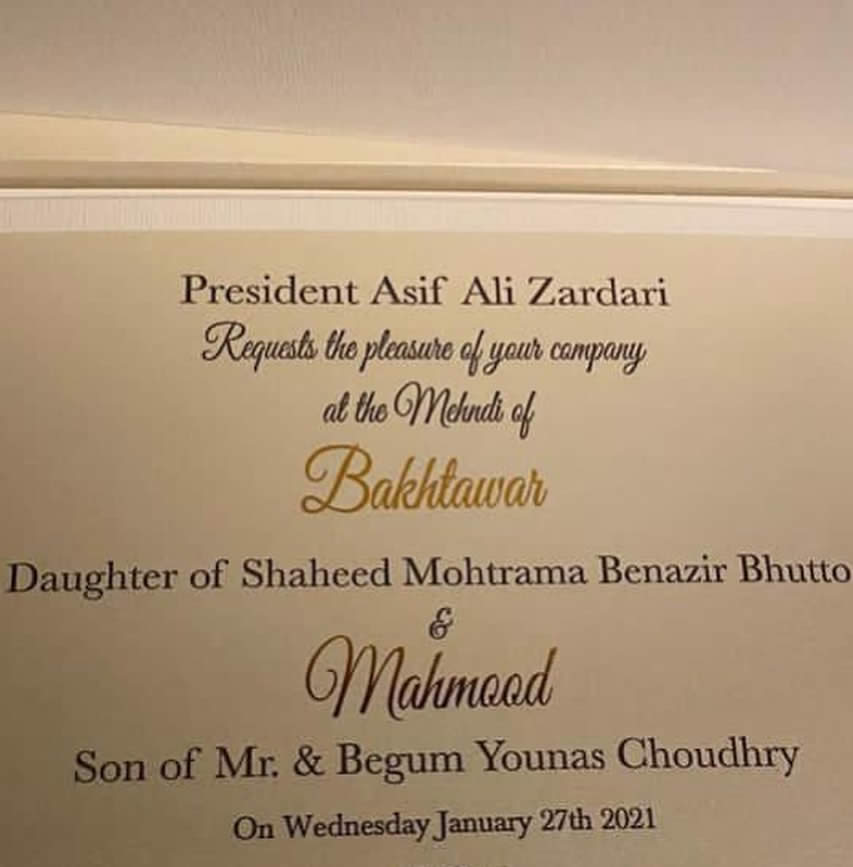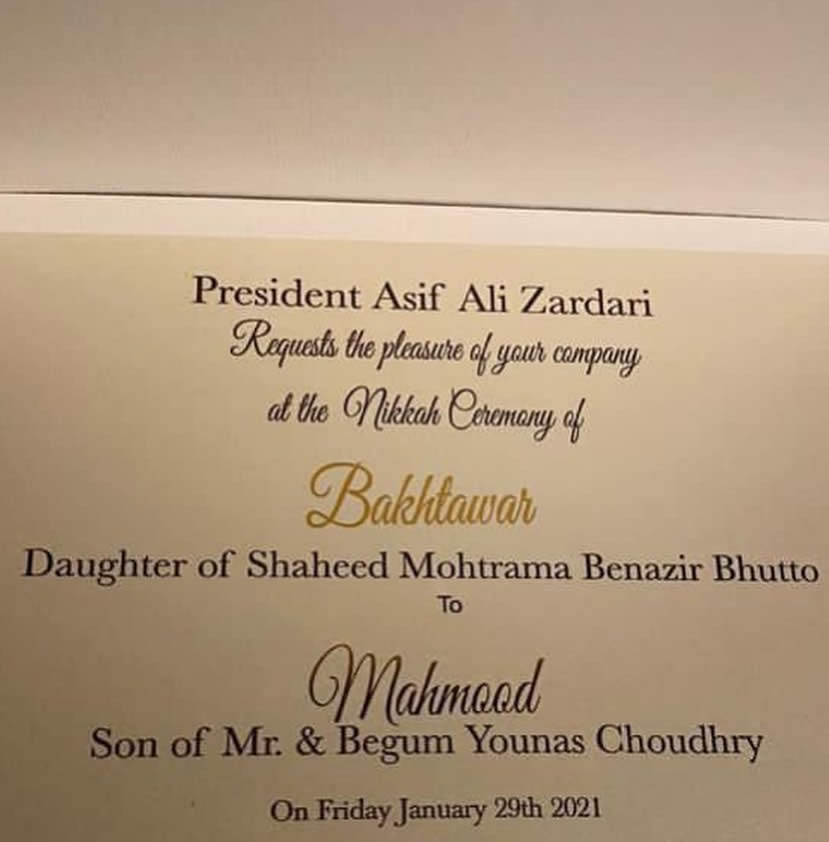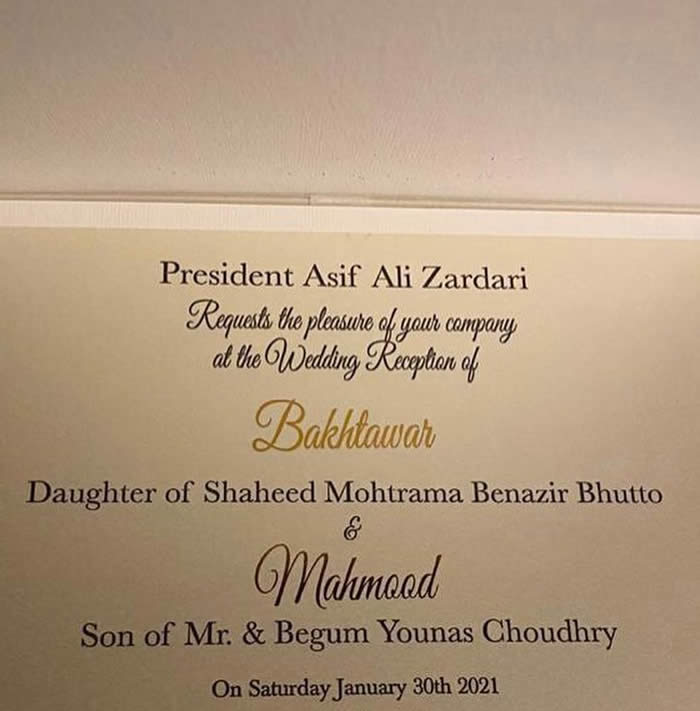 Benazir wanted to make it a historic event. That is why she refused to make it an occasion of a few people gathered in a five-star hotel. Kikri Ground in the heart of Karachi's PPP stronghold of Lyari was selected. There were no formal invitations while members from both families as well as party supporters attended the occasion in their numbers.
The dress
Benazir was clad in a white silk tunic with gold embroidery and Zardari wore a traditional Baloch turban and cream-colour traditional trousers.
According to a post on social media by designer Faiza Samee, the ensemble was based on "an old Art Deco-inspired saari of Lady Haroon (Begum Nusrat Khanum) made in Bombay during the 1930s".
"It featured 'Douk Ka Kaam' which is raised metallic embroidery and the perforations in the border were adorned with 'Katab ka Kaam' much alike Nottingham lace, this effect was created by weaving tilla into the very lattice of textile itself."
Whether any of Bakhtawar's dresses will include a nod to her late mother's attire is something we'll just have to wait and find out.