Aamir Liaquat Hussain is a Pakistani television host and politician who has been a member of the National Assembly of Pakistan since August 2018. 
Leading host and PTI leader Dr. Amir Liaquat Hussain said in a recent statement that his house was broken due to a woman claiming to be his third wife after that social media users have become embroiled in controversy. Read Also: Aamir Liaquat Is Fired From News Channel, Guilty For Vulgar Talks With Pregnant Women Dr. Amir Liaquat Hussain has released a video message on his verified Instagram account in which he reacted strongly to the criticism leveled at him.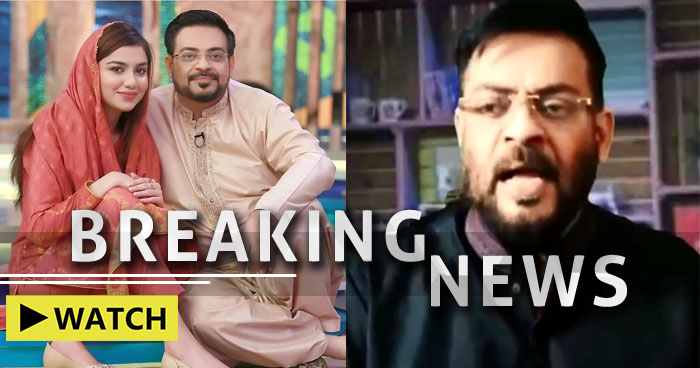 In his video message, Dr. Amir Liaquat Hussain said, "I released this video message after I was very upset because I was slandered because of a woman. I was criticized but I remained silent."
"My house broke down because of the criticism from that woman and the people. I was called bad, but I still persevered," he said.
Dr. Amir Liaquat Hussain said, "Now I have run out of patience and I have filed a case against this woman in the Supreme Court and now the court will decide her."
"I will present all the evidence in court, get a DNA report and then the truth will come out in front of everyone," he said.
Read Also:
OMG! Aamir Liaquat's Third Wife Is At Amir Liaquat House
The PTI leader said, "This woman not only insulted me but also used wrong words for our country, people, and the whole party while I have all the phone calls of that woman's father and I present them all in court." will do.'
Dr. Amir Liaquat Hussain further said that "I will definitely raise this question before the Chief Justice in the court and will also remove all the accusations leveled against me."
On the other hand, after this statement of Aamir Liaquat, social media users have become very controversial. Users are commenting on the post of the PTI leader and asking, "Have Aamir Liaquat and Tuba also got divorced?"
However, so far no statement has been issued by Dr. Amir Liaquat Hussain and his second wife Syeda Tuba Amir in this regard. In addition, the two have been following each other on Instagram so far.
Read Also:
Aamir Liaquat First Wife & Daughter Response On 2nd Marriage
It may be recalled that a woman named Haniya had recently claimed to be Aamir Liaquat's third wife. This news had caused a wave of concern among Aamir Liaquat's fans. After this news, Dr. Amir Liaquat Hussain had denied the news of his third marriage with a woman named Haniya.
It should be noted that last year Amir Liaquat Hussain's ex-wife Syeda Bushra Iqbal had confirmed the divorce. Amir Liaquat has got married to Tuba Amir for the second time.