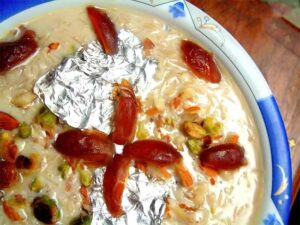 Eid-ul-fitr is known as a feast of breaking the fast for all thirty days during Ramadan. It's a gift for believers. One of the most significant religious holidays celebrated by Muslims all over the world and it marks the end of the holy month of fasting.
People make special embroidered clothes for all three days of Eid and have their days booked with guests and parties. It is a time when families come together and greet each other with love and affection. When we talk about family gatherings then food is one important aspect of this festival. This Eid is also known as the Sugar Feast and the reasons being that many sweet dishes are made to enjoy the sweetness of the day.
Since women enjoy cooking, I have here a simplified menu for the favourite Eid dishes for all three days.
Day 1.
Sheer Korma is the essence of this day. All my life, I have seen my mom and aunts going overboard with their cooking skills just to make the best sheer korma ever. A little simplified recipe here is:
Ingredients:
20 cloves Whole Cardamom Pods
1/2 teaspoon Cardamom Powder
1 cup Almond, Cashews and Pistachios, slivered
1/2 cup Light Brown Raisins
Procedure:
Fry the vermicelli in the butter, until well browned. By the time it gets cooked, all the butter will get dried. Add in 1/4 cup sugar and mix well. Cook for a few seconds and then add in the whole milk, cup by cup, stirring constantly. Bring it to a boil. Now, add raisins, whole cardamom, and 1/2 cup almonds, cashews and pistachios, along with the remaining sugar.
Reduce the heat and thicken the sheer korma to three-strand consistency, letting the milk boil until it is halved. The vermicelli must be very soft by now. Quickly add in the rose water, charoli and fresh cream and let it simmer, covered, for 10 minutes.
Day 2
Badami phirni is a sweet dish that is mostly liked by people. A simplified way of making it is as follows.
Ingredients:
1/4th cup blanched Almonds (sliced)
1 tsp green Cardamom (crushed)
Silver or Gold Foil Paper (varak)
Procedure:
Soak rice in water for a few hours, then drain the water and grind rice into a smooth paste. In a non-stick saucepan, boil milk. After it comes to a boil, reduce the heat to simmer. Over a moderately low heat, add rice, sugar and cardamom to the milk and stir constantly, till it turns thick.
Remove from heat and add almonds. Put in serving bowl and let it come down to room temperature. Now, put in the fridge and chill. Garnish with silver or gold foil paper (varak) and serve.
Day 3
On this day the sweetness can be catered with cakes, pastries and Halwas. Besides the sweet dishes that are made on these three days people like making Biryani and korma to serve people on their lunches and dinner.
If you are in a dilemma as what to cook for guests all three days, here is our simplified version of menu for you
Day 1: Sheer Korma for dessert, Biryani and Kofta Curry as main dishes served with salad, raita's and nan's.
Day 2: Badami Phirni as a sweet dish with Pulao, badami Korma and the kebabs.
Day 3: Seviyan or cakes for sweet dish with Achar Gosht, Nargisi Koftay and Garlic Rice.
This way your burden of thinking of a new menu can be lessened and you can make innovative food for your guests.