New nail art inspo, most of the looks are shown on ultra long nails that look like they require tons of maintenance.
1. Marble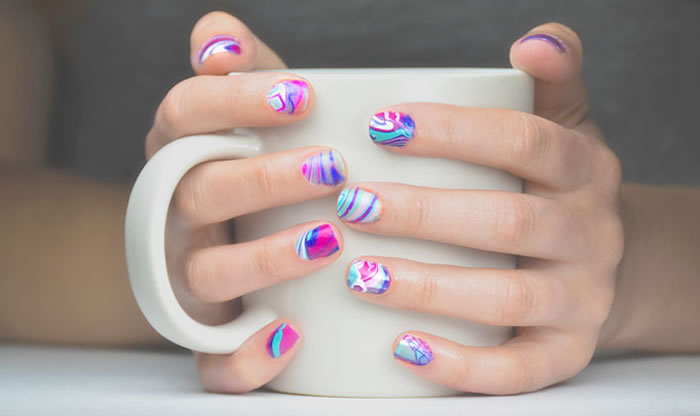 While marble nails look like they'd involve spending hours squinting over your nails trying to get the design just right, but this simple dipping method used to get the look means they're actually one of the easiest looks for ladies with short nails to achieve. To try this for yourself, you'll need a small bowl of water, toothpicks, black and white or gray nail polish and some Vaseline.
Read Also: Nails can tell how healthy you really are
2. Subtle Glitter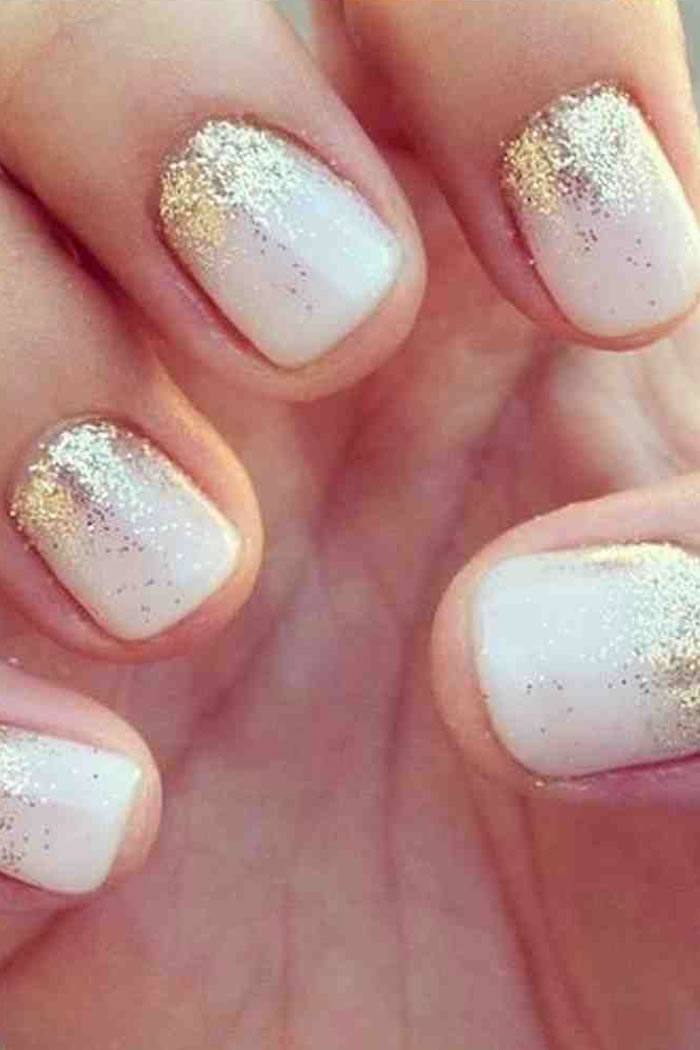 You've ombré-ed your hair before, but what about your nails? Because the color is concentrated near your cuticle, glitter ombré nails create the illusion of longer nail beds, and it's an easy look to achieve because it doesn't have to be precise and perfect in order to look salon-worthy. After coating your nails in a base color and allowing it to dry completely (we love a neutral hue against colorful glitter, as shown here!), take a glitzy nail polish of your choice and coat 3/4 of your nail, starting at the cuticle. 
3. Mixed and Matched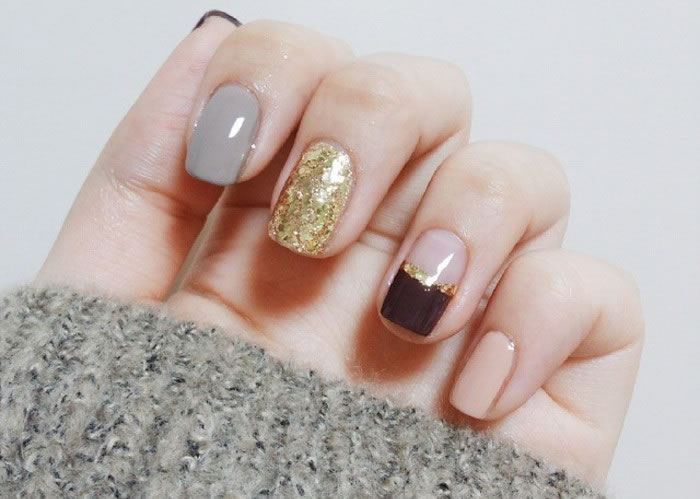 What if we told you there's a really easy way to do nail art without actually doing nail art? While painting tiny designs on small, short nails can be a struggle, adding an accent nail or two in an eclectic mix-and-match style looks just as fun as nail art, without dedicating hours to your mani. 
4. Reverse French Mani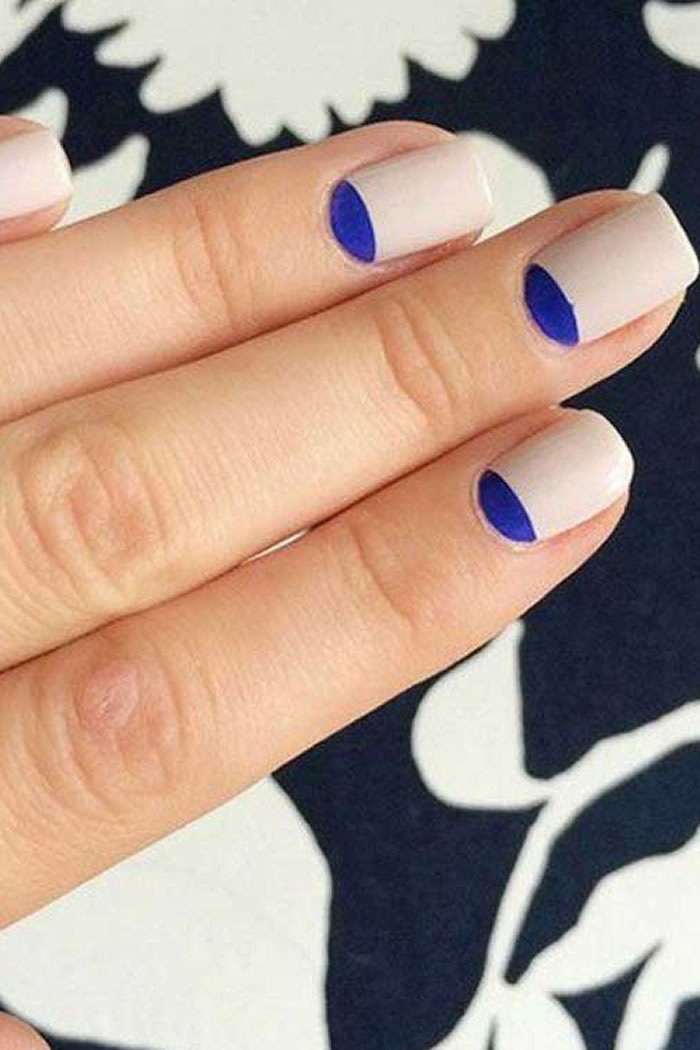 Much like with glitter ombré nails, the reverse French mani creates the perfect half moon shape at the base of your nail, which is ideal for extending the line of nails that are one the shorter side. Have a shaky hand? No sweat. There's a mind-blowingly easy hack for achieving smooth lines: Remember those binder reinforcement stickers? Yeah, they're your new nail art miracle product. After painting your nails with a base color, simply stick them at the base of the nail, placing the holes where you want your half moon shape to go. 
Read Also: 7 Amazingly Healthy Habits to Acquire Beautiful Nails
5. Teensy Triangles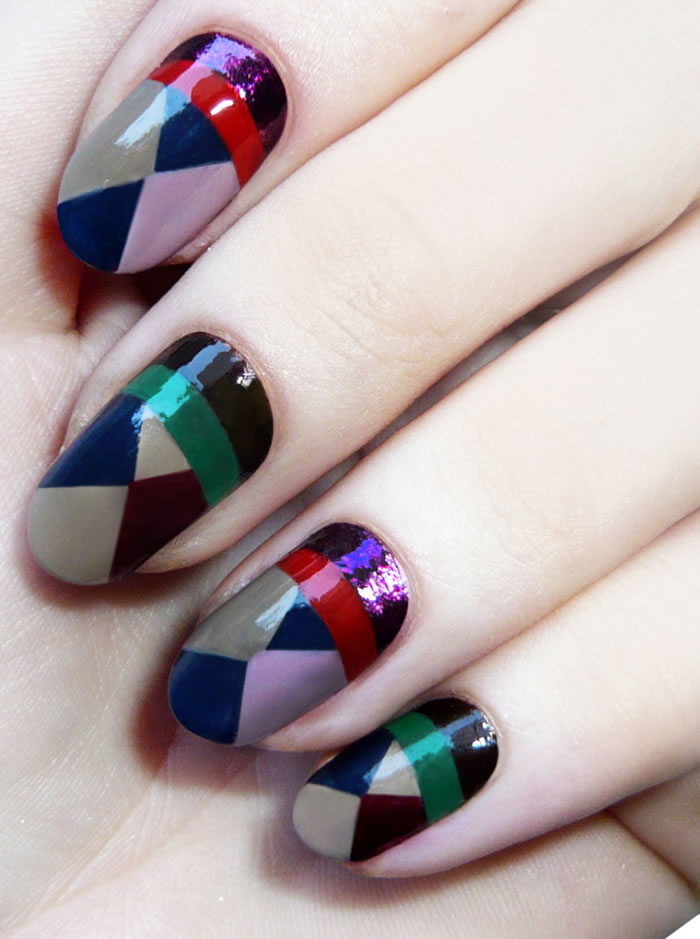 Are you seeing a pattern here? Basically any nail art look that creates an upward-and-outward effect on your nails is ideal for looking mega-flattering on short nails, which is what makes this minimalist triangle mani so great. Once again, creating a bit of a sticky situation will majorly help here unless you have an insanely steady hand—cutting out teeny triangles in blue painters tape should do the trick. 
6. Starry-Eyed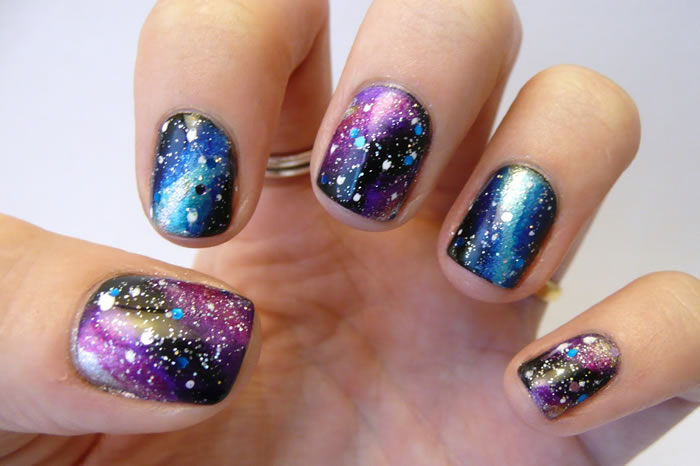 Your nails may be short, but they can still pack a major punch—and this galaxy look is proof. Because this look involves sponging on and layering colors in a way that's easy and imprecise, it's easy to DIY it on short nails, and is an amazing, eye-catching look when you're finished. Calling all ladies with a sizable nail polish collection: this one's for you. While this tutorial uses a total of seven different polishes including glitter to top it off, you can customize it and make it your own with as few or as many hues as you want. You'll also need a makeup sponge, a toothpick, some q-tips and nail polish remover on hand. 
7. On The Side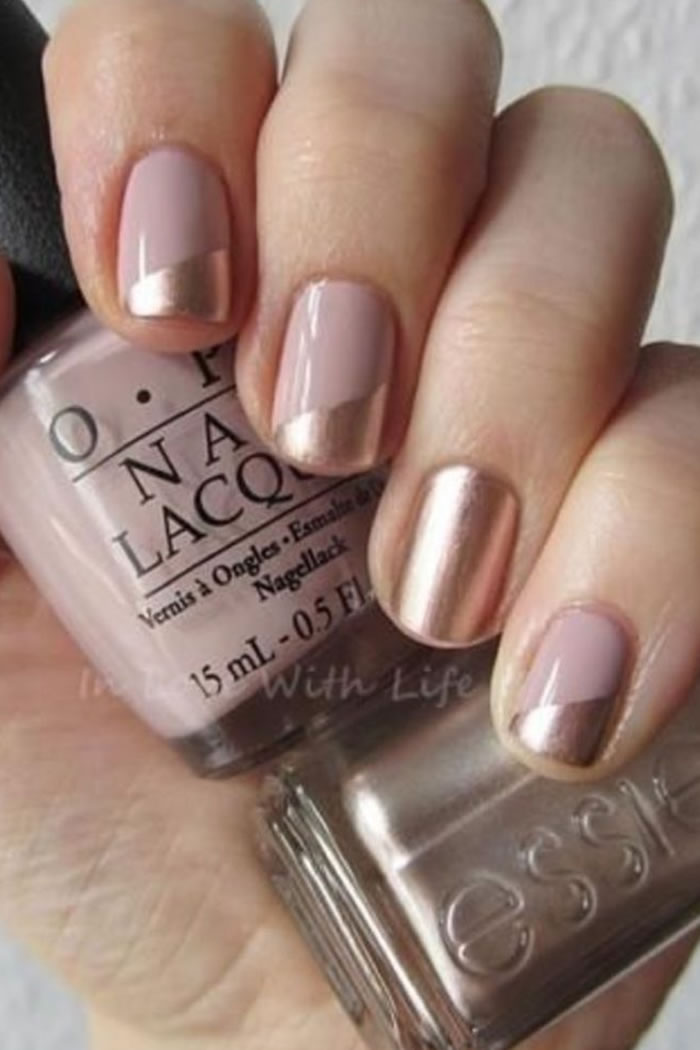 This sideways twist on French tips takes the look from typical to on-trend—and the sharp diagonal line is especially flattering on shorter nails. This is a look that can easily be achieved with a bit of painter's tape and two complimentary colors of polish. We're loving this look which incorporates rose gold metallic polish at the tip. To nail (pun completely intended) the look, use Essie's "Penny Talk" on top of your favorite neutral polish.
Read Also: How To Remove Acrylic Nails At Home
8. Walk on the Wild Side
Considering ultimate #GirlBoss and J.Crew creative director Jenna Lyons once called leopard print a neutral, we're all for finding a way to wear it on our nails. Leopard nails look like they take some professional-level nail art skills, but they're actually surprisingly easy to create with a dotting tool—or the rounded end of a bobby pin if you don't have one on hand. The standout pattern will make your short nails as statement-making as the next girl's super long tips. Start by doing your nails with a nude polish. 
9. Simple Stripe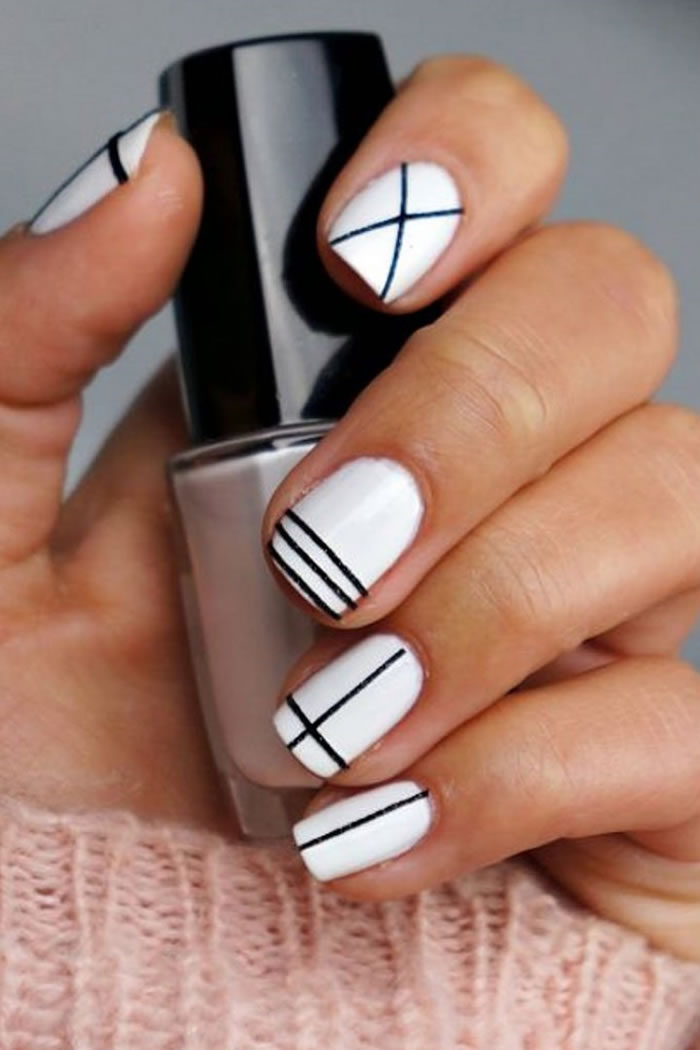 When all else fails, simple stripes are the way to go. While the look may seem simple at first glance, there's tons you can do with lots of thinly sliced tape and a little creativity. Wondering why it's perfect for short nails? Opting for simple vertically-placed stripes will elongate your nails kind of like wearing a striped shirt in order to look taller. Don't be afraid to mix it up either try a different striped look on each nail as shown above for a final product that's bold, not boring.