Ali Zafar PP is a Pakistani singer-songwriter, model, actor, producer, screenwriter, and painter. Zafar started out on Pakistani television before becoming a popular musician. He later also established a career in Bollywood and his success led many Pakistani actors to venture into Hindi films.
Ali Zafar married his long-time fiancée Ayesha Fazli, who is a distant relative of Indian actor Aamir Khan, on 28 July 2009 in Lahore, Pakistan.
Even though the couple tends to keep their personal life private, Ayesha shared her two cents on the matter through the "Anonymous Ask Me" session on Instagram. She was asked about the Ali-Meesha case and if she thinks her husband is guilty. This is how Ayesha responded to the query.
"Of course! I was there when the blackmailing started and saw how the entire thing played out. Who all was involved. There is a lot that we uncovered."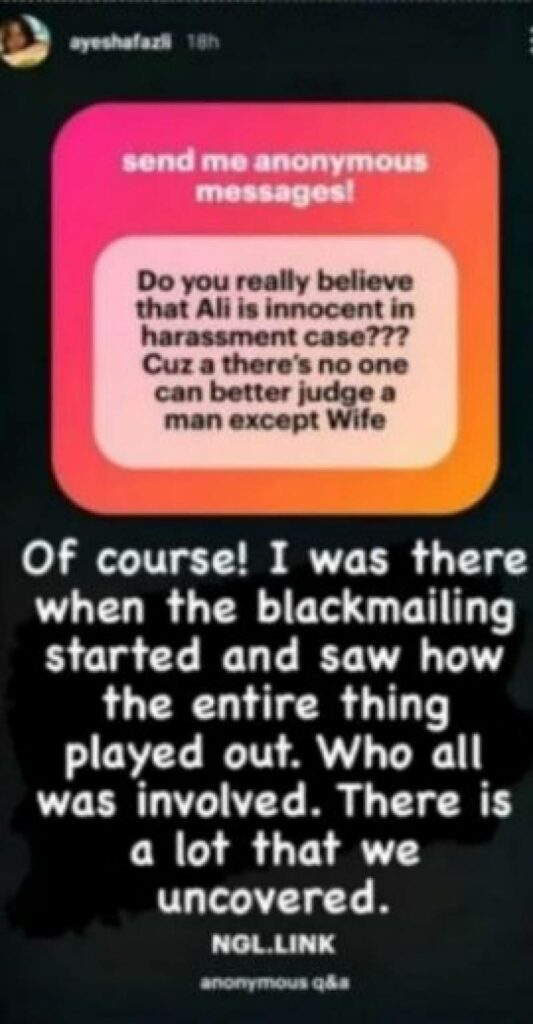 We also invite you to subscribe to our Google News feed for showbiz updates and stories about actors. Furthermore, you can read the latest showbiz news and stories on our website or follow us on Facebook.