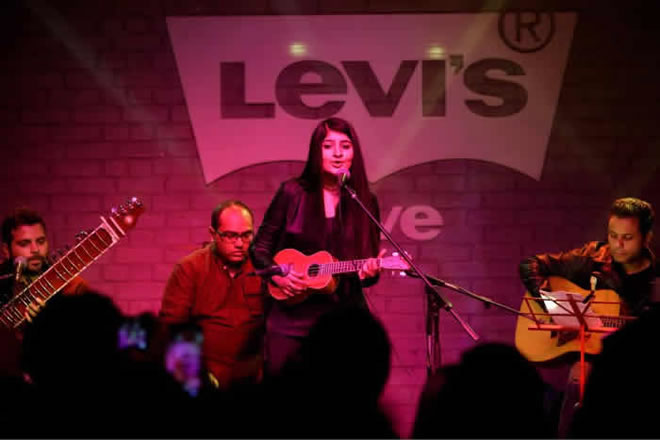 Following up two successful Levi's Live sessions in September and November, the third Levi's Live session rocked the audience with mesmerizing sound of Noori – the rock band with  Noorzadeh Raja and Rakae Jamil  opening the session.
LEVI'S continues to inspire and empower the next generation of musicians and artists by reviving the live music scene in Pakistan. Levi's has partnered with Riot Studios: the premier space for recording music, films and post production in Lahore, where some of the country's top musicians, music videos and films have been produced over the last decade.
Noori – The rock band needs no introduction comprising of the brother duo Ali Noor and Ali Hamza with Kami Paul on drums, known for their unique style of music and is credited for revitalizing rock music for Pakistan's youth performed their hit tunes which included O Re and Paar Channa De. Noorzadeh Raja has written and recorded several original songs that create a distinct fusion of Western and Eastern musical influences, incorporating English vocals and instruments. Rakae Jamil is a sitar player who incorporates both traditional and contemporary style of music in his performances and has displayed his talent in All Pakistan Music Conference and World Performing Arts Festival.
He is also a Musicology graduate from the National College of Arts. That was not all, living up its name Levi's Live featured impromptu performances by Farhad Humayun who paid tribute to David Bowie and George Michael, musical legends lost in 2016 by singing father figure & heroes. The night ended with a spontaneous performance by Noori, Farhad Humayun and Sheraz Uppal who rocked the audience.
Speaking on behalf of Levi's Mr. Hammad Sohail, Marketing Head, Levi Strauss Pakistan said "it's been an overwhelming start of Levi's Live turning into an inspiring journey of reviving live music. It's absolutely thrilling to see other major players in the industry following what we started as at the end of the day live music culture is flourishing in the country and that is our ultimate goal no matter who does it! There cannot be any better end to the year 2016 with such an amazing night of brilliant performances!
On the 3rd Session of Levi's Live, Farhad Humayun of Riot Studios and Creative Director for Levi's Live said "The third session showed me that people are letting go of their inhibitions. The audiences is much freer and not only are the music enthusiasts coming to Levi's Live but also those who are interested in making a change through art and design and dialogue. Noori killed it with their set and I'm so happy to see artists like Shiraz Uppal who was in the audience but then sang and came out of his shell and embrace a loving audience. Younger artists are also getting a chance to showcase their work and I think we are on to something really unique here."
Ali Noor of Noori on playing at Levi's Live said "Levi's Live is a great initiative for live music in Pakistan. We need more of such platforms in the country for artists to demonstrate not just existing music but new and upcoming as well. It was great fun performing at Levi's live infront of musically inclined audience".
About performing at Levi's Live Noorzadeh Raja said "Performing at Levi's Live was an absolutely exhilarating experience- I couldn't have asked for a better crowd or venue for my first live show in Lahore. Initiatives like these are intrinsic to the promotion of emerging artists who get the opportunity to showcase distinct musical sensibilities and alternative sounds."
Rakae Jamil on showcasing at Levi's Live said, "The atmosphere at the gig was electric and it was definitely one of my most memorable performances, hats off to Riot studios and Levi's for launching such a wonderful initiative for Music here in Lahore".
Speaking on Behalf of Levi's, Mr. Mir Zia Mahmood, Country Manager, Levi Strauss Pakistan said "Giving back is in our DNA and we've always believed that small actions can lead to big change. Levi's Live is a platform to support "Live" music to inspire the next generation.  Levi's has a rich history of supporting progress around the world—from artists to activists to athletes. I wish a prosperous new year to all "Jeans fans and Music lovers" – Live in Levi's."
The past live sessions have featured performances by Abdullah Qureshi, Maria Unera, Farhad Humayun, Bayaan and Bilal Khan thus far. The videos of the performances of the 3rd session of Levi's Live will be available online. The next Levi's Live session is scheduled for February 2017 and will feature new and upcoming artists. Levi's Live is a platform to play live music for talented young & upcoming artists to reach their creative heights in the Pakistani music industry. The Levi's Live sessions are the culmination of the brand's commitment to Live Music.