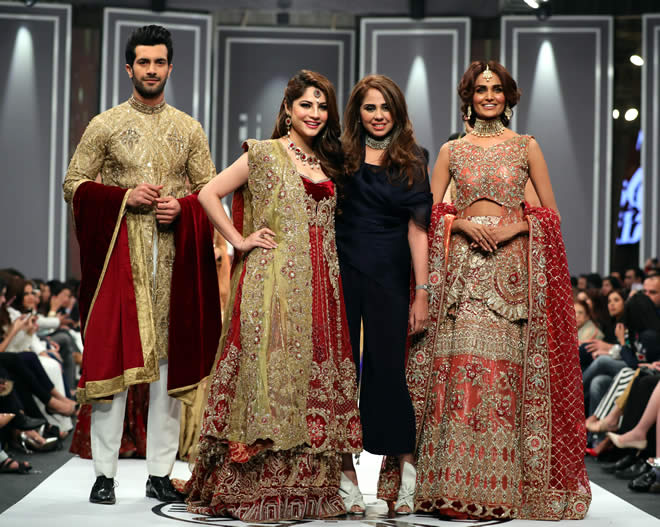 The Fashion Pakistan Week Winter Festive 2016 continued on its third day today at Pearl Continental, Karachi. FPW2016 Day 3 highlighted the fashion trends of the upcoming season where a mix of 20 renowned and upcoming designers showcased the soul of Pakistani fashion through their collections.
Today's show was opened by Nida Azwer followed by Saira Rizwan, Deepak n Fahad, Republic Womenswear, Rozina Munib and Nauman Arfeen as summarized below. Make-up for Day-3 of Fashion Pakistan Week Winter Festive 2016 was done by the creative team at N-Pro for the female models whereas the male models were groomed by N-Gents. The exquisite jewelry was provided by Sheherzad at Labels.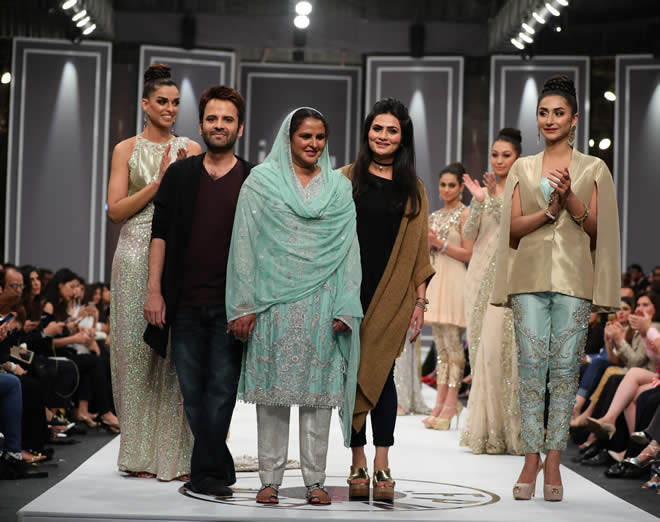 Fashion Pakistan Week Winter Festive 2016 [#FPW2016] is being directed by the in-house FPC team with HSY as the show choreographer and hair, makeup and styling by N-Pro/NGENTs. Event management was by CKO Events Architecture, backstage management by Production 021, Maheen Karim is the official spokesperson for FPC, digital support by MindMap Communications, photography by Tapu Javeri with public relations by Walnut Communications.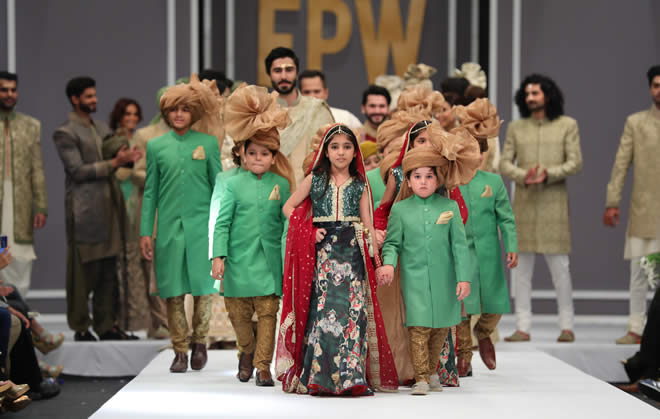 Show Opener: Nida Azwer
The  collection  took  its  inspiration  from  geometric  shapes and  textured  surfaces  interspersed with  detailed  floral  patterns   and  the  ateliers  signature   bird  and  nature  inspired  motifs, incorporating detailed compositions worked in zardozi and resham. True to the ateliers revivalist ethos of using traditional craft in a contemporary narrative, 'Alankara' introduced modern textures mixed  with  classic  traditional zardozi work  across  experimental  pieces  such  as  intricately worked  trench  coats,  shorter  structured  jackets  and  tops  and  high  waited gharara's.  The collection also revealed intricately hand crafted shawls or chaddars.
Bridal Collection: Saira Rizwan
Saira Rizwan showcased her latest bridal collection titled 'Banaras' at FPW 2016. The collection was primarily traditional using darker shades over hues of red, coral, plum and blue. Inspired by the Mughal era, the collection blended together architectural motifs with the brand's signature traditional floral patterns while making use of embellishments like tilla embroidery, screen prints and velvet as the key elements.
Deepak n Fahad
Amidst an era where exquisitely detailed works imbue within the brightly hued fabrics have become a norm en vogue representation of class and status, the elegant regalia of 'rind'ana' spectral within its soothingly calm shades, simplistically detailed in its representation of tradition and trends alike, carried a poetically romantic casual appeal & yet depicting the treasured representation of a class apart in every facet, aspect and respect with utmost pristine.
Bridal Collection: Republic Womenswear
Republic Womenswear showcased their latest bridal collection titled 'Mon Tresor' meaning My Treasure. Mon Tresor told a story of the Republic Woman and the treasure that lies within her heart. Her beauty and sensuality reflecting through the garment she veils herself with. This collection brought forth a new era woman who is individualistic, versatile and talented yet feminine and soft at heart. 'Mon Tresor' used embellishments that relived the art of Jacobean and Arrasene mediums of embroideries. The silhouettes were grand and Victorian, inspired from the fashion houses of the 1950's. The color palette ranged from metallic, wild lavender, rose brown, shades of gold, tree top and black.
Rozina Munib
The collection comprised of intricate embroidery of flora and feathered designs not forgetting the Crown Jewel. The Soft pastel colors were the focus of this collection. French Lame was the fabric used in most of the dresses. Distinct shapes blend with elegant and rich fabrics, her creations were nothing short of exuberance and elegance. The colors focused an exploration of natural hues, with shades that ranged from rich spices to soft pastels of 14 different series of combination.
Nauman Arfeen
Nauman Arfeen's collection 'Pukaar' made a beautiful plea to the world. While soft hues like pistachio green, pearl white, dusty gold evoked a sense of serenity, splashes of deep maroon add richness – depicting the spectrum of love. Mughal inspired form introduces grandeur, turbans, clothes and other ornaments embellish the whole look.