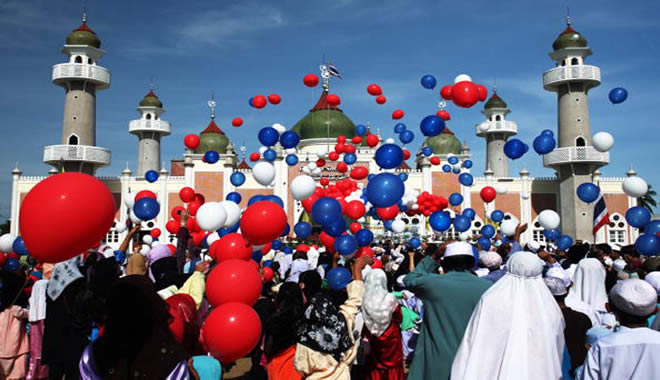 Eid-ul-Adha
The  Eid ul Adha is celebrated by Muslims globally  on the 10th of Zilhaj. This occasion represents  an essential religious obligation in the shape of Qurbani which is  carried out  in the memory of Prophet Ibrahim(A.S) who had to undergo  a difficult test by Allah(swt).Via this test he was asked to sacrifice His son in the way of God.
Subsequently Muslims opt for sacrificing in accordance with the way it was  practiced by Prophet Muhammad (PBUH). It is necessary  to follow the conditions that the Holy Prophet(PBUH) laid down for His ummah.
What to Sacrifice?
What to sacrifice is the  question that comes to  mind to comply with qurbani requirements.In this regard the first emphasis is on Halal and amongst the donts is a requirement about the sacrificial animal age.For a goat or sheep the advice is that it should be over a year old .With regard to cow it  has to be above two years of age and in case of a came the age limit is five years.A camel below this age is not permissible for sacrifice. and so a camel younger than five years cannot be sacrificed. Care has to be exercised with regard to health of the animal.
Right Way of Sacrifice
Sacrifice must be performed in the correct way.Lay the animal left side with  its face towards the Holy Kaabah. A sharp knife may be used to cut the animal's throat thereby ensuring minimum pain  and its blood must be allowed to drain. In case of a camel, it should be kept standing with its fore leg being stringed. A sharp spear should be thrust in its breast and in both sides of the neck.Blood has to be drained.
The sharing of the sacrificed animal can done in a way that upto seven people share it.As for intention ,it has to be ensured that each person taking the share has the intention of being a part of the sacrifice.An aspect to be followed is with regard to Qurbani timing.It has to after Eid prayers.Slaughter before prayers is prohibited.
Meat's Three Parts
Once the animal has been sacrificed  in the way of Allah(swt), the  meat may  be divided into three parts. One is to be kept for the person and his family's own use, one part should be distributed amongst the relatives and one part is to be given in charity.The charity requirement is important and has to be followed.Further the advice is that the animal's skin, i and its cover should also be given in charity to the poor and needy.
Eid ul Adha qurabani is one of the biggest events celebrated in most muslims countries every year. In Pakistan the practice is to start acquiring animals much before Eid.For divine acceptance of the Act of Qurbani ,compliance with  prescribed and ordained methods is of utmost importance.