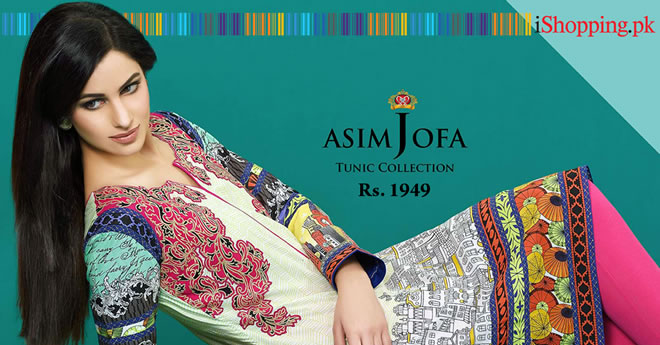 Sales just hit through the roof! iShopping.pk reveals the true essence of online shopping for its valuable customers, especially when it comes to women these days. We have brought the most-exciting offer regarding the top-notch clothing brands of Pakistan for which ladies simply rush to get the discounts. iShopping.pk has always remained busy to prepare appealing, attractive and eye-catchy price tags for its worthy customers and this time, we have an interesting "Shout Out" for our ladies out there!
Curios to know? Well, who could've thought that iShopping.pk will be the one to launch the most exciting, ultimately discounted and 100% original fabric for the female fans? Name the brand and we'll get the most affordable price for you.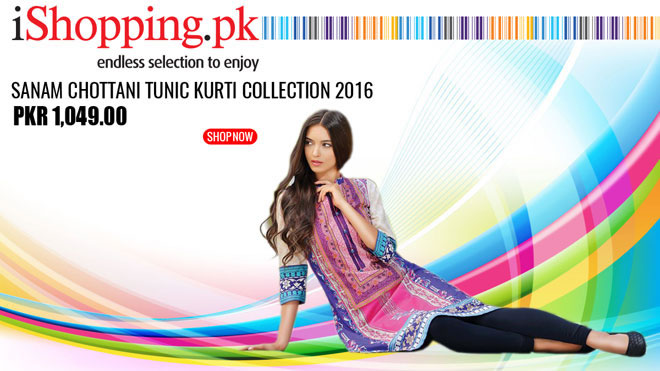 The Offer Includes Leading Clothing Brands Of Pakistan:
iShopping.pk is simply the name of reliability, quality and excellence. Keeping in mind the qualitative taste of our valuable clients, we would like to proudly announce that a sale has been launched considering the leading clothing brands of Pakistan only at the most affordable prices that will simply raise your eye-brows. We again ensure the 100% purity of fabric, quality and fine as the offer includes these brands i.e.
Asim Jofa – Get more collection of pure fabric at discounted price on iShopping.pk
Sanam Chottani – iShopping.pk has been receiving overwhelming response after its launch.
Mina Hassan – Volume 2 collection boomed the sales at such discounting prices within no time.
Maira Ahsan – Just a click away to find your favorite color at the most reasonable price.
Amna Ismail – Wide range of original pieces available, starting from under PKR 2999/-.
Does Offer Include The Most Discounted Price?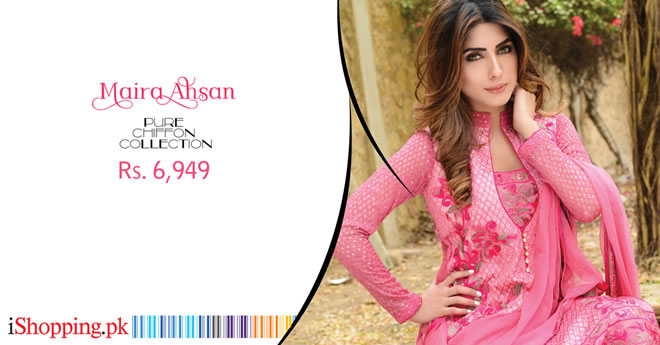 The answer is simply a big "YES"! You have just clicked at the right platform at the very right time. When it comes to fashion trends, iShopping.pk is always ready to serve the fashion needs of its female consumers. With the given brand names & qualitative clothing pieces, we proudly announce the most discounted prices that you won't find except others beating about the bushes. The pricing details are as follow:
Asim Jofa Tunics Collection (Pure Cotton) PKR 1949/-

Sanam Chottani Kurti Collection PKR 1049/-

Mina Hassan Embroidered Schiffon Collection PKR 12249/-

Maira Ahsan Embroidered Pure Schiffon PKR 6949/-

Amna Ismail Embroidered Pure Schiffon PKR 2999/-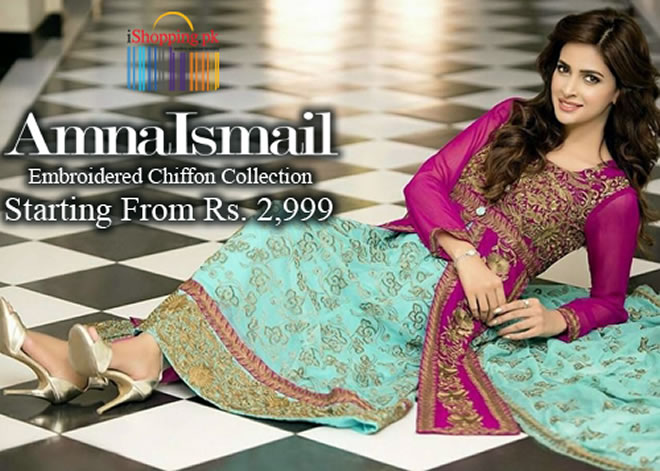 Reliable and Fast Home Delivery Nationwide:
It would be no wrong to say that shipping rates and substandard delivery infrastructure have been found two of the major reasons that keep the consumers from online shopping. However, iShopping.pk ensures timely, qualitative and affordable shipping of your favorite products at your doorstep. The product will be delivered in 24-48 hours after placing the order.
Keep Looting at iShopping.pk 24/7:
When it comes to clothing, ladies simply don't know any bounds. While keeping the ultimate heed over our valuable consumers' choice, iShopping.pk facilitates the online users at its best. Wait no more with payment hassles; theme-line is to produce your product at your doorstep safe and sound. You can pay in many ways (Online Payments through Credit/Debit Cards, Paypal, Cash on delivery and Bank Wire Transfer). Logon to iShopping.pk for further information regarding payment & payment partners!
So, what are you waiting for ladies! Grab the best deal before the stocks run out of limit. Click here to check out the complete collection: http://www.ishopping.pk/women-s-store/women-s-clothing.html
Happy Shopping!