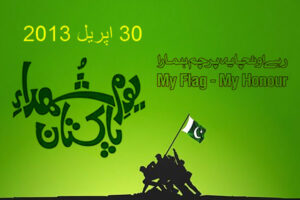 Pakistani Nation observes 30th of April as Yaum-e-Shuhada every year. Once again, today, on 30th April we commemorate and pay tribute to the services and sacrifices rendered by our shuhada. Indeed they laid down their lives for the safety, security and glory of the Nation. All Pakistanis salute them as a nation.
At the same time we salute their mothers, sisters and near and dear ones and offer them respect and gratitude. We all realize that freedom is not free; it could cost even lives and gallant are those who come in the line of fire   to safeguard the homeland.
On the Yaum-e-Shuhada, we bow before GOD and offer Shuhada our prayers and words of immense praise for their brave roles in enduring through battles against the enemy standing in heavy odds like the  snow covered mountains, the  scorching sun and even unchartered.
These are the heroes who went through extreme hardships including huge risks to lives, yet did not relent and performed deeds that continue to be lauded long after they have gone. And as we think of them today, we have no hesitation in praying for them and the descendants they left behind. The ceremonies are held across the country and even the Chief of Army Staff (COAS), Gen Ashfaq Pervaiz Kayani comes forward to be with the families and soldiers of the Pakistan Army to pay homage.
On this we also need to recognize the war on terrorism that is on and costing precious lives of our soldiers every now and then. On this front too we have to depend on the sons of our soil for protection against internal elements who are enemies of our sovereignty and liberty. Through proper strategy and unified approach these threats are being met, though the battle has to be pursued to bring the required results.
Let's honor our soldiers, who are the real pride of our nation and our land Pakistan.