As businesses reopen, precautions are being taken all around the country to ensure that the coronavirus doesn't bring a second wave. That means many of your everyday activities will probably look a bit different than they did pre-pandemic. Face masks, gloves, and social distancing requirements will most likely be commonplace in any reopened business you visit.
However, as a customer, you have the ability to help maintain preventative measures or make them worse by ignoring guidelines. And the worst thing you can do when getting a haircut amid the coronavirus is allow more people in the salon than necessary. This includes arriving early and bringing others along with you—despite both being common practices before the coronavirus hit.
"You will see a change in the actual gathering of people sitting around in the salon sipping coffee and talking with each other as a result of coronavirus," says celebrity hairstylist Michelle Cleveland. "It sounds so simple, yet at the same time, it will be something we, as salon owners, need to keep from happening to avoid the spread of the virus."
Leann Poston, MD, licensed physician and medical expert for Invigor Medical, says this type of lively, chit-chat heavy environment is dangerous for spreading the coronavirus. After all, talking easily spreads infected droplets to high touch areas and from person to person.
"It is great that social interactions and conversations are becoming more a part of everyday life, but I would avoid it when in close proximity to another person," Poston explains. "Engage in conversation only while you are entering and leaving the shop, when you can maintain some distance." So instead of being a social environment, Poston says that hair appointments need to focus on the direct service provided, like a haircut or color.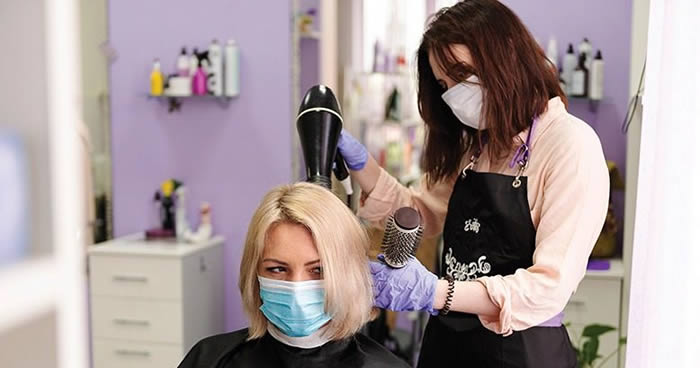 Most hair stylists are pushing for a more direct business-model to help manage the amount of people in the salon at once. Vogue reported that Van Michael salons in Georgia, one of the states that have reopened hair salons, are only operating at 50 percent capacity, "with stylists working at every other station at least six feet apart," and clients having to "wait outside and have temperatures checked" before their appointments. And in Kansas City, Missouri, salons are limited to only 10 people at once, as reported by The Kansas City Star. Keeping children, spouses, or friends at home and only entering the salon during your designated time can help salons enforce these preventative measures.
"One of the worst things a client can do is come into the salon and fight with the salon about following new COVID-19 policies," says Braden Weinstock, owner of efoxx HAIR, a leading luxury boutique salon in Los Angeles, which just reopened last week. "Salons are trying to keep their business, staff, and clients alive in a very risky situation, so they will have less tolerance for this kind of behavior."