Cotton sarees are must-have clothing in every Indian woman's closet. Cotton sarees just like silk sarees are popular among Indian women. You can wear them as casual wear, party wear, office wear, daily wear, or even on occasion. Cotton sarees are very comfortable to wear, breathable, and stylish, especially on a hot summer day.
Indian women of all ages look elegant in cotton sarees if they pair them with the right accessories and jewelry. However, the look isn't complete without a saree blouse. There are different types of saree blouse neck designs that you can pair with your cotton saree to completely transform your look for any occasion.
Here is a list of some trendy and unique designer blouses that you can wear with your cotton saree.
Printed blouse with layered flap hands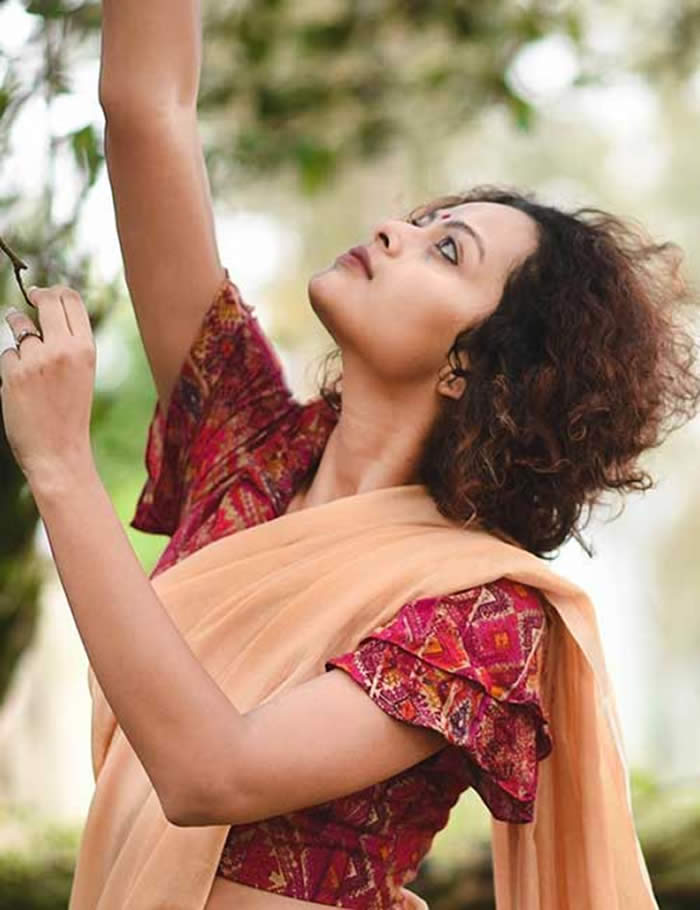 You can wear a printed blouse with a plain saree if you are going for the bohemian look. The flap hands add the oomph to the ensemble without putting too much effort. And if you want to experiment, you can mix and match this blouse with other cotton sarees to get a different look.
Gujarati themed blouse
The Gujarati-themed blouse has vibrant colors like neon lime and orange that you can pair with a beautiful saree to get that elegant and stylish look. This blouse is perfect if you want to flaunt your slim waistline.
Plain padded blouse with a U-shaped neck
If you're hanging out with your friends and you want a casual look for your plain cotton saree, you can go for the plain padded blouse. The cotton saree can have neon borders and the blouse could have a neck design or a simple deep back blouse and accessorize with simple jewelry for the final touch.
Shirt style blouse
To achieve a fun or formal look, you can go for a crisp white blouse with a shirt-style design. This blouse design is versatile and it can be styled to give you an elegant look for a hot summer day.
Collar neck full sleeves blouse
This full sleeves blouse design has an open collar and front buttons. To give your cotton saree a classy and sophisticated look, you can go for a full sleeves blouse with a variety of collared patterns.
High collar neck blouse with patchwork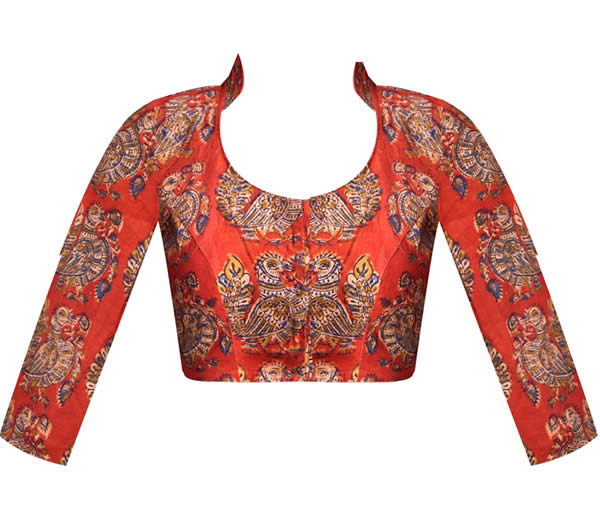 A blouse with this design can be worn during the day or night and still look perfect. When added a collared pattern, your cotton saree is transformed into a beautiful sophisticated outfit that you can wear to a party or the office. Add contrasting fabric to the sleeves or collar of the neck blouse to make it more interesting.
Simple sleeveless high-neck blouse designs
Women prefer to wear cotton sarees during summer. A sleeveless blouse is a practical choice to wear under the heat. For a formal and stylish look, you can pair your cotton saree with a high-neck sleeveless blouse or grab a crop top from your closet and wear it as a blouse.
Plain blouse with checked pattern saree
If you're going for a casual look, then the plain blouse with a checked saree will be perfect for you. You can pair them with simple bangles and a pair of beautiful chappals that have the same color as your saree or its borders.
Relaxed fit breezy blouse designs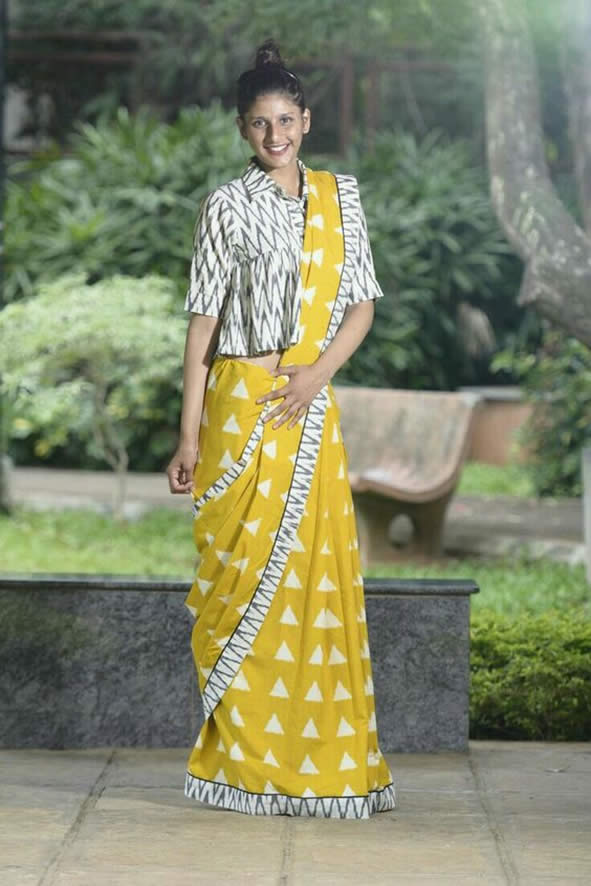 This is a trendy western wear blouse design that you can wear with a cotton saree. A breezy loose blouse design would also look good on you, especially during the hot summer days.
T-shirt style blouse designs
T-shirt saree blouses are fashionable and trendy even with celebrities. To pull off this outfit you need to accessorize with bangles, a chunky neckpiece, and a statement lip color.
High neck blouse with back slits
The back slits with buttons or tie-ups on this contemporary blouse design will add charm to your entire look. This high-neck blouse design is perfect for festive occasions.
3/4th sleeves blouse with statement back neck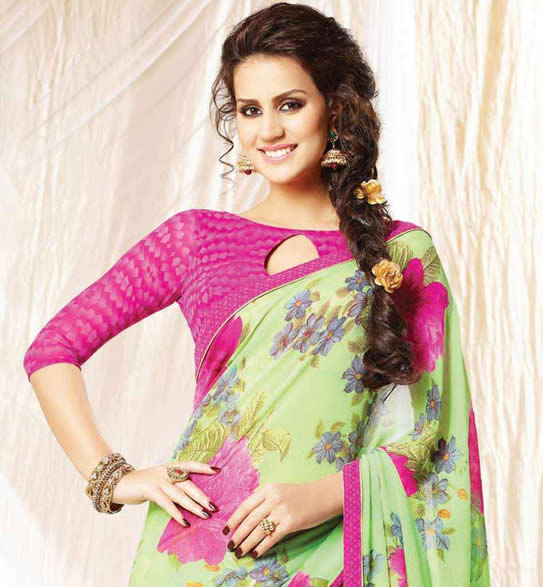 This exquisite sleeves blouse features a mandarin collar neck, side Dori with a fish cut back. This three-quarter sleeves blouse is a contemporary design that will add a nice twist to your cotton saree.
Cotton blouse with flared bell sleeves
This contemporary cotton blouse design will add elegance and a touch of sophistication to your cotton saree with its flared bell sleeves pattern. This is an exquisite blouse that will make you stand out from the crowd. The bell sleeve blouse designs come in a variety of different fresh and bright colors that you can choose from at style carpet online stores.
V-neck blouse with contrast piping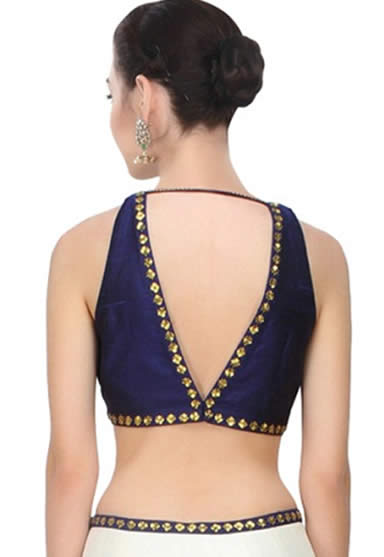 To give your cotton saree that elegant look, this V-neck blouse design would be a perfect choice. The elbow-length sleeves and contrast color piping makes this blouse simple yet unique.
Boat neck blouse with contrasting sleeves
You can contrast your saree border with your blouse sleeves or you can try adding a third color fabric to make the outfit stand out. The length of the elbow sleeves or the three-quarter sleeves are perfect if you want to draw attention to your blouse sleeves.
Angrakha blouse designs
Angrakha blouse designs with long sleeves have different patterns you can choose from to give your cotton saree a contemporary and chic look. Some of the different design patterns come with additional details like pom poms or tassels to make them look interesting. This blouse design will be a perfect addition to your summer outfit collection.
Ikat print blouse with ruffle sleeves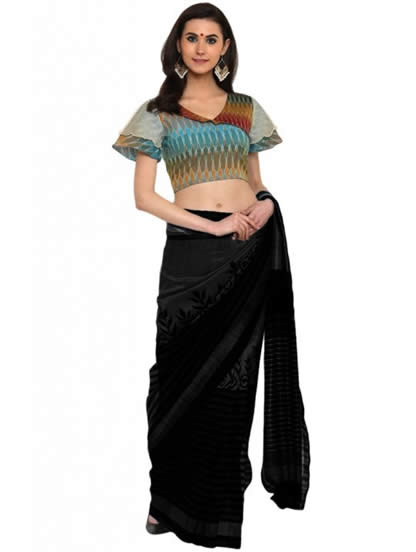 This unique Ikat print blouse design with three-quarter ruffle sleeves and a front open with buttons gives your cotton saree an elegant look.
Full sleeve blouse with criss-cross back
This long sleeve cotton blouse design with a round front neck and criss-cross tie-ups on the back paired with a printed or contrast color plain cotton saree with silver accessories will give you a stylish look.
Conclusion
Cotton sarees are perfect for any occasion if you pair them with the right saree blouse and accessories.