Who did we crown our best dressed at the party of the year? And who did we give a "you tried" golden star to? Check out our best and wackiest dressed list below!
From co-chair of the evening, Katy Perry, as the avant garde lady in red, to Rihanna reclaiming her crown as Met Ball queen, all the way to Lily Collins paying homage to the woman of the evening with her wig, the night was filled with fabulousness. Oh, except that many celebs weren't daring enough to follow the theme of the evening (for which we say, "Shame").
YAS: Rihanna in Comme des Garçons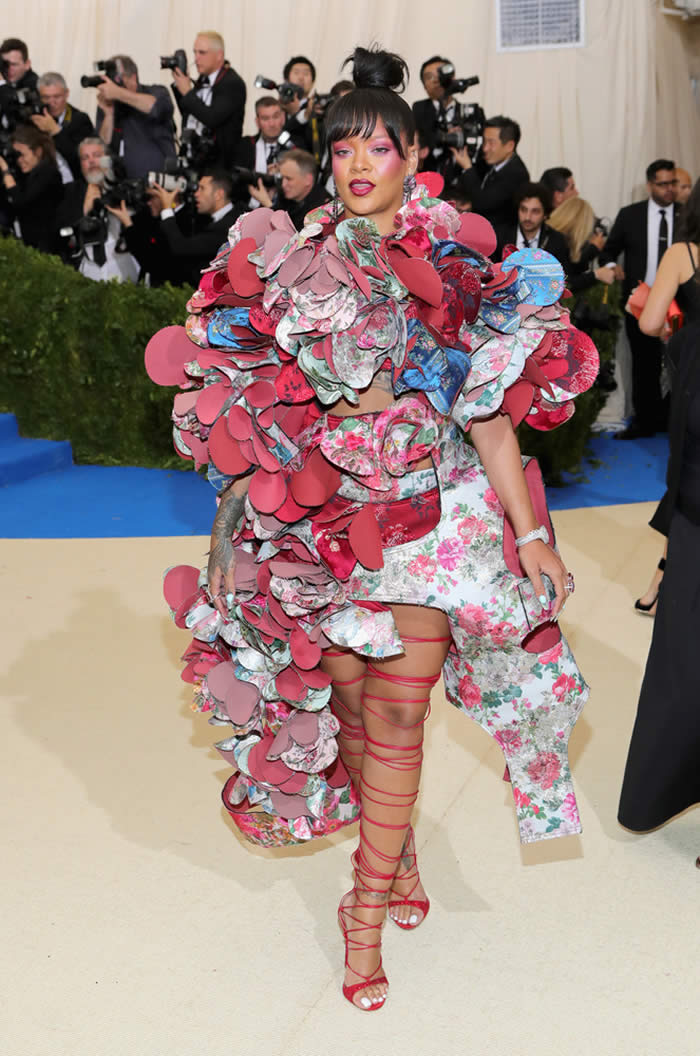 If you look up 'iconic' in the dictionary, you'll probably find the face of Robyn Fenty, a.k.a. fashion goddess, a.k.a. Rihanna. Making the world proud with her take on the evening's theme, the pop star wore a dress piece of art by the evening's honoree, Comme des Garcons designer Rei Kawakubo. From the gown's petals of fabric to the red gladiator heels and topped off with bright pink eyeshadow and a high-rise top knot (a beauty look inspired by Kawakubo's spring 1997 runway show, the Hollywood Reporter notes) Bad Gal Riri proved, once again, that she is the belle of the Met Gala ball.
HUH: Madonna in Moschino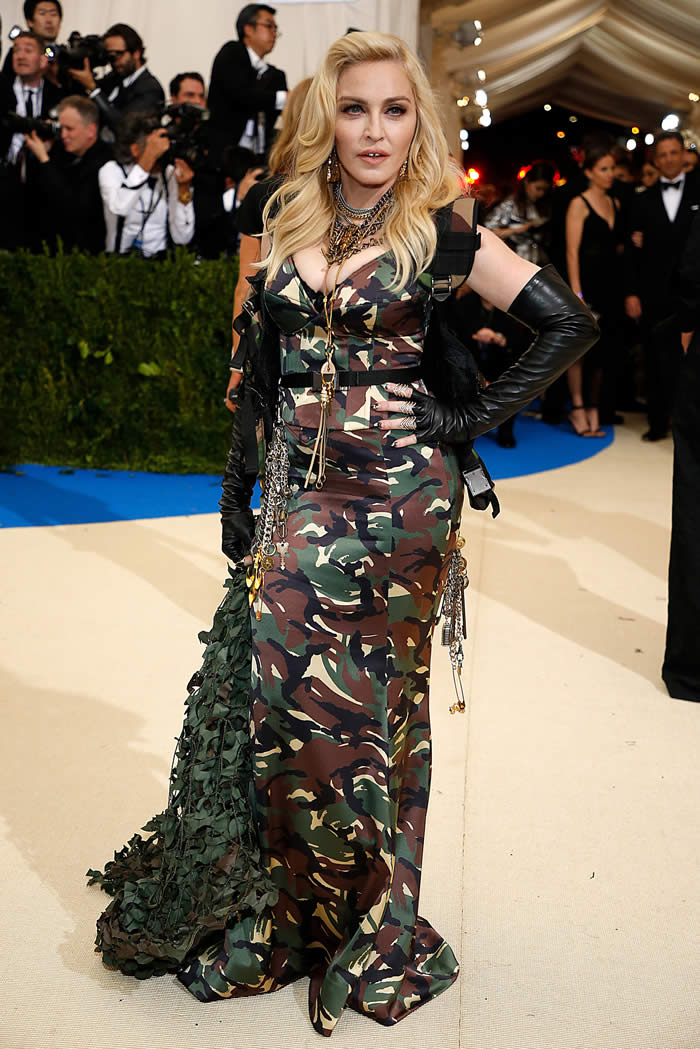 Although she is ready for the battlefield that is the Met Gala red carpet, Madonna looks out of place in this army print Moschino gown with matching leather gloves. For real, are those backpack straps we see? Did she really drink out of an army water bottle on the carpet? Yes and yes. We don't think camo has much to do with the styling of Rei Kawakubo. So this look is a no for us. However, we do love the blond locks. And for that we say, solider on, Madge.
YAS: Kim Kardashian in Vivienne Westwood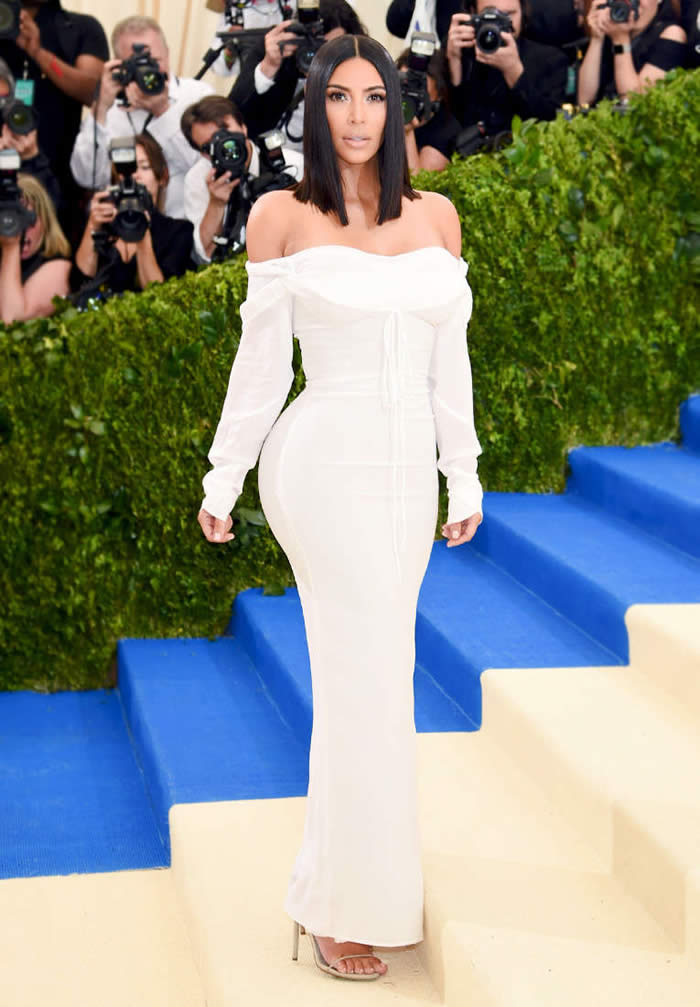 Kim K. recently told Ellen that she didn't know if she could "ever wear real jewelry again," and it looks like she's sticking to her word with her minimal Met Gala look. Trading in her usual over-the-top glitz for a simple, strapless gown by Vivienne Westwood, we're digging Kim's new fashion chapter. She even keeps her beauty look underrated with sleek locks, a highlighted eye and a tropical tan.
ON THE FENCE: Jennifer Lopez in Valentino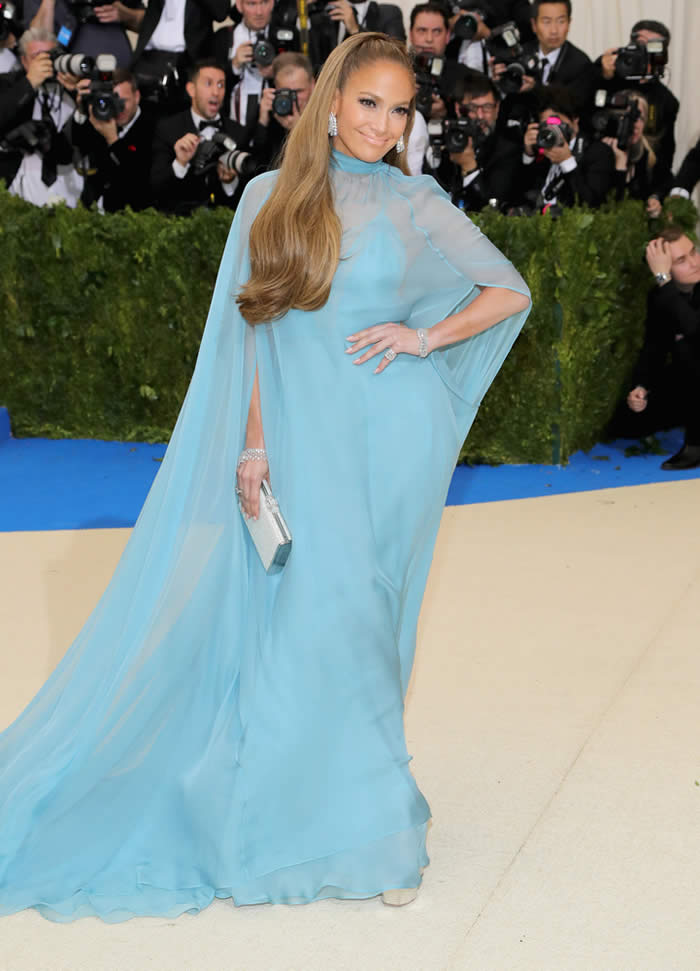 Sure, JLo looks stunning, almost angelic, in this loose, elegant caftan sky blue gown by Valentino. And that long, high ponytail just takes our breath away. But did Jenny follow the avant-garde theme of the evening? No. For that, she's on our fence.
YAS: Gigi Hadid in Tommy Hilfiger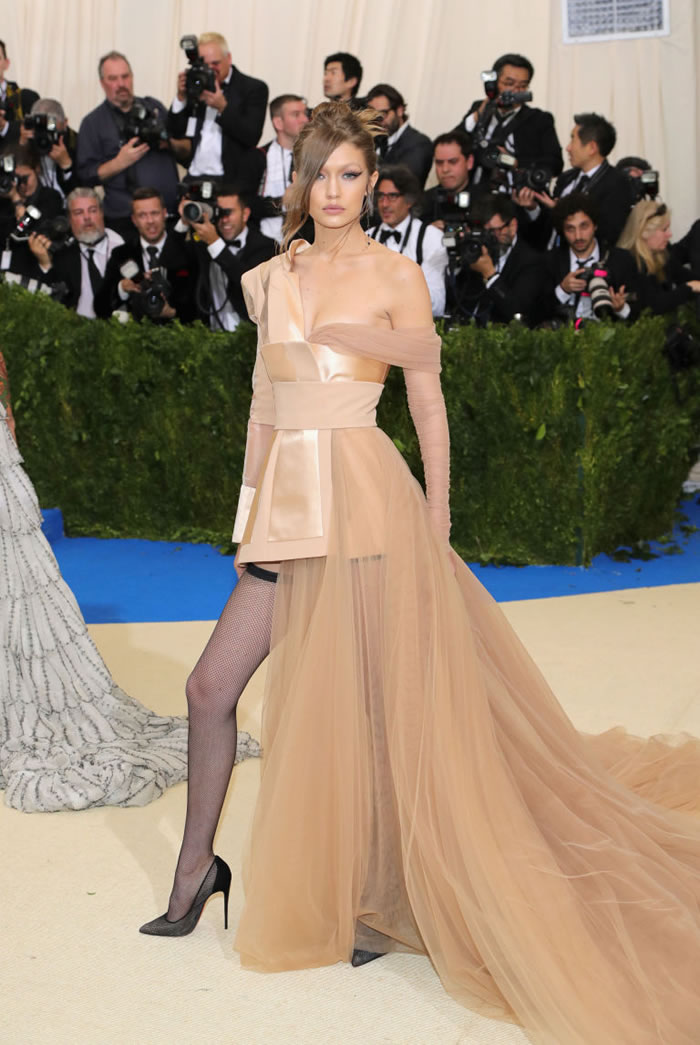 Making us add fishnet stockings to our summer must-have fashion list, Gigi took the 2017 Met Gala by storm. We mean, look at that fierceness! With nude tulle dragging behind her, the supermodel made her mark on the night with a asymmetrical, one-shoulder Tommy Hilfiger dress. But the real star of Gigi's ensemble? That leg pop. Oh, and maybe that long, single side bang.
HUH: Kendall Jenner in La Perla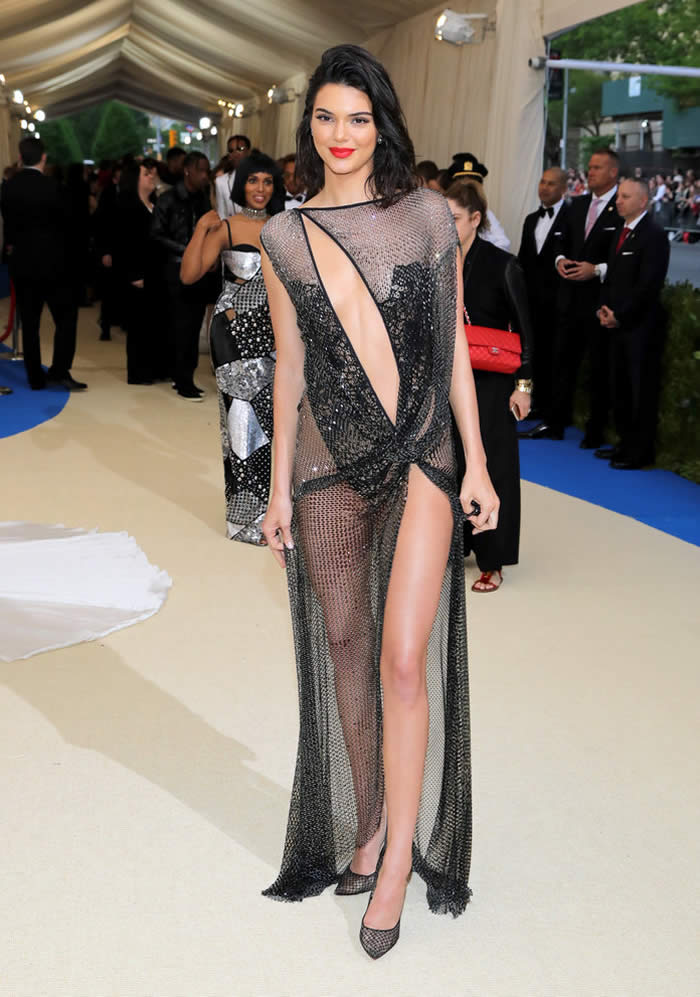 Ah, Kendall Jenner. Another celeb who may have not got the memo on the night's theme. Although her lingerie-inspired frock fits her beautifully and we applaud her daringness to wear a shoulder to pelvic bone cut-out, we just can't get on board with the look. We mean, where's the avant garde in this? We will however raise our glass to her perfect red lip. Because it's good. Cheers, Kenny.
YAS: Selena Gomez in Coach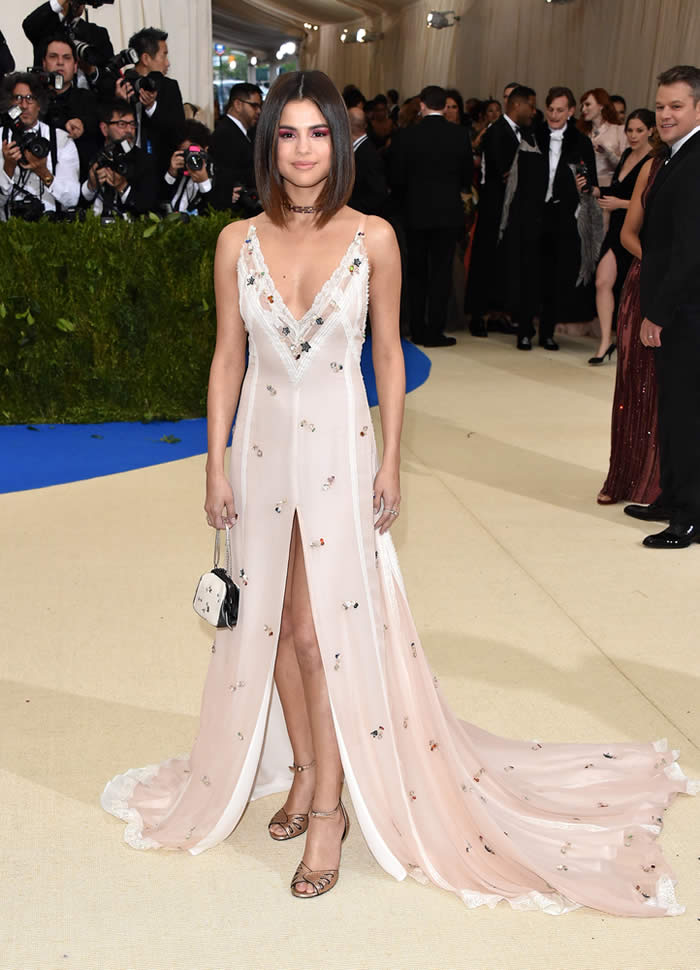 So the soft pink silk chiffon slip dress with its delicate lace and embroider details by Coach may be a bit too tame for the evening, but the bareness with that magenta eyeshadow was the real hot point of the ensemble. Plus, we're giving Selena Gomez some extra point for that oh-so-chic frontal slit.
YAS: Priyanka Chopra in Ralph Lauren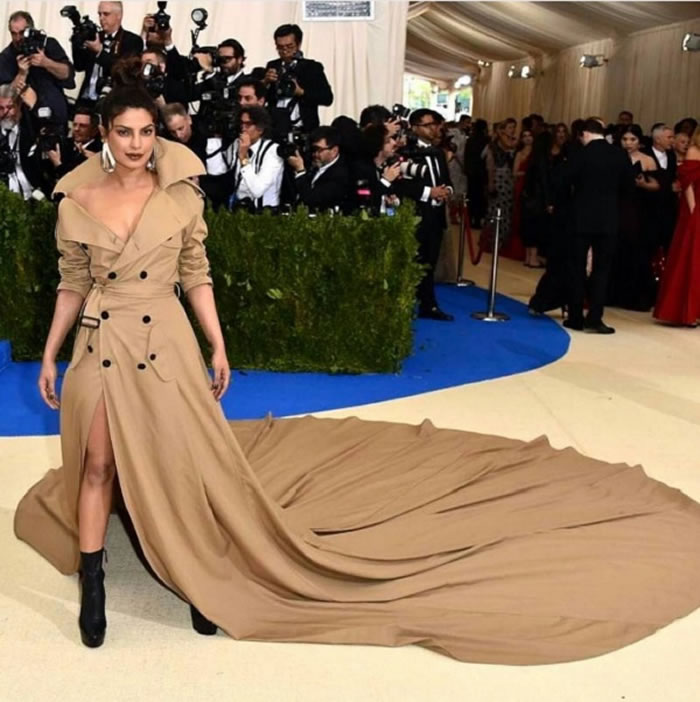 That's detective Priyanka Chopra to you! Not many people could rock an oversized trench on the red carpet, but dang, Priyanka can. Pushing up her sleeve, showing off a little leg and popping that collar, the "Quantico" star was all business on the red carpet. To top off the strong and powerful ensemble, the actress added a fierce brown lip and sky-high top knot to her beauty look.
YAS: Katy Perry in Maison Margiela "Artisanal"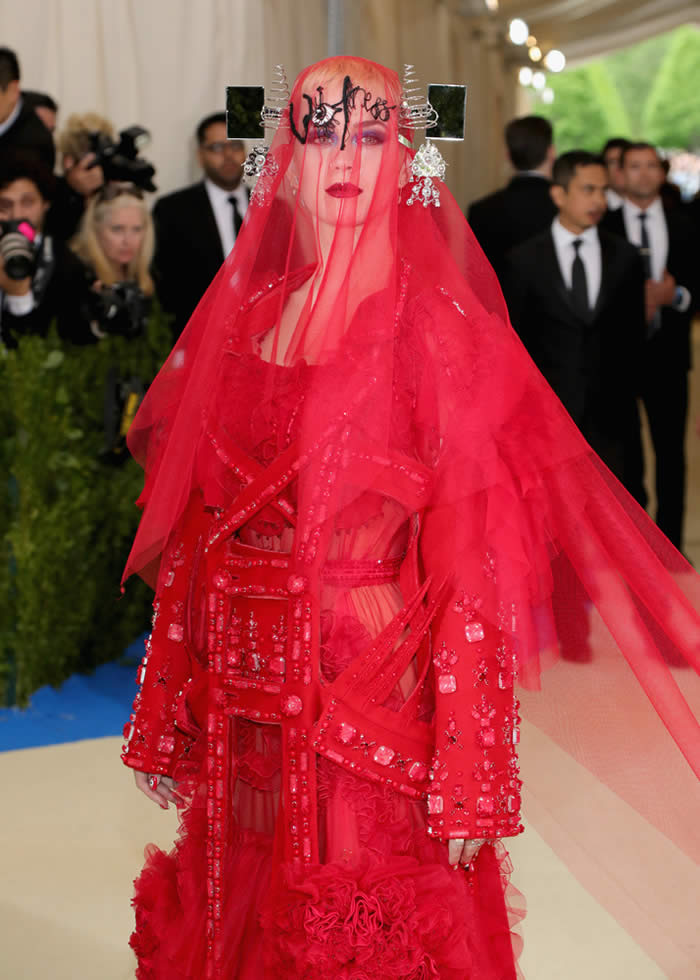 Katy Perry sure served up a wacky look, but boy, was it a good one. It was daring and followed the theme and for that, we're giving Katy our best-dressed blessing. Pushing her fashion limits to the brim, the Met Gala's co-chair did Anna Wintour proud with her Maison Margiela "Artisanal" which featured layers and layers of red tulle and chiffon. But it's the veil paired with that headpiece which had fashion lovers yelling "YASSSS!" into the abyss.