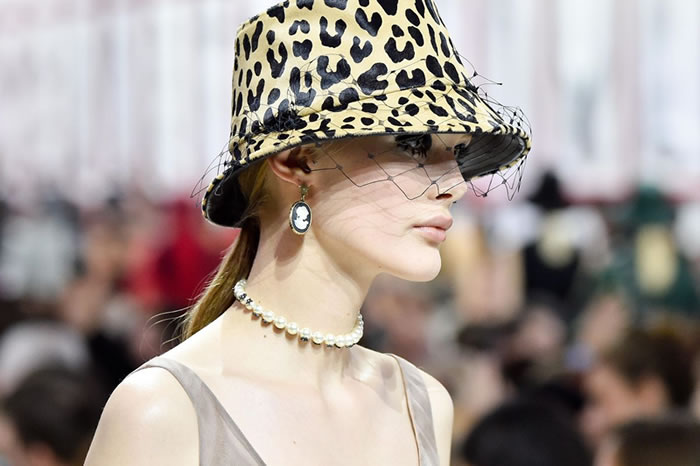 Nothing can so vividly and easily transform a lady than putting on some fashionable jewelry. As we are slowly leaving the hot summer behind when you didn't need to wear any accessories at all, it's high time to dwell upon what fall trends will be in scope – jewelry-wise, of course.
It takes time to match your new cashmere jumper, fabulous leather boots, or great knitted skirt with meticulously chosen jewelry pieces. Without further ado, here you have a selected list for the upcoming 2020 fall jewelry season to get your imagination rolling and get inspirational!
Petite perfection
The minimalistic trend has taken over the fashion industry a few years back, but it doesn't seem that it will cease its power in many years to come. When it comes to jewelry, this fall be prepared for a garland of petite earrings. That's right, a new 2020 trend enhances the power of small earrings that nicely ravish your whole ear.
The key would be to have at least three of four pierced earring holes and wear small but chic earrings in different shapes, sizes, and even colors. Plus, by wearing matching colored earrings but in different shapes or with a zircon, you would totally upscale your fall outfit.
Timeless gems
Fall is all about warm and sophisticated hues, and nothing can substitute the beauty of opal when it comes to gems. Opal jewelry, especially rings, represents everlasting beauty and grace that will make you stand out from the crowd no matter the season. However, in fall 2020, be prepared to accompany these gracious gems with other warm garments such as velvet sweaters or emerald woolen dresses. Opal rings also exude simplicity that will never go out of style, which is why this unique gem is going to be a must-have this season.
Quirky ear climbers
This amazingly stylish but quirky jewelry design has not yet won the hearts of many fashion lovers, but this fall it is all about to change. Ear climber earrings are cool and genuinely irreplaceable as they represent a blasting fashion stamp. An earring that dazzlingly climbs up the earlobe, no higher than the helix, is its basic design, however, in fall 2020 they will go even higher.
Not just higher, but circular, shimmery, and completely chaotic. Imagine chameleon-shaped climbers or golden bugs climbing up your ear. The best thing about this jewelry trend is that you won't need to pierce your ear all the way up, but only wear one sensations earring that will transform your fall look.
Glamorous curb bracelets
Nowadays, quality has become a sheer essence of glamour, especially if you strive to have some heads turning. When it comes to jewelry, owning quality pieces of jewelry is another must-have, but the focus more lies on large, fancy curb bracelets. Not many can afford to buy a diamond-embellished bracelet or a 24karat gold one, but everybody can certainly get a ravishing heavy chained or curb bracelet that will accompany the fall apparel. What is more, curb bracelets are rather versatile, cost-saving, and long-lasting which makes them an essential jewelry item for the upcoming October.
Sleek pendants
Long necklaces and bold pendants aren't new in the fashion world, but ingenuity and various style alterations have brought pendants into runways statements. This fall, revamp a simple but swaying turtle neck shirt or plain long black dress by wearing a long golden necklace with a sleek pendant that will top up the warm fall vibe. Opt for bold and modern statement pieces, even mix metals and play with styles to master the fall trends.
The pin power
Seasons and trends may constantly change, but a lady must always strive to look and feel pretty at all times. The right jewelry and meticulous hair and skincare go hand in hand, hence pins and needles are another top-notch jewelry choice this fall. Rethink wearing pearls, brooches, and throwback gem-inspired pins and baubles during fall to re-attach your fall scarf or jacket. Pins and brooches can undoubtedly act as flabbergasting embroidery as they are getting more and more popularized as the seasons pass by.
Hair jewels
Don't be fooled, but head accessories and top-up jewelry embellishment continue to be prevalent and fall 2020 is not going to be an exception. Basically, hair accessories are going to reach a whole new level of sophistication this year and it is all due to the elegant twist they add to the overall simple fall apparel. Tiaras, headbands, rhinestone-framed, or pearled pins, all adorned to reshape the plain wintry clothes and style up your jewelry choices for an idyllic fall outlook.
Glorious necklaces, irregular hoops, mesmerizing gems, and fancy pearls all make a statement piece around your neck, hand, or head. Runway trends may alter continuously, but the above-mentioned jewelry trends will maximally grace up your look this fall.