Popular serial, Meray Paas Tum Ho's Mehwish may have stopped evoking controversy after the drama ended, but people have not forgotten her – or so it seems. But Ayeza Khan steered clear of commenting on all the gossip that went about until last night, when the actor seemed to have had enough.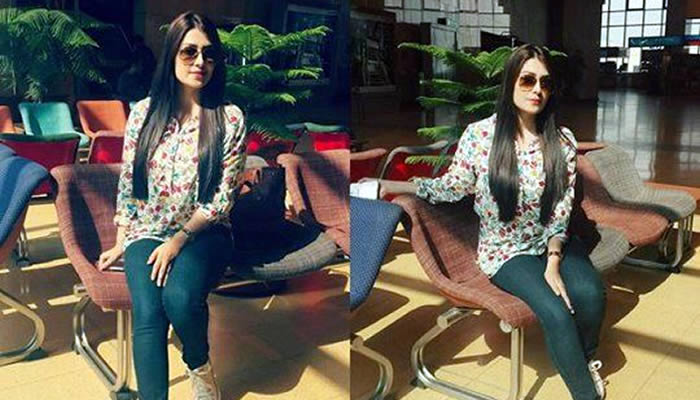 In a recent turn of events, a Twitter user claimed that he had seen Khan at the airport and witnessed a bunch of men slut-shamming her, using Humayun Saeed's dialogue from the serial, 'Dou takay ki aurat.' The user then went on to slam them, adding that it made him angry.
He said, "I was at the airport and coincidentally happened to see Ayeza Khan nearby. She was walking really fast and men were shouting 'Dou takay ki aurat,' at her as she went by. Hamari awam bohat c****** hai (Our people are messed up), I am angry."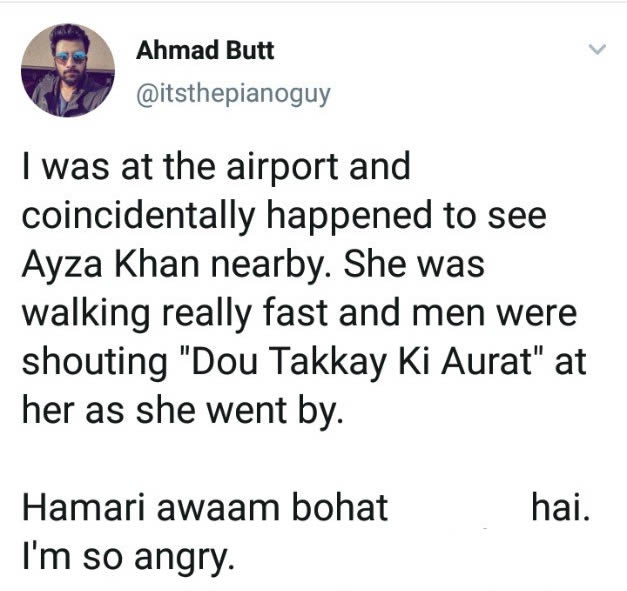 His tweet traveled across social media faster than the speed of light, as people went on to show sympathy towards Khan while discussing the pitfalls of playing certain roles on television.
However, Khan took to Instagram last night to clarify that nothing of that sort happened so people should stop making a fuss about it. Following this, the user's tweet was also removed or hidden. Either way, here is the clarification Khan provided.
"Oh please! Matlab kisi aik ne kehdiya or puri dunya ne yaqeen karliya, (So one person said something and everyone else believed it), do they have any video or proof?" questioned Khan.
"People love me crazily, Allah ka jitna shukar karun kam hai (no matter how much I thank God, it's not enough). Jitni izzat or pyaar mujhe Mehwish bankar milta hai, (The amount of love and respect I have received for playing Mehwish), why don't people talk about that?" She questioned again, addressing the people who went on to sympathise with her for being treated harshly for a role, rather than taking all the respect she had received for the same character into account.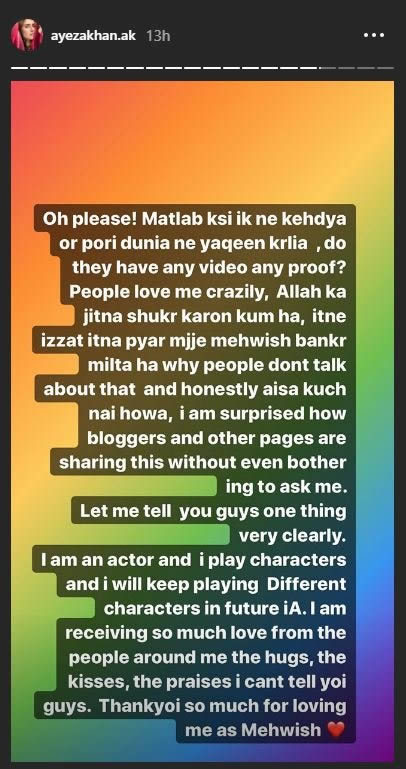 Khan then clarified, "And honestly, aesa kuch nae huwa (nothing of that sort happened). I am surprised how bloggers and other pages are sharing this without even bothering to ask me," she added, pointing out those who aided in publicising the 'fake news'.
"Let me tell you guys one thing very clearly, I am an actor and I plays different characters and I will continue to do that in the future, Insha Allah," reassured the star. "I am receiving so much love from the people around me, all the hugs, the kisses, the praises, I can't tell you guys."
She added, as she went on to reiterate how the character of Mehwish has done more good for her, than the narrative presented through the tweet which also meant no harm to her, but was 'not true,' according to the star. "Thank you so much for loving me as Mehwish," concluded Khan.