Mondal has then gone on to record songs for music director-turned-actor, Himesh Reshammiya's new film, Happy Hardy and Heer. The song Aashiqui Mein Teri 2.0, which is a remake of the song from 36 China Town, has already hit the Internet and is making waves. But that's not what Mondal is being talked about right now.
Instead of her talent that made her famous, it is her makeover that has set the grapevine buzzing. She recently attended an event for which she got a makeover, skin whitewashed et al, and her picture sent the meme lords into a tizzy. You can clearly see why….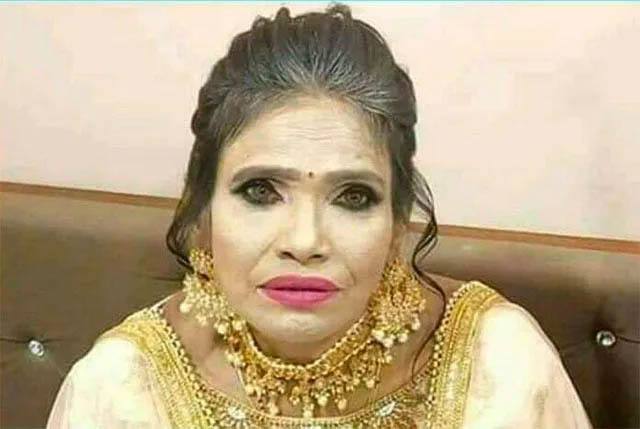 The world can be cruel. And there's always that little doubt that maybe some people would go to great lengths to garner publicity. But looking at how horrific the makeup is, we'd like to give Ranu Mondal the benefit of doubt here and assume that maybe her makeup artist had a twisted sense of humour.
The Nun 2 coming soon at theatres near you.#RanuMandal as Nun pic.twitter.com/nZsdG3IOAk

— Soham Naskar (@SohamNaskar) November 16, 2019
Joker 2.0 is coming guys….Excitation level is damn high😍 pic.twitter.com/hktJsV8zOb

— Ahnied kolim (@kolim_official) November 17, 2019
The picture on the left is a female beggar, who had a decent voice. Then the internet happened and most Indians freaked out.
&
The picture on the right is the biggest slap on those Indians face (majority) who are obsessed with white skin.
Hypocrisy, I guess not.#RanuMandal pic.twitter.com/QQVHjedssv

— IamNihal (@NihalChoure3) November 17, 2019
Houseful 4 #ranumondal #RanuMandal
Expectation. Reality pic.twitter.com/kpDLqhZHqy

— Avijit Karmakar (@Avijit_Karmaka) November 16, 2019
Houseful 4 #ranumondal #RanuMandal
Expectation. Reality pic.twitter.com/kpDLqhZHqy

— Avijit Karmakar (@Avijit_Karmaka) November 16, 2019
If "Dil pe patthar rakhke muh pe makeup jar liya" had a face.#ranumondal #RanuMandal pic.twitter.com/CubVSzGTZv

— Dabbu Sharma (@dabbu_78) November 17, 2019
#RanuMandal
Pic 1: Clicked by iPhone 11
Pic 2: Clicked by Oppo/Vivo#ranumondal pic.twitter.com/oJeOytrN4m

— A.v. Rajpurohit (@AvRajpurohit1) November 17, 2019
Indian version of Game of Thrones announced.#ranumondal #GameofThrones pic.twitter.com/oW5bgw9cAp

— Pavitra Behre (@_pavitra_af) November 17, 2019
Trump gave an open challenge to HR and Salman😌#RanuMandal #ranumondal pic.twitter.com/0SofMqwQOj

— Keshav | केशव (@aryaKeshav) November 16, 2019
Series of events..#Ranumondal pic.twitter.com/4YULIDmuGP

— Nadeem Gaur (@NADEEMGOUR_) November 17, 2019
#RanuMandal #ranumondal
Makeup ingredients for Ranu-Nun-Doll 😅😅 pic.twitter.com/J182ZXdugt

— Amar Gaikwad (@amargaikwad64) November 17, 2019