The first day of #PLBW17 was opened by GOLD by Reama Malik in Collaboration with Wasim Khan, followed by Shamsha Hashwani, Shiza Hassan and Ali Xeeshan Theater Studio as summarised below. Make-up for Day-1 of PFDC L'Oréal Paris Bridal Week 2017 was done by the creative team at N-Pro for womenswear and N-Gents for menswear.
This year, the L'Oréal Paris team will also redefine both bridal makeup and hair trends for the season using L'Oréal Paris Makeup and Excellence Crème products. The participating bridal week hair and make-up styling team for PLBW 2017 will be N-Pro/NGENTs.
Indeed in continuation of the Beauty Meets Fashion platform each season, this year L'Oréal Paris Makeup collaborates with international makeup expert Saima Bargfrede to create and define distinct bridal makeup looks for the season. Additionally, L'Oréal Paris continues its engagement of the bridal week platform with their runway to point-of-sale collaboration, this year with Ali Xeeshan, on their critically acclaimed Excellence Crème Ambassador of Fashion platform which was revealed on the first day of PFDC L'Oréal Paris Bridal Week.
In terms of further patrons and sponsors, the success of PFDC L'Oréal Paris Bridal Week continues to prompt private sector associates to grow in their engagement of the platform to launch new products, marketing campaigns and promotional activities sharing a common vision with the PFDC to develop and promote Pakistan's fashion industry. In this same spirit, this year the PFDC welcomes Ehsan Sehbai at the helm of Shaheen Airlines as the Black Carpet Sponsor and Airline Partner; Dewan Motors, importers of BMW in Pakistan as the Luxury Automobile Partner and Careem as Transportation Partner, Dolce Vita as a Lifestyle Sponsor, Borjan as the Official Footwear Partner, Aquafina as the Official Beverage Partner and Papercut as the Official Printing Partner.
PFDC L'Oréal Paris Bridal Week [#PLBW17] is being directed by Sadia Siddiqui with show production by Production 021, Event Architecture by Production 021 and Restart, N-Pro/NGENTs as official hair and makeup stylists, Kamiar Rokni from The House of Kamiar Rokni as the official spokesperson for the PFDC, digital support by Red Communications, photography by Faisal Farooqui and the team at Dragonfly, live-stream by AI Solutions, Geo Television Network as the official Media Partner and Radio1 FM91 as the official Radio Partner and security by PEL with media management by Lotus Client Management & Public Relations.
Bridal Showcase: GOLD by Reama Malik in Collaboration with Wasim Khan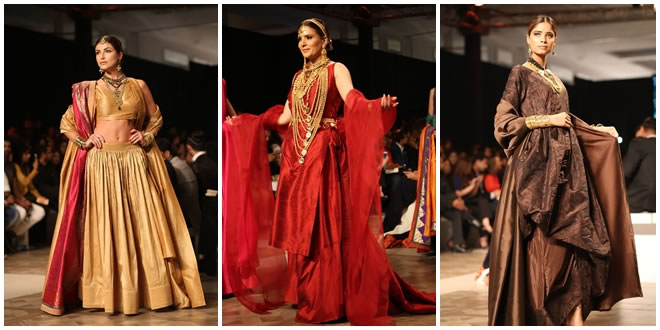 PFDC L'Oréal Paris Bridal Week 2017 Day-1 was opened by a first of its kind showcase featuring renowned jeweller GOLD by Reama Malik and Timeless Couture Line by Wasim Khan with their collection titled 'DEJA VU'; a collection that is inspired by Nauratan at the 7th edition of PFDC L'Oréal Paris Bridal Week.
Specialising in bespoke and custom design and create one of a kind pieces for the discerning bride who wishes to stand out and not merge with the rest, DEJA VU featured pure 18, 21 and 22 Karat gold with couture pieces in a spectrum of jewel colors, ruby red, emerald green, sapphire blue, golden topaz, pearl white, amethyst purple, garnet burgundy, coral, turquoise blue and transitioning to classic red.
Film actress Resham participated in the designer's showcase as a celebrity showstopper.
Bridal Showcase: Shamsha Hashwani
Following GOLD by Reama Malik and Wasim Khan, Shamsha Hashwani showcased her bridal collection 'Kolpona: A Gateway to Nostalgia' in collaboration with Sherezad Jewellery at the seventh edition of PFDC L'Oréal Paris Bridal Week. 'Kolpona' meaning 'fantasy' in Bengal – was an ode to Bengal's rich culture, art, history and Colonial influences.
'Kolpona' comprised of 16 vivid-hued pieces redolent of Bengal's Old World culture and incorporates luxe fabrics such as raw silk; jamavar, organza, and chiffon; while for the contemporary festive wear charmeuse silk and net were used. The bridal and festive collection incorporated intricately textural embroidery techniques including zardozi; bullion knots; handcrafted organza petals highlighted with pearls and beadwork; 3D embroideries; bugle bead tassels and Swarovski crystals. The color palette was inspired by classic precious stones: violet and plum from amethysts; mesmerizing blues inspired by opal and bridal reds from rubies. Ivory and écru was incorporated for the capsule of contemporary pieces.
The collection boasts a variety of classic silhouettes including deep halter-cut cholis dovetailed with lehengas, traditional farshi ghararas and stunning saris. Contemporary silhouettes included flowing kaftans, edgy jumpsuits and long sheath dresses end-noted with myriad flouncy dupattas.
Film actress Humaima Malick participated in the designer's showcase as a celebrity showstopper.
Bridal Showcase: Shiza Hassan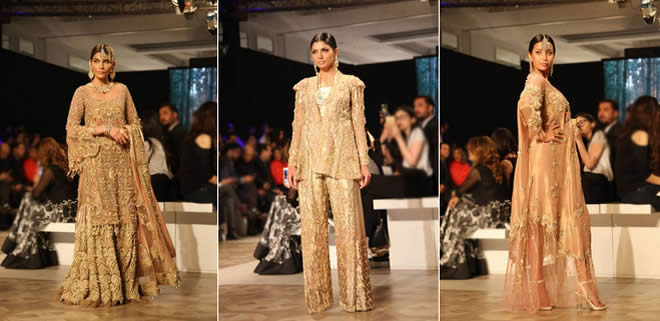 Shiza Hassan showcased her latest bridal collection titled 'Aroos-e-Shehnai – Chapter II' on the first day of the coveted PFDC L'Oréal Paris Bridal Week 2017. This collection, as the name signifies, is a manifestation of splendor and elegance. With its handcrafted intricate work and an eye-catching color palette, it brings to life the spirit of the wedding season.
The olden days of the Persian era with water gardens and ancient architecture, come to life under the canvas of tissue, velvet and mukesh with embellishments of Swarovski and kamdani. The motifs and patterns capturing the Persian art and the shikargah scenes pay a grand tribute to the Persian heritage. The needlecraft on a spectrum of hues with an entrancing speckle of pearls and scintillating adornments enliven the frescos with vitality, narrating a tale of its own.
The handiwork with its immaculate detailing and impeccable artistry on the fine quality fabric features classic and modern techniques that pour life into the flora and fauna incorporated in the designs. The color palette adds to the enchantment with shades like mint green and ice blue paired with accents of gold and crimson amalgamating into something truly magical. The silhouettes, while staying true to the modern essence, devote an ode to the traditional charm of the royal, ancient days making this collection one of a kind.
Bridal Showcase: Ali Xeeshan Theater Studio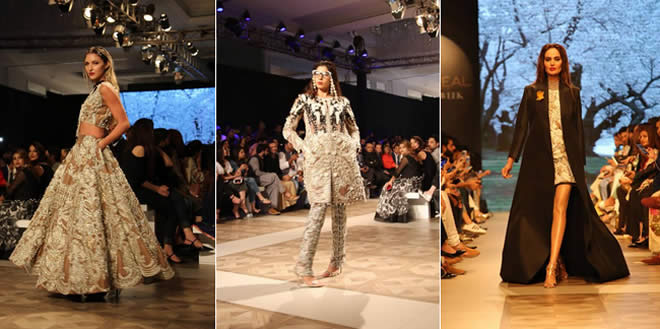 The finale of Day-1 was presented by Ali Xeeshan Theater Studio which showcased the bridal collection 'Lasting Loyalty' at the seventh edition of PFDC L'Oréal Paris Bridal Week. The collection is a tribute to how the creator inspires us to create something beyond imagination.
'Lasting Loyalty' incorporated luxe fabrics such as organza and raw silk and features tilla-work, pearls, naqshi, pasham, adda work and a revival of various old school techniques. The colour palette included Ivory white, warm yellow, blue, red and deep ruby. The collection boasts a variety of lenghas, skirts, and dresses across the range of 24 designs.
During this showcase, L'Oréal Paris Hair Color also celebrated their latest 'Ambassador of Fashion' platform collaboration with Ali Xeeshan for the 'Excellence Intense' Collection. The campaign featured L'Oréal Paris Pakistan local spokesperson Mehreen Syed and fashion models Sabeeka Imam and Sadaf Kanwal.
Film-maker and photographer Abdullah Haris participated in the designer's showcase as a celebrity showstopper.