Day One of Fashion Pakistan Week Winter Festive kicked off last night and it wouldn't be an understatement to say the evening went a spinning speed downhill after Misha Lakhani's opening.
Here's what you need to know: This year Fashion Pakistan Week has been organised under a new board, with Deepak Perwani as Chairperson and Feri Rawanian as CEO. For the first time, the venue of FPW has changed from Pearl Continental to the Global Marquee near FTC. Several fashion models have been flown in from Dubai for the event and the event has Frieha Altaf back as Show Director and Event Manager. The lineup is a mixed bag though we were excited by the look of the grand new runway that took an anchor-like shape. Unfortunately the council got a bit over ambitious when they decided they would be able to fill up the rows of seats; the hall was surprisingly half empty last night.
Coming to the collections – because we must – seeing the plethora of ill-fitted garments, gaudy embellishments and draped "wonders" (we wondered why we were subjected to them), we also wondered why and when FPW's 'Winter/Festive' became over-loaded bridals?
Here's a quick recap of who showcased what…
Misha Lakhani – Bagh-e-Bahar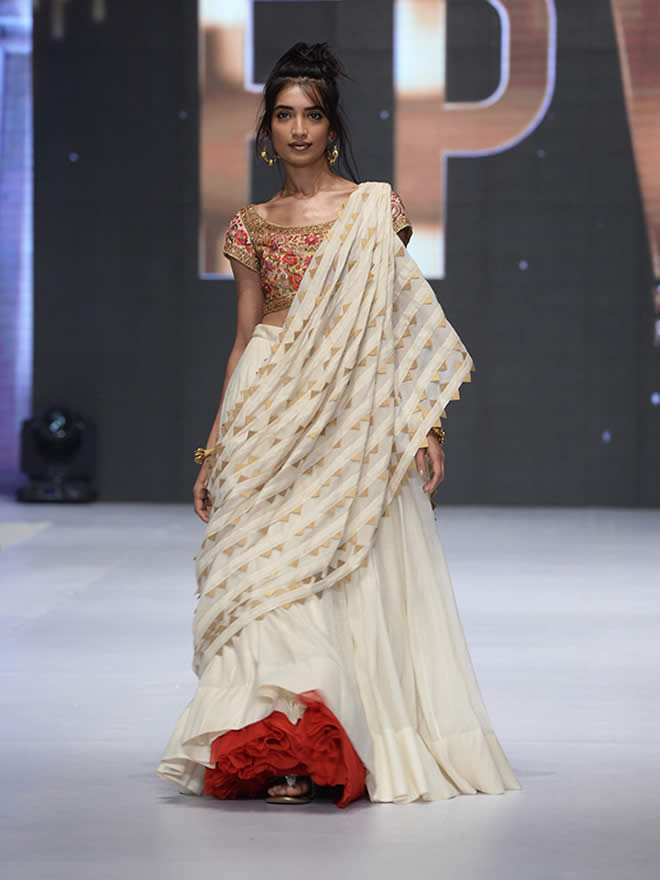 Lucky for us Misha Lakhani was the saviour last night with her simplistic take on traditional formals. With her signature sober tones, and a pop of deep red here and there, the designer managed to play with layers and varying fabrics to stand out. Our favourite piece was a pink choli paired with a voluminous white skirt. Plus, special props for the lovely classical music and coordinated sandals instead of bizarre sky-high heels.
Aamna Aqeel- Palace Wonderland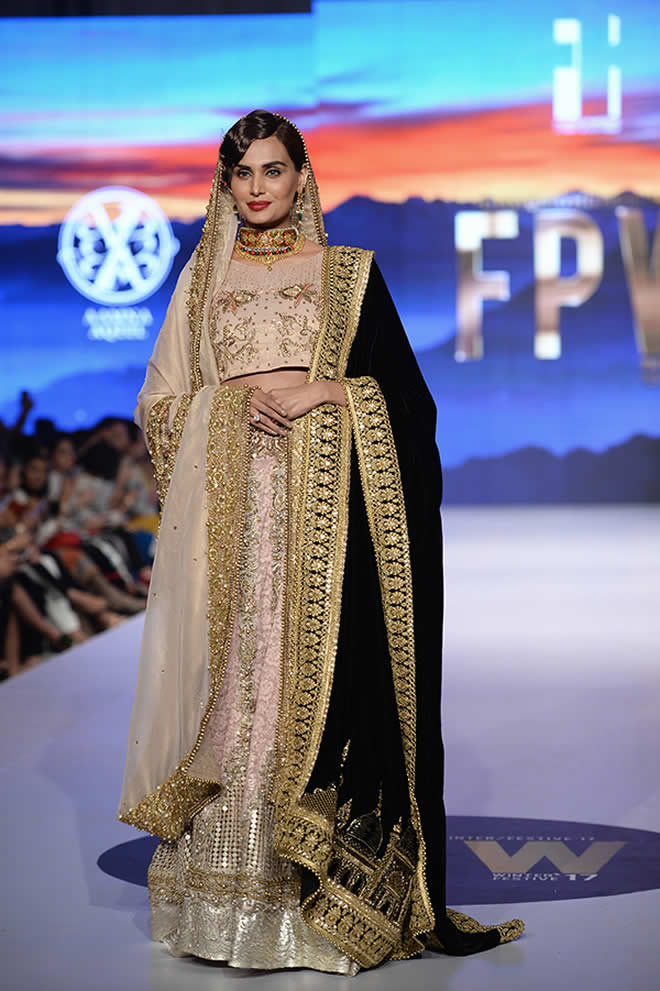 Aamna tried to bring in popular trends with her outfits, with draped tops and off shoulder styles, but overall the collection lacked oomph. Amidst a range of soft pinks and ivories, the black velvet shawl Mehreen Syed adorned did catch our attention for its architectural embellishment, but it didn't match with the bridal look or stand out as much as it could have. Plus, the collection was marred by ill-fitted garments; there were droopy crotches that were not too flattering, to say the least.
Saira Rizwan- Glitterati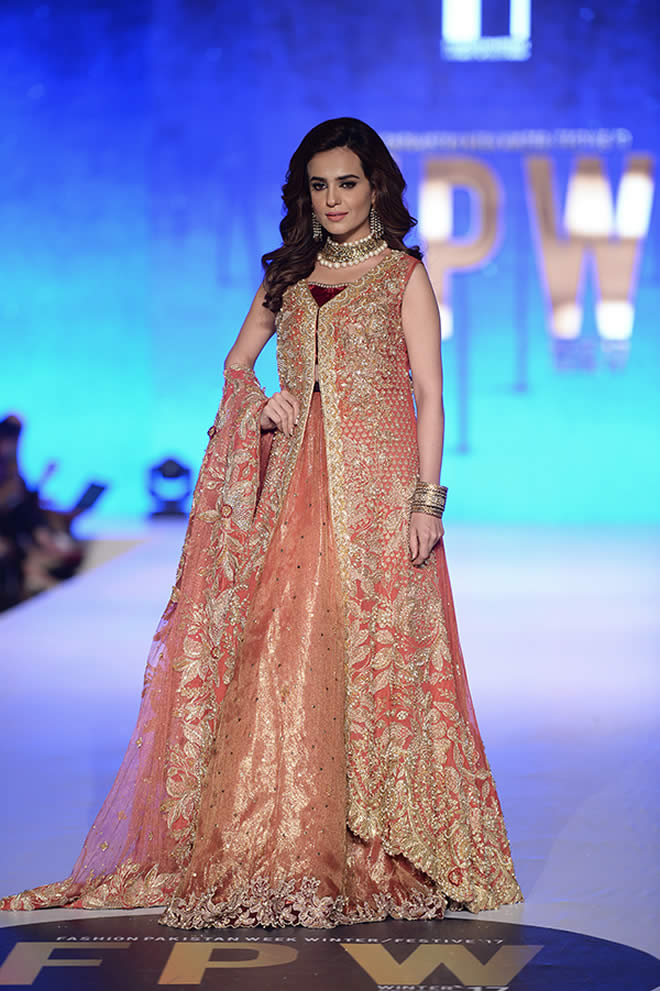 Glitterati was all glitter, but definitely not gold. Forgettable to say the least, but perhaps some commercial potential in there somewhere. This was a very Bridal Couture Week type of collection.
Erum Khan- Bridal Odyssey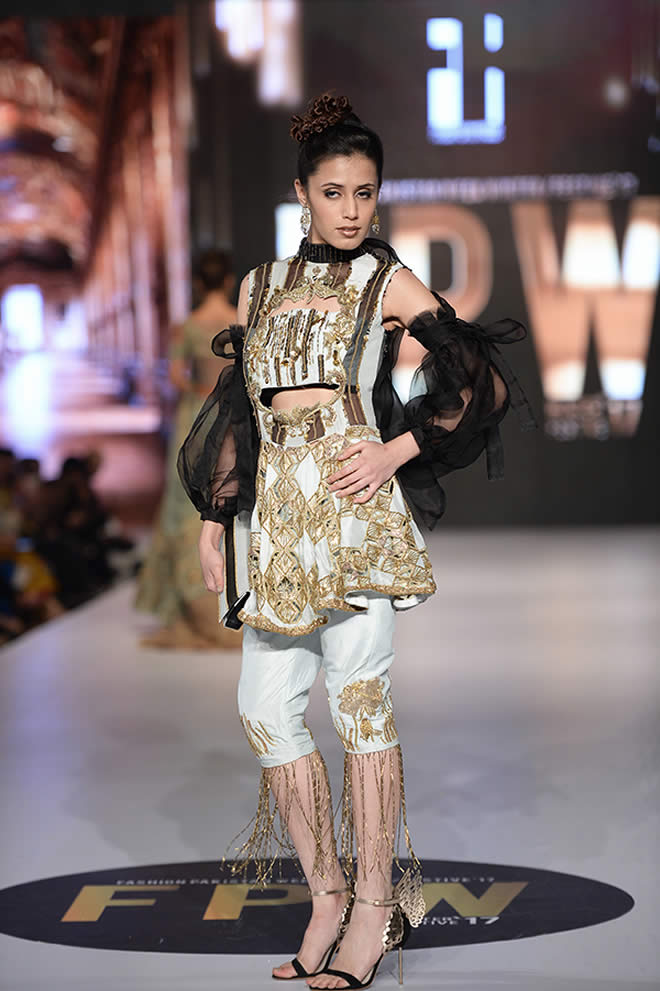 If gaudy bridals had a name, this would be it. Add the two unforgettable fairy inspired outfits, and the red military inspired jacket to add some incoherence to the collection. There's nothing more we can say about this. We wouldn't even wish this on BCW.
Obaid Sheikh- Husan Ara
Obaid Sheikh was the only designer who showed menswear last night; though flared and pleated jackets aren't something we'd imagine anyone we know to wear. The garments were extremely ill-fitted, with an unsuccessful play on experimental silhouettes.
Suffuse by Sana Yasir
Definitely better than the rest, Sana's collection consisted of her usual sparkly greys with lots of beaded tassels. Though some of the outfits made interesting statements, the collection was too much of what the designer has shown before, along with the same old colour palette. Also to be noted: two senior editors walked out before the designer showed her collection apparently because they believe she blatantly copies Faraz Manan. We also felt the designer was channelling her inner Elan. Or at least trying.