Music sensation, singer and song-writer Momina Mustehsan and emerging artist Danyal Zafar kicked off the much-anticipated season of Coke Studio with their duet song. The multi-talented duo performed a pop-rock track titled Muntazir in Episode One of the historic Season 10.
Written and composed by Strings, Muntazir marks the return of Season 9's chart-topper Momina Mustehsan and also the music debut and Coke Studio Debut of Danyal Zafar on the country's leading musical platform.
Muntazir is a modern day tale of young love, a track that reflects the journey of Strings going back to their musical roots. The song gives an energetic, decadent insight into the musicality of desire. The longing in the lyrics and vocals are further embellished by the respite of fluidity and delay of the guitar.
Scroll Down for Video:
It manages to transport the listener to a warm, nostalgic soundscape of longing. Backed by strong basslines & a tight rhythm section, Danyal Zafar revs up a lifting guitar solo alongside Momina Mustehsan's soulful vocal performance. A pop-rock standard that transcends time, Muntazir is a sweet ditty that juxtaposes the boldness of declaring love and the fragility of the process of unveiling your heart.
On her first performance of Season 10, Momina Mustehsan says: "I have grown up listening to Strings and they have always been a source of inspiration to me. They have been my mentors since the last season and to be able to sing their Original this year was a great honor for me. Muntazir has a very feel-good vibe to it. It's Strings' signature composition, especially the pre-chorus. I thoroughly enjoyed lending my vocals to it. It's also special because it's my friend Danyal Zafar's debut performance and I am glad to share the floor with him."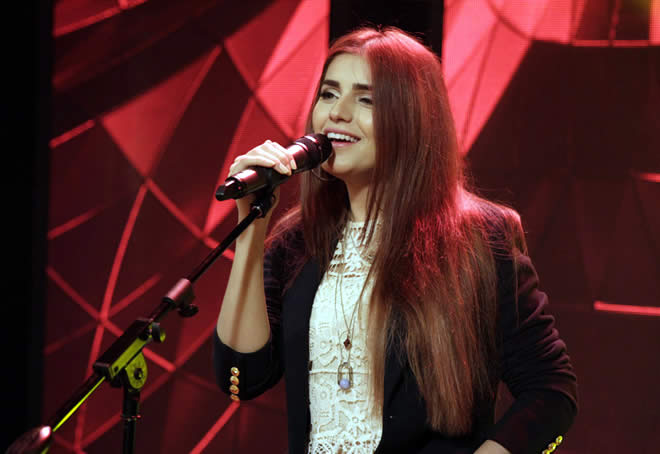 As a solo artist, Momina Mustehsan  is currenty working on various new music projects including Cornetto Pop Rock Season 2 and will be releasing new singles later this year. While, Danyal Zafar is currently working on his debut album and serving as a music director alongside Ali Zafar in the latter's debut Pakistani film Teefa in Trouble. Both Momina and Danyal are also the brand ambassadors for Sprite in Pakistan.
We'd love to hear what you think of this. Let us know at [email protected]
Stay tuned to Fashion Central for latest news and updates.