The pioneering Pakistan Fashion Design Council [PFDC] and L'Oréal Paris, the world's leading beauty brand, presented Day-2 of the sixth consecutive PFDC L'Oréal Paris Bridal Week 2016 – a platform that endeavors to define and present contemporary and traditional Pakistani Bridal fashion, while fusing hair and makeup trends to create looks for the upcoming bridal season of 2016-2017.
This year, the PFDC proudly introduced an entire day dedicated to fashion designers set to make their solo show bridal debuts on Day-2 of PFDC L'Oréal Paris Bridal Week.
The second day of #PLBW16 opened with bridal showcases by MAHGUL, followed by Shiza Hassan, Farah & Fatima, Saira Rizwan and Shamsha Hashwani as summarized below. Make-up for Day-2 of PFDC L'Oréal Paris Bridal Week 2016 was done by the creative team at N-Pro for womenswear and N-Gents for menswear.
This year, the PFDC L'Oréal Paris team aims to redefine both bridal hair and make-up, whilst the styling and makeup teams will present their trends for the season using L'Oréal Makeup Designer Paris and Excellence Crème products.
Indeed in continuation of the beauty meets fashion platform each season, this year L'Oréal Makeup Designer/Paris has collaborated again with three designers to create and define three distinct bridal makeup looks for the season including Ali Xeeshan, The House of Kamiar Rokni and MAHGUL. Indeed both Ali Xeeshan and MAHGUL have also artistically interpreted their bridal week collections through bespoke installations in partnership with L'Oréal Makeup Designer Paris being displayed at bridal week itself.
Additionally, L'Oréal Paris continues its engagement of the bridal week platform with their runway to point-of-sale collaboration, this year with HSY, on their critically acclaimed Excellence Crème Ambassador of Fashion platform which was revealed on the opening day of PFDC L'Oréal Paris Bridal Week and will be followed by a celebratory event on Day-3.
L'Oréal Paris also previewed Makeup Genius: the most innovative digital beauty and augmented reality smartphone application. L'Oréal Paris skin care also hosted their much anticipated annual lunch to introduce their new premium skin care products: Revitalift [HA]. L'Oréal Advanced Hair Care had also set-up an interactive augmented reality installation that plays and moves to the beat of the #DontStopHair single.
In terms of further patrons and sponsors, the success of PFDC L'Oréal Paris Bridal Week continues to prompt private sector associates to grow in their engagement of the platform to launch new products, marketing campaigns and promotional activities sharing a common vision with the PFDC to develop and promote Pakistan's fashion industry. In this same spirit, this year the PFDC welcomed Pepsi Co as the Official Beverage Partner, Bank Alfalah as the Official Banking Partner, Borjan as the Official Footwear Partner, Careem as the Official Transportation Partner and Q-Mobile as an Associate Sponsor.
PFDC L'Oréal Paris Bridal Week [#PLBW16] is being produced by the in-house PFDC production team with HSY as the event director and show choreographer, N-Pro/NGENTs as official hair and makeup stylists, front stage management by both Maheen Kardar Ali and Sara Shahid, backstage management by Production 021, Kamiar Rokni from The House of Kamiar Rokni as the official spokesperson for the PFDC, logistics and operations by Brandlogics, Beetroot as event consultants, digital support by Red Communications, photography by Faisal Farooqui and the team at Dragonfly, live-stream by AI Solutions, Urdu1 as the Official Media Partners, CityFM89 as the Official radio media partners with media management by Lotus Client Management & Public Relations.
MAHGUL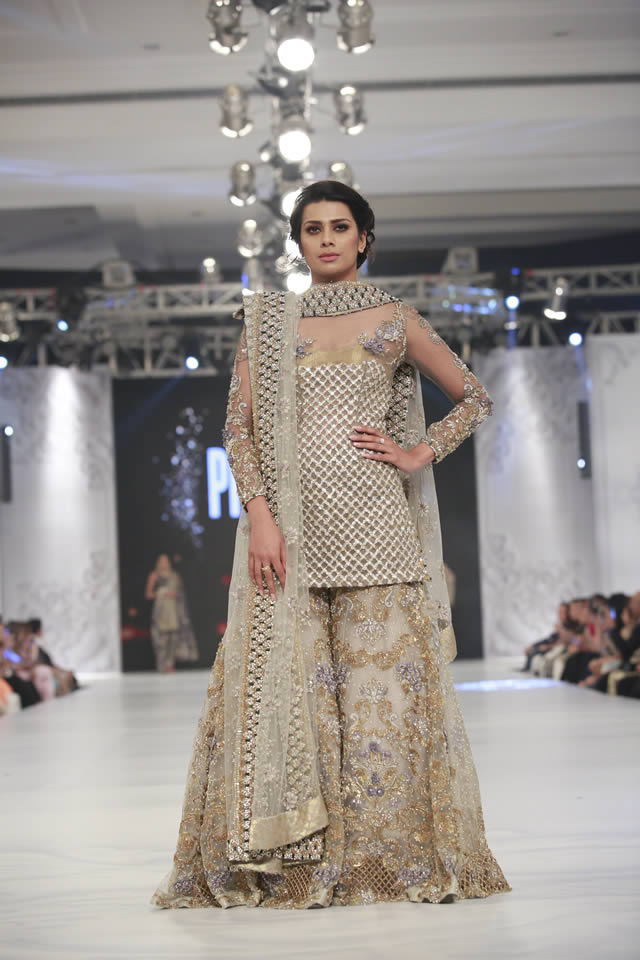 Day-2 of PFDC L'Oréal Paris Bridal Week 2016 was opened by MAHGUL who showcased her first complete A/W'16 bridal collection titled "The Trunks of Sabine". The Trunks of Sabine weaves a narrative through the imaginary and historic character of Sabine; journeying into the depths of her majestic trunks, to discover a pastiche of various artisans and influences that Sabine met through her travels, from Persia to the Khyber Pass and across the Subcontinent.
From the reinterpretation of traditional handwork techniques inspired by the fluidity of the marbles stone to ancient bejeweled armour, Mahgul created bespoke prints and textures across a monochromatic palette for this collection. With linear and layered silhouettes true to the MAHGUL philosophy of presenting progressive fashion, concentrating on surfaces and silhouettes that are modern and that can be worn individually, the collection was true to MAHGUL's design aesthetic. Trends highlighted in this collection included an evolutionary continuation of the brands 3D sculptural embellishments first introduced at bridal week in 2015, newly created hand work techniques, waisted cuts, Belts, Clutches and Layered trousers.
Additionally, MAHGUL is one of only three designers hand-picked by L'Oréal Makeup Designer/Paris to collaborate on the beauty meets fashion platform, to create and define a distinct bridal makeup look for the season. MAHGUL has also artistically interpreted her bridal week collection through a bespoke installations in partnership with L'Oréal Makeup Designer Paris to be displayed at bridal week itself.
Shiza Hassan
Shiza Hassan made her PFDC L'Oréal Paris Bridal Week 2016 debut with her collection titled 'Aroos-e-Abrashami' in Persian or 'The Silken Bride'. The collection is driven by a celebration of craftsmanship and legacy of the Persian craft of carpet making. Carpet making reached its epitomy as an artform in Iran during the Safavid era. The collection paid homage to this woven wonderment of over two thousand year old craft. The influence and spirit of Persian 'shikargah', 'tree of life' and their signature patterned motifs as seen in the masterful woven carpets lives on in this ode with a strong emphasis on creation of surface fabrics and hand embellishments.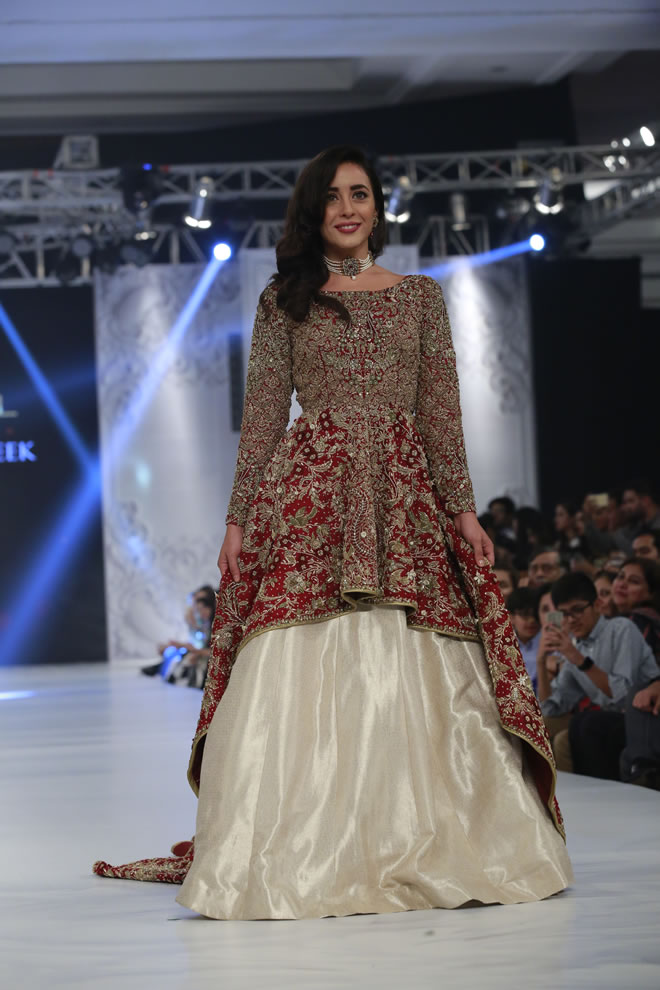 The tailored cuts and silhouettes were classic yet modern. The collection featured printed digital surfaces alongside organzas, nets and tissues and features a variety of cuts from jackets, flap shirts, bustiers, flowy drapes, shararas and lehengas with varying lengths, volume and diversity in fabrics. The collection comprised of zardozi, dabka, naqshi, kundan, resham, Swarovski's, embroidery, pure crystals, pearls and 3D embellishments. The collection also featured diverse color palette interplay from whites to shades of purples for royal look to blacks, ruby pinks with a dash of ferozi and pop of red coral with cuts which channel eastern vibes yet retaining modern elegance. The collection also included menswear pieces comprising of digitally printed waistcoats, jackets and embellished sherwanis.
Tennis star Aisam-ul-Haq participated in the designer's showcase as a celebrity showstopper.
Farah & Fatima
Farah & Fatima also made their PFDC L'Oréal Paris Bridal Week 2016 debut with their collection titled 'Shahnoor'. With creative director Fatima Sayed at the helm, the collection was based on Kashmiri Shawls and Kashmiri Art. Using a variety of pure fabrics such as net, organza, velvet and brocate, Sayed infused intricate embellishments like Gota Work, French Knots, Pitta, Mukesh Work.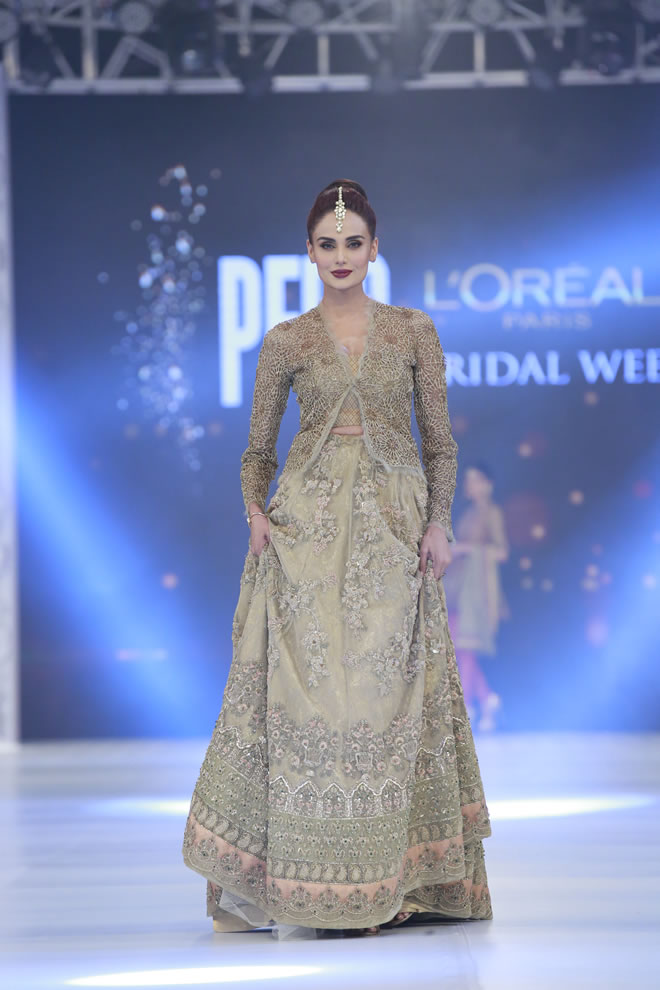 The collection comprised of fusion cuts and silhouettes and ranges from modern tops and cigarette pants to traditional lehengas and ghararas. The colour palette was derived from the beautiful rich colours used in Kashmiri Shawls which included families of red, orange, green and beige.
Saira Rizwan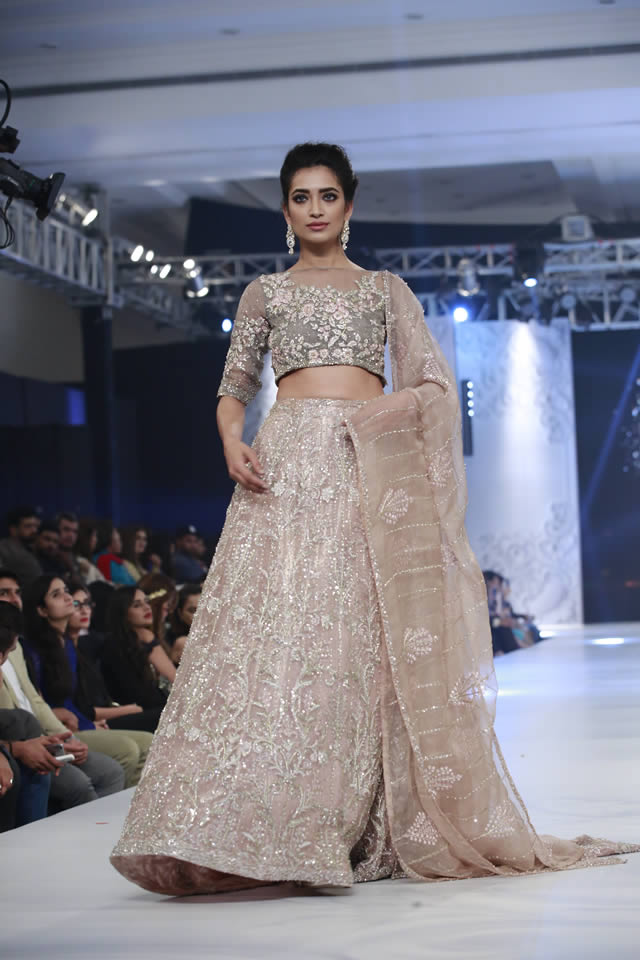 Also making her PFDC L'Oréal Paris Bridal Week debut this season was Saira Rizwan with her collection titled "MADEMOISELLE". The collection was inspired by the vintage era fused with a modern touch to it. Rizwan used sheer fabrics such as nets, organza and tissue with cuts suitable for everyday modern women that love to wear fusion clothes. The embellishment work ranged from intricate cutwork, fine thin lines, and hand thread embroidery to a variety of champagne and silver colour crystals and gem stones that completes the look of an outfit. The colour palettes used in the collection were pastels, mostly in pink, silver, grey, and gold tones with silhouettes that were simple and sleek.
Film and TV actress Hareem Farooq participated in the designer's showcase as a celebrity showstopper.
Shamsha Hashwani
The finale of Day-2 was presented by Shamsha Hashwani who made her bridal ramp debut with her collection titled 'A Mughal Mirage'. The collection narrates a childhood memory of the designer: a beautifully designed, Indian carpet in her parents' house with depictions of the Mughal Dynasty intricately designed on the border. For Hashwani, the Mughal miniatures were animated; bejeweled men smoking from pipes, figures with caps dancing in twirls, and warriors on horses fighting with swords. It was her mirage.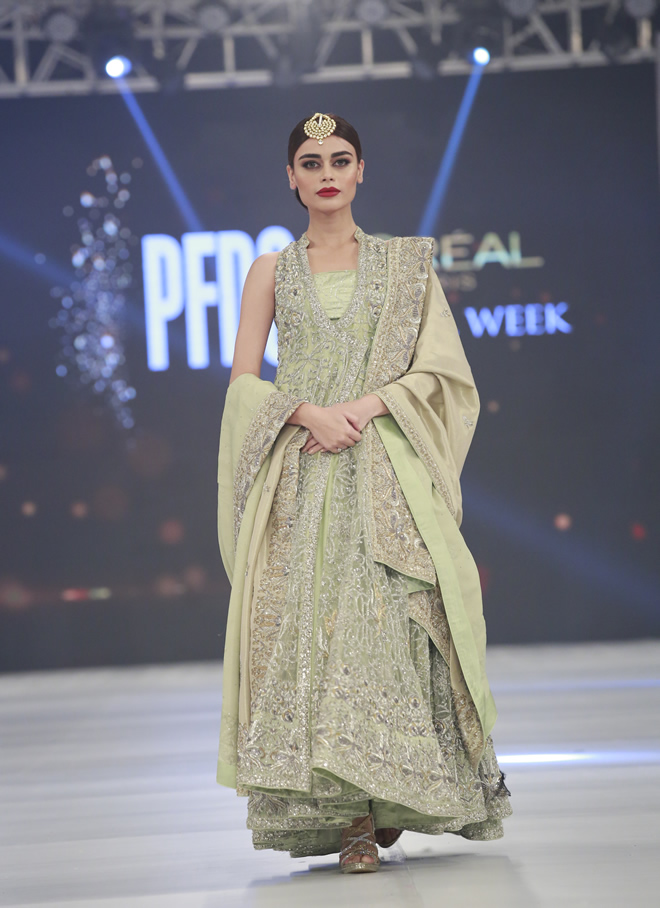 The collection symbolizes the Mughal Dynasty inspired from that carpet and was heavily embellished with zardozi, resham, marori, beadwork, appliqued pearls and Swarovski. Various detailing techniques such as French knots and bullion knots had been used with a fusion of classic and detailed work with modern, yet traditional cuts. The color palette was based on soft, fresh tones such as honeydew green and coral pink with shades of ivory and beige to create harmony throughout the palette and hints of maroon as a traditional fusion to the contemporary colors. The collection featured silhouettes such as angarkha kurtis, bridal shirts with hipster ghararas, overlay wide leg trousers and variations in jackets were seen in the collection.
Film and TV actress Sohai Ali Abro participated in the designer's showcase as a celebrity showstopper.