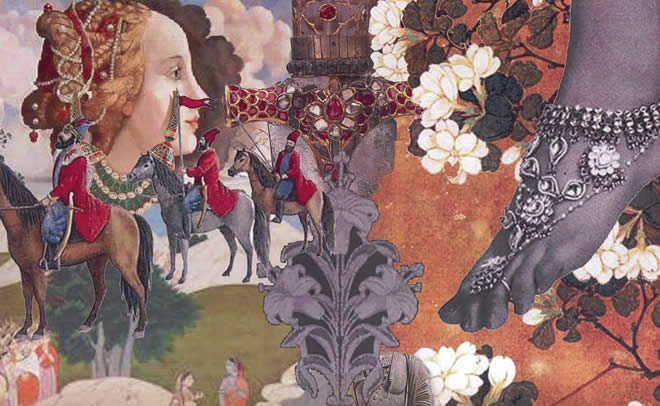 Following the debut of their luxury pret line ORO at the PFDC Sunsilk Fashion Platform earlier this year, MAHGUL is set to showcase their first complete A/W'16 bridal collection titled "The Trunks of Sabine", opening day 2 of PFDC L'Oreal Paris Bridal Week on September 29th 2016.
The Trunks of Sabine weaves a narrative through the imaginary and historic character of Sabine; journeying into the depths of her majestic trunks, to discover a pastiche of various artisans and influences that Sabine met through her travels, from Persia to the Khyber Pass and across the Subcontinent.
From the reinterpretation of traditional handwork techniques inspired by the fluidity of the marbles stone to ancient bejeweled armour, Mahgul has created bespoke prints and textures across a monochromatic palette for this collection. Expect linear and layered silhouettes true to the MAHGUL philosophy of presenting progressive fashion, concentrating on surfaces and silhouettes that are modern and that can be worn individually – true to their design aesthetic. Trends to look out for include an evolutionary continuation of the brands 3D sculptural embellishments first introduced at bridal week in 2015, newly created hand work techniques, waisted cuts, Belts, Clutches and Layered trousers.
Additionally, MAHGUL is one of only three designers hand-picked by L'Oréal Makeup Designer/Paris to collaborate on the beauty meets fashion platform, to create and define a distinct bridal makeup look for the season. MAHGUL has also artistically interpreted her bridal week collection through a bespoke installations in partnership with L'Oréal Makeup Designer Paris to be displayed at bridal week itself.
Post PFDC L'Oreal Paris Bridal Week The Trunks of Sabine will be exhibited at in Lahore at the MAHGUL studio on the 30th of September and at Ensemble in Karachi on the 14th and 15th of October, 2016.