After eight successful fashion events in London, Riwayat is proud to have produced yet another outstanding Pakistan Fashion Week London which was hosted at the Grand Connaught Rooms on the 4th -5th June.
Riwayat's journey has been a rich one so far, and the 9th edition showcased 36 top designers from the subcontinent and beyond at PFW. The two-day event focused on latest trends in Asian designer-wear including contemporary and formal/bridal/ resort selections.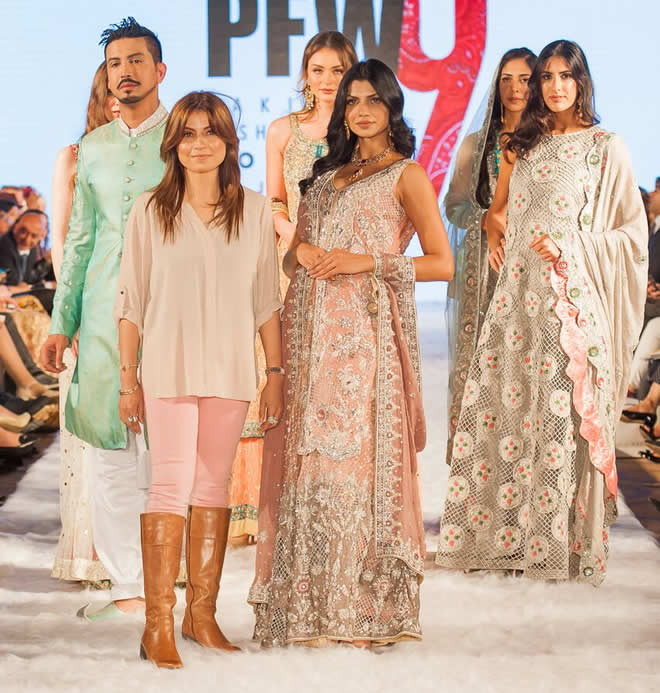 Some of the exquisite designers included Agha Noor, Gul Ahmed Textiles, Nida Azwer, Umsha by Umsha Babar, Sapphire, Ayesha Ajejaz, Shameel Ansari and Ahsan Menswear.
The show was hosted by non-other than the very talented and renowned television celebrity of Pakistan Ayesha Sana.
Riwayat were delighted to welcome Pakistan's High Commissioner, His Excellency Syed Ibne Abbas, to the Grand Finale Catwalk Show. The show was attended by Hollywood celebrities like David Hoffman and notable London socialities like Saira Haque, Fehmida Lakhany, Sultanant Malik & Rameez Sattar.
The show was enhanced by some of Pakistani top models including Nadia Hussain Khan, Eshal Fayyaz, Hira Ejaz and Hira Shah. Film actress Sana Fakhar walked the catwalk for Moazzam Abbasi.
The fashion showings were followed by an exhibition by the designers which is an integral part of our event. The hall exhibiting the designer's collections was packed to capacity on both days, with buyers and media flocking in to grab next season's fashion statements. Also present on the event were a large number of fashion bloggers and celebrities from countries like India and Pakistan.
With the support of the media giant ARY digital, the Pakistan High Commission, Patron Sponsor Movements by Collectibles and WCOP, Riwayat's success on their ninth event has echoed around the places where Asian fashion is anticipated.
Riwayat's mission is to present the best of Pakistan to a watching world. PFW9 London is the latest in a string of high-end events both in London, Europe and in Pakistan.