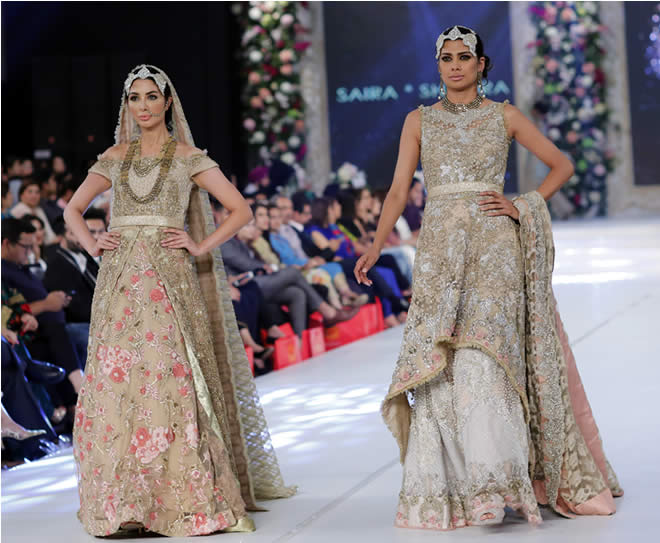 The Pakistan Fashion Design Council [PFDC] introduce their ninth season and fourteenth fashion week [with eight weeks of prêt-à-porter and five of bridal fashion] revealing a complete show line up, schedule and corporate sponsors. Indeed as with previous iterations, with #PSFW16, the PFDC endeavours to define and present luxury/prét, high street and lawn/voile trends for 2016, focusing specifically on fashion for the regions' long hot summer months.
Continuing with the structured approach to fashion showcases, the PFDC team builds on their commitment to 3 distinct platforms within PSFW with separate and dedicated showcases by Luxury/Prêt designers, High-Street brands and Textile houses. Indeed #PSFW16 will feature some of the season's most anticipated designer brands and high-street labels and will also serve as a launching platform for S/S'16 season's lawn collections.
Participating designers with Luxury/Prêt collections include Ali Xeeshan Theatre Studio, Deepak Perwani, Feeha Jamshed, HSY, Karma Pink, Khaadi Khaas, MAHGUL, Maria B, MUSE, Nomi Ansari, Nickie Nina, Saira Shakira, Sana Safinaz, Sania Maskatiya, Sublime by Sara, The House of Kamiar Rokni, Zara Shahjahan and Zonia Anwaar. The Bank Alfalah Rising Talent Showcase will also be introducing: Ghulam Dastgir, Hira Ali, Saiqa Raheem and Unza Khalid this year.
In addition to the aforementioned Luxury Prêt showcases, the PFDC expands on popular demand their High-Street show platform shows featuring two days of afternoon shows [12th and 13th of March] from Hang Ten, Denizen, Umar Iftikhar, DSS, MBM, HSY Limited for Kashf Foundation, Shirin Hassan and Sobia Nazir, highlighting contemporary and affordable ready-to-wear apparel. In addition to the afternoon high street showcases, the evening of day 4 [13th March] will also include a dedicated series of lawn shows featuring Al-Karam, Khas, Warda Prints, Ittehad Textile Mills, Harmony by Hang Ten and Gul Ahmed.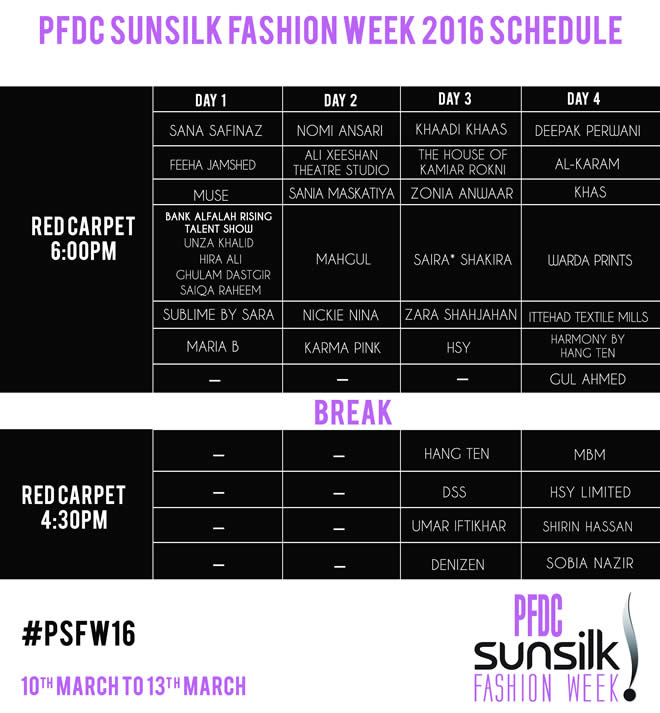 "At the heart of PSFW is our commitment to present the trends and looks for the season ahead. To that end, we are delighted to be presenting such a diverse line up this year of Pakistan's most anticipated brands across four days of shows. At the PFDC, we are equally happy to have expanded our business vision to bring to the industry the PFDC Fashion Active. This is a pioneering new platform whereby we have introduced a first of its kind specialized and dedicated space for fashion showcases, trunks shows and exhibitions all year round – not just limited to seasonal fashion weeks. We bring to all productions at the Active the spirit of mentorship, through the seasoned experience of the PFDC's executive council, event production, modelling and choreography teams, fashion styling expertise, photography, collection editing services and a panel of fashion and business experts to produce fashion content for brands; a complete fashion experience as it were." said Sehyr Saigol, Chairperson of the PFDC Council.
"We believe that every girl deserves beautiful hair. If you're dressed to the hilt, have new shoes and are excited about a day spent with your friends, the look will not be complete unless your hair makes you happy. We want black shiny hair, we look for hair fall solutions, we applaud thick and long hair and crave perfect straight hair. Sunsilk has been delivering the same to the Pakistani consumer since decades. A love for fashion and beauty is at the heart of a modern day girl's life and at PFDC Sunsilk Fashion Week we are delighted to showcase beautiful hair for some of Pakistan's most accomplished and respected designers. With great hair by your side you get the complete look. As the PFDC Sunsilk Fashion Week enters its 6th year we are delighted to see it go from strength to strength." said Fariyha Subhani, Director – Home and Personal Care, Unilever.
In terms of further patrons and sponsors, the success of PFDC Sunsilk Fashion Week continues to prompt private sector associates to grow in their engagement of the platform to launch new products, marketing campaigns and promotional activities sharing a common vision with the PFDC to develop and promote Pakistan's fashion industry. In this same spirit, in addition to their title sponsor Sunsilk, this year the PFDC welcomes global giants Huawei as official technology partner and Pepsi Co as official beverage partners, Careem as official transportation partners and Borjan as official footwear partner and green room hosts. In continuation of their support for the platform Bank Alfalah continues as the Official Banking Partners and patrons of the rising talent showcase.
PFDC Sunsilk Fashion Week will be produced by HSY as the event producer and show choreographer with Nabila N Pro/NGENTs as official stylists, front stage management by Maheen Kardar Ali and the PIFD student team, backstage management by Product 021 and the PIFD student team, logistics by Brandlogics, event consultancy by Eleventh Experience, Digital Agency Pakka Papita, photography by Faisal Farooqui and the team at Dragonfly, Hum TV as official media partners, CityFM89 as the Official Radio Partners with all media management by Lotus Client Management & Public Relations.