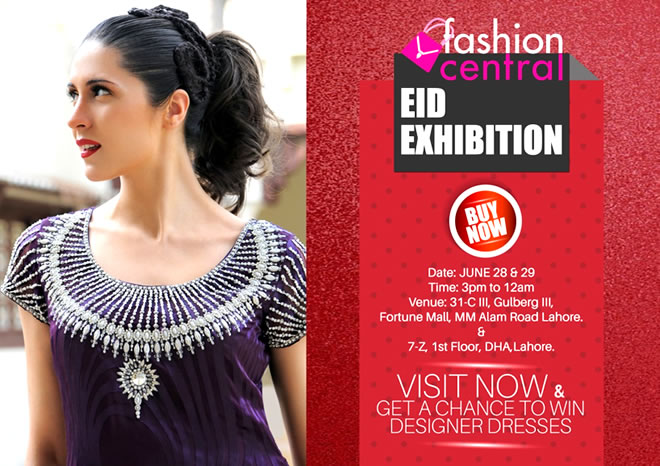 Much anticipated "Eid Designer Exclusives" will be presented at Fashion Central Multi Brand Store flagship outlet on MM Alam road and DHA Z block, Lahore.
The Eid Designer exclusives include Fashion Centrals top designer brands of clothing, jewelry  and shoes. As for the range; ample creations will be available in categories like the Abaya & Kaftan, the Drapper dress; the maxi dress; Traditional lehengas;  semi formal gowns , luxury pret suits and lawn pieces. This range will be complemented by women footwear; party handbags; and the chic girly tops.
The attraction for men will revolve around menswear bridal shervanis, shalwar kameez, dress shirts, belts, cuff links and footwear.
Also on display are sparkling fashion jewelry pieces from Rici Meloni, Silversiz, Midas, Aura Jewels and Hamna Amir.
To enhance Eid joy, the creations of 21st century fashion designers by Ahmed Zubair, Cresna, Grandeur, Heesham & Raza, Imbias, Muneeb Nawaz, MINSA, Abeer Jawaid, Le-Reve,Natasha, aqub, Indifference, Fashion Exchange, Monica Pracha, Nayna, Rehan And Muzammil, Sana Barry, Sugis, Titch N Stitch, Uzma Sheraz, Waseem Noor, Zeeshan Bariwala, Zunaira Sheraz, Saima Essa, Hayat Collection, Yasmin Zaman, Khazina, Thread Line By Sajid, Ambreen Ali, Aura Jewles ( J ), Ammara Mateen, Afsheen Naveed, AH&A, Aim Coutoure  ( J ), Aisha Imran, Fahad Hussayn, Maria Khan, MBM, Midas, Saleha & Nadia, Saima Ambreen, Vasim Asgher, Cranbery, Aleena Rehan Khan, Kaamdani By Iffat & Sonia, Fayon, Lubna Naveed, Afsheen Mehboob, Sanam Agha, Fatima Tauqeer, Faraz Abid Sheikhu, Eshal Jee, Sony Batik, Zarcone, Madiha Ibrar, Silversiz (j), Myna, Viq London, Black & White, Head Over Heals, Caprice, Rici Melion, Smyer By Sadia Waleed, Fariha Kiyani, Ohm,, Embalish, Khizer Samim Durani  will be on offer.
More Highlights:
Lucky draw competition by designer brands will also be conducted amongst fashion lovers with one dress every hour.

This exclusive Eid Fair is managed and organized by Fashion Central itself.

Fashion Central Media Group is the online Media partner for this event.
Venue Details:
Locations:
Fortune Mall, 20-A, Block C-3, Hussain Chowk, MM Alam Road, Lahore 54600

7-Z, 1st Floor, DHA Lahore
Days: Sunday & Monday
Date: June 28 –June 29
Time: 3:00 pm till 12:00 am
Contact:
0300-0800-749 (MM Alam)
0300-0800-741 (DHA)
Media contact: Khawaja Pervaiz
Phone +92-42-35772252, +92-300-8480918,
Email: [email protected]
Store Address:
Fortune Mall, 20-A, Block C-3, Hussain Chowk, MM Alam Road




Lahore, Pakistan-54600

7-Z, 1st Floor, DHA Lahore
Contact via Email
[email protected]
Fashion Central Eid Designer Exclusives Official Hash-tag is #FCEID