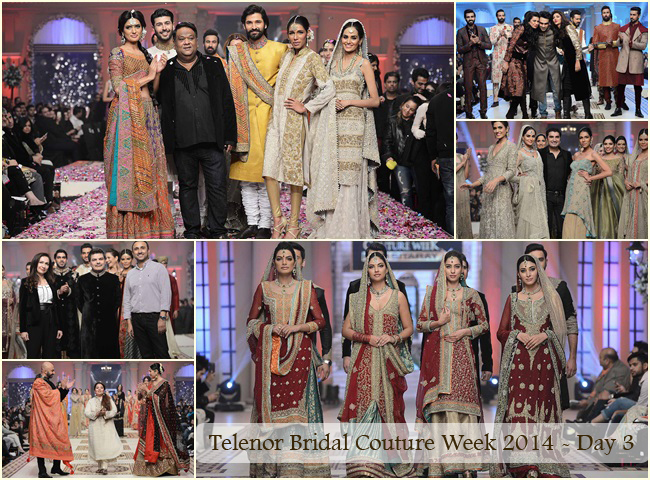 HUM Network presented Telenor Bridal Couture Week, scheduled to take place from December 11 to 13, 2014 at Faletti's Hotel, Lahore. Day 3 of the 9th Bridal Couture Week A/W 2014 in collaboration with Telenor to be held in Lahore on December 13th, 2014.
The final day of Pakistan's most anticipated bridal show, Telenor Bridal Couture Week 2014 attracted a huge number of celebrities, socialites and fashionistas.
The day 3 has 2 segments. Show 1 featured the bridal collection of by Mini Bindra, Sahar Atif, Toni & Guy Hair & Makeup Presentation, Samreen's Closet and Asifa & Nabeel.
The 2nd show brought to us the bridal collection of Mehdi, Munib Nawaz, Power House of Fashion (HSY, Nickie Nina, Nilofer Shahid, Rana Noman, Sana Safinaz & Zara Shahjahan), Telenor Light Show and Umar Sayeed.
All the participating designers have showcased their enchanting and fabulous bridal collections.
DAY 3:
Show 1 (Act 1) – MINI BINDRA: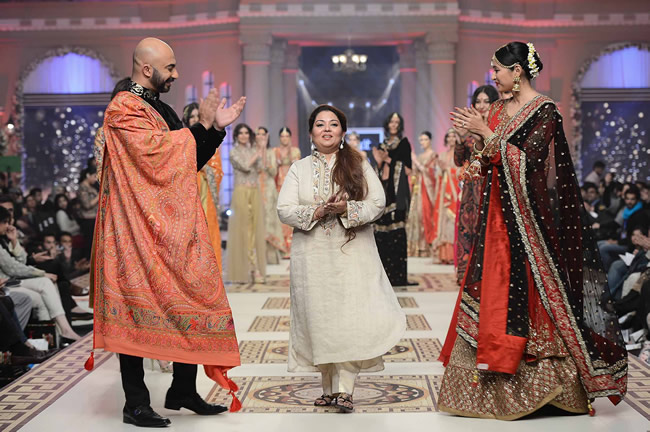 Mini Bindra's showcased her TBCW 2014 Collection "Rubaaiyat-e-Khayyam". Designer Mini Bindra's luxurious collection titled Rubaaiyat-e-Khayyam is an ode to famous poet Omar Khayyam's Rubaaiyat, which is a collection of short poems on love. Hence, the couture line too is an amalgamation of short sub-collections of beautiful fabrics fused with her modern design sensibilities.
Mini Bindra presented a contemporary take on traditional silhouettes with fitted bodices paired with voluminous gharara pants as well as draped dhoti ensembles, enhanced with Persian motifs beautifully ornamented with pearls throughout the collection.
The intricate embroideries highlight the palette in muted shades of cream, beige, black and gold with the occasional use of Persian red.
Hassan Shehryar Yasin (HSY) walked the ramp for the new designer as showstopper.
Show 1 (Act 2) – SAI BY SAHAR ATIF: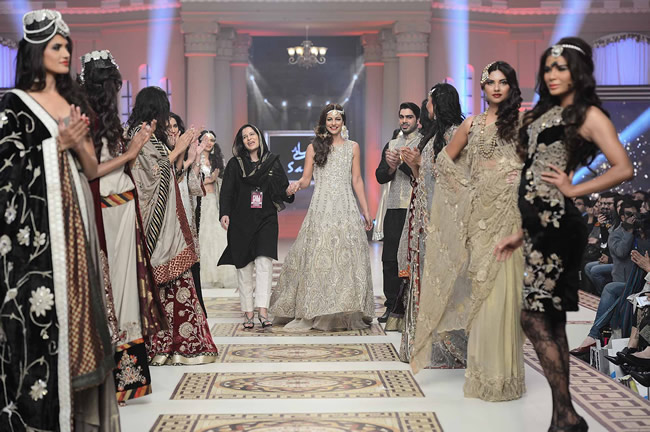 The next Collection was from Sahar Atif name "The Sultanate". Sahar Atif unveils The Sultanate collection that brings exquisite embroidery with the drama of couture. The centuries' old legacy of Islamic art, architecture and crafts is translated into the finest examples of elegant ensembles. The Sultanate is an amalgamation of purity of white-on-white juxtaposed against the modernity of Saai's signature silhouettes.
Saai's creative techniques reinterpret intricately crafted textures through various forms of embroidery, giving each ensemble the essence of being a masterpiece. The use of motifs, floral, paisley and geometrics of the Islamic jaalis are dominant in this collection. Even though the unparalleled beauty of velvet as a base fabric is regal, a play on layering of organza adds to the grandeur of the collection.
Show 1 (Act 3) – TONI & GUY HAIR & MAKEUP PRESENTATION: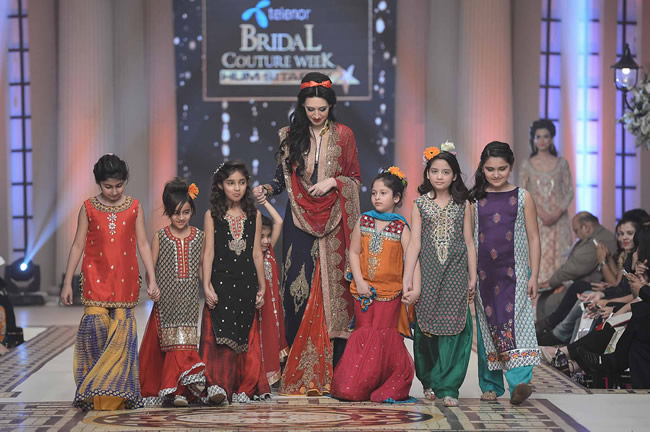 Samreen Vance House of Jewels collection will be followed by Toni & Guy Hair & Makeup Presentation.
Show 1 (Act 4) – SAMREEN VANCE: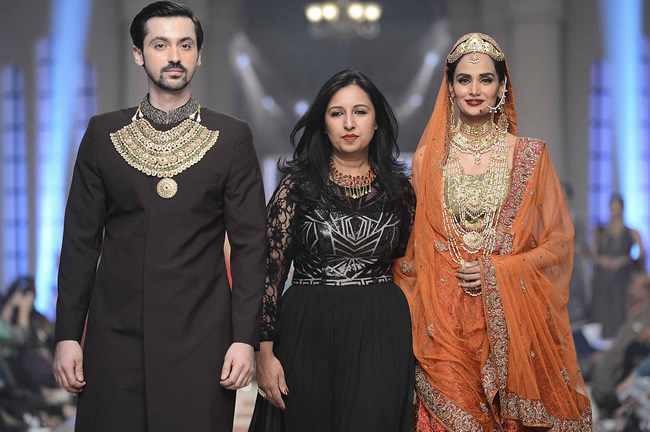 Samreen Vance House of Jewels offers you REET, an impeccable blend of traditional decency and modern sensuality. REET will add an exciting new world of intelligent fashioned collection in your own jewellery box.
The inspiration of REET is the extraordinary jewels of the Mughal Raj and the Persian Sultanate. It revives our historical tradition of passing down an heirloom to the bride. Providing an elegant fusion of cultural legacy, nobility and memories, it offers glowing enamels with an intriguing matrix to accent the bride's loveliness. Samreen Vance's TBCW 2014 collection is wonderfully versatile, bringing a fine designer collection of gold-plated and sterling silver jewellery to match the wearer's beauty and taste.
For the traditional bride, this spring there's a whirl of festive color in the captivating collection by Samreen Vance. The superb designs in her precious jewels add a touch of glory and royalty to the bridal dress. Majestically crafted and set to perfection, it is designed to elevate natural splendor.
Show 1 (Act 5) – ASIFA & NABEEL: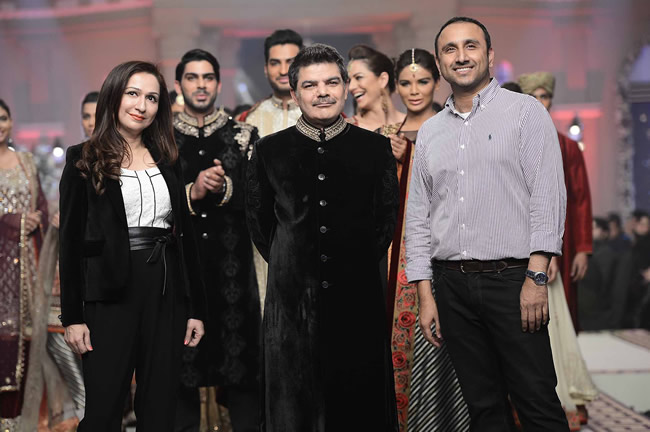 Asifa & Nabeel exhibit their royal bridal collection on the third day of Bridal Couture Week. The designer closed the Show 1 Ceremony with bridal collection named "KLAH".
KLAH is all about needle artistry, influenced by the majestically sublime Islamic Art (the art of various rich cultures). The designs partly draw inspiration from the mesmerizing creativity of Alhambra Palace in Spain, considered one of the most classical artworks in Islamic history, which is being highlighted through elements of Persian Shahi Tabriz.
Asifa&Nabeel designed KLAH keeping in mind the magnificent signature approach of the label, with the trendiest of contemporary yet traditional styles to give an exquisite bridal look this season.
The showstopper for Asifa & Nabeel Collection was the famous talk show host "Mubashir Luqman".
Show 2 (Act 1) – MEHDI: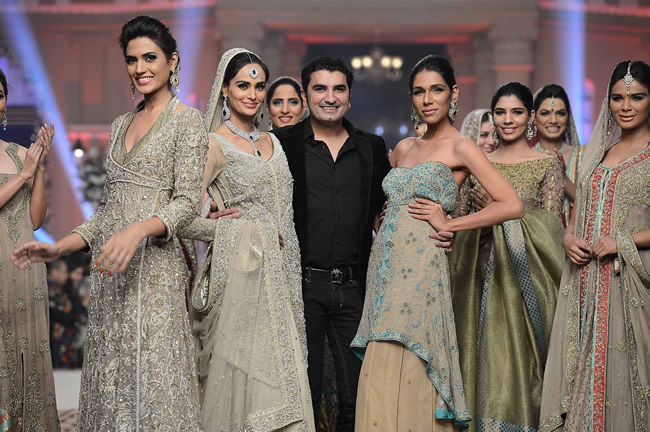 Show 2 started with an impressive showcase by Mehdi. His rich colour palette and design aesthetics were appreciated by the attendees.
Show 2 (Act 2) – MUNIB NAWAZ: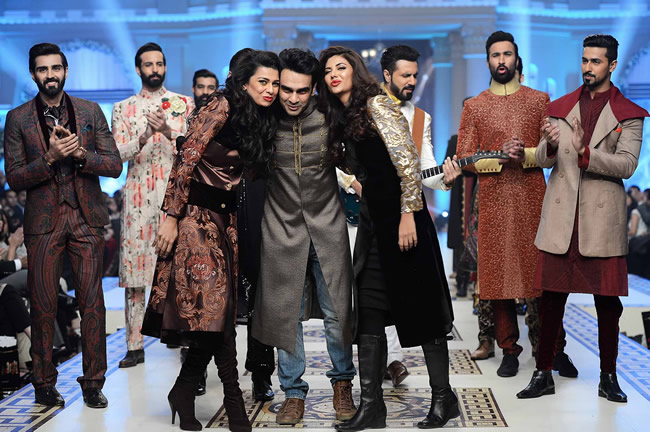 Munib Nawaz's TBCW collection, Paradise Express is a tribute to a journey, a destination and the medium through which our belief in love is attained. This collection embeds itself in the matrimony of obscure contrasts. The interplay of patterns, textures and colors pave way for a dimension of classic masculine silhouettes redefined for the modern man.
Crafted, luxurious fabrics and a rich play of colors come together in this collection. This collection is about modernizing traditional menswear for the 21st century gentleman who stands out owing to his attention to details, quintessential ability to be stylish without following prescribed notions and crafting a look that blends elements of classic and contemporary together. Paradise Express is the journey of a man of style into making his love a reality!
Show 2 (Act 3) – POWERHOUSE OF FASHION:
Munib Nawaz's collection was followed by the much awaited showcase of the day by the gurus of our fashion industry. The segment titled "Powerhouse of Fashion" presented the unique, edgy and chic capsule collections by HSY, Nicke Nina, Nilofer Shahid, Rana Noman, Zara Shahjahan and the fantastic duo, SanaSafinaz.
Show 2 (Act 4) – TELENOR LIGHT SHOW:
Gearing up for the grand finale of the 9th Telenor Bridal Couture Week, the audiences were given the last treat of the night with a special light show by Shahzad Disaster and his gang, the performance further charged up the attendees, setting the mood for the grand finale.
Show 2 (Act 5) – UMER SYED: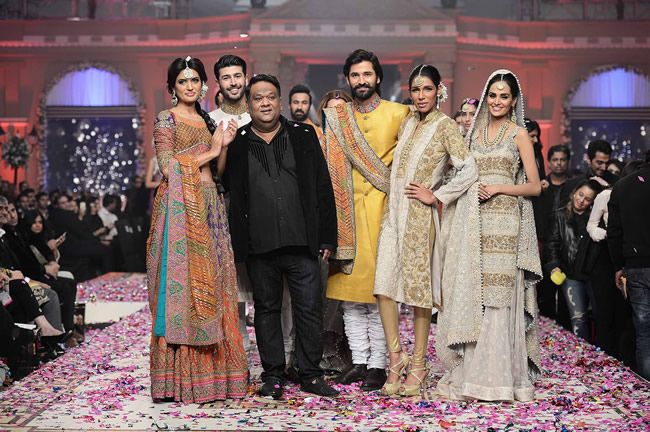 Closing the show on Day 3, Umar Sayeed has showcased his rich and royal bridal collection 2015 at Telenor Bridal Couture Week 2014 (TBCW14). Luxurious fabric and immaculate tailoring made both for men and women, was as fiery as ever, ending the show with a bang.
One of the leading designers Umer Syed has lit up the show on the stage of bridal gala. Pakistani Fashion Designer Umar Sayeed introduced its stunning bridal wear collection with graceful dress designs. All the bridal outfits of Umar Sayeed were so appealing and ornamented with superlative quality of embroidery in a conventional way.
The famed news anchor 'Sana Bucha' was the showstopper for Umar Sayeed Collection at TBCW2014. The anchor was looking superb in Umer Syed's latest Bridal collection from his top class fashion house.
The female models Faiza Ansari, Maha, Sunita Marshall, Hira Shah, Fia, Areeba Habib, Falak Sheikh, Rabya Chaudhry, Maham Ali, Aqsa Ali, Sidra Imran, Cybil Chaudhry, Aneesa Khan, Annie Rajput, Racheal, Neha Ahmed, Nadia Ali, Nooray Bhatty, Mehreen Syed, Sadia Faisal, Rabab Ali, Eshal, Anum Malik, Amna Baber, Dania Sheikh, Geeti Ara, Mahroosh, Sonia Nazeer, Knawal Ilyas, Sabeeka Imam, Sanam Bukhari, Humaira Asghar Ali.
The male models includes Umer Shahzad, Tabish Oza, Athar Amin, Hasnain Lehri, Qanit Fahim, Fawad Khan, Waleed Khalid, Jahan-e-Khalid, Anwer Khawar, Aimal Khan, Rohail Pirzada, Waqar Butt, Ali Murtaza, Junaid Butt, Qaiser, Qanit Fahim and Arsalan Mughal.
N-Pro and N-Gents has managed the grooming of more than 30 male and female models in Day 1 with the season's hottest hair and make-up trends.
Designer and choreographer extraordinaire, Hassan Shehryar Yasin has directed the bridal extravaganza and the action captured by Faisal Faruqi @ Dragonfly along with official photographers of HUM Network.
The event was powered by Q Mobile and co-sponsored by Tapal Green Tea. FM106.2 was the official radio partner; snack partner was Peak Freans, with Nestle Pure Life as an associate sponsor, and fragrance partner was Junaid Jamshed J. TBCW was refreshed by Diet PEPSI. Faisal Farooqui and his team at Dragonfly along with in-house photographer, Haris Usmani were engaged for all official photography of the event.
All public relations operations and media liaison will be carried out by the in-house PR team of HUM Network Limited.