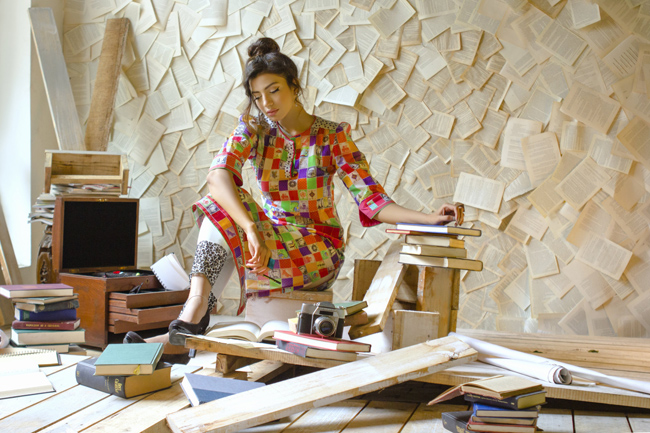 After their successful 2013 summer campaign, Kayseria has introduced their latest collection for Spring/Summer under three distinct themes; 'A Color Riot' inspired by Basant, 'Victorian Romance' inspired by the Victorian Era, and 'Letters of Love' inspired by stamps.For this unique campaign, Kayseria has engaged different models who present diverse looks, each representative of the theme under which the outfit was designed. The unique collection features an unprecedented 65 distinct designs, catering to the diverse fashion needs of even the most discerning consumer.

A Color Riot:
With ensembles meticulously crafted by artisans hailing from Kutch, this line is based in bright and vibrant colours, with a perfect blend of indigos, reds, pinks and purples that aptly reflect the spring season. The designs take inspiration from the cultural sights, sounds and smells of Kutch, a land of snowy white marshy lands with hills on one side and the Arabian Ocean on the other.
Victorian Romance:
The second theme for Kayseria's Spring/Summer collection is inspired by one of the most celebrated time periods in British history. The line features expansive frocks and fitted corsets, embellished with frills and lace in richly textured floral and lace patterns. The outfits are based in bold blacks and pearly whites accompanied by intricately designed lace patterns with hints of red roses blossoming onto the fabric.
Letters of Love:
The third theme takes its inspiration from postage stamps, a cultural time capsule that chronicles everything from history to contemporary art and monetary value, aptly representing both power and beauty. Expect outfits that feature enticing patterns and are based in a dynamic colour palette with shades that pop and inspire wonder.
Speaking about Kayseria's Summer campaign, Art Director Waleed Zaman said, "Spring has arrived in full form and brought with it a rush for fresh wardrobes and new starts. Just as the first flowers of summer begin to bloom, we unveil our bright and style savvy new collection of prints in a variety of brilliant fabrics. Fulfilling our commitment to provide only the highest quality apparel in our signature aesthetics, we present our new Spring/Summer 2014 collection to our discriminating audiences, with a lot of love."