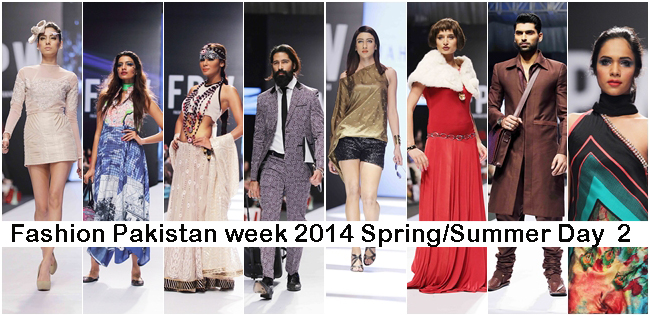 The second day of Fashion Pakistan Week Spring/Summer 2014, organized by Fashion Pakistan Council and HUM Sitaray, is association with Toni & Guy, TDAP, Bank AlFalah, Nestle Everyday and Nishat Linen, opened with upcoming designer Fahad Hussayn.
Fahad Hussayn enthralled the attendees with his unique sense of colours and cuts. Fahad Hussayn couture aims to provide its clients with high end fashion and trousseau clothing. The range focuses on grandeur in terms of designs and aesthetics. The designer presented Trousseau collection, an exquisite couture bridal-wear.
The popular make-up brand Maybelline came up next. Models walked on the ramp with contemporary make-up for work and parties. The audience also witnessed latest trends in bridal make-up.
The next showing was of Naushemian by Nauman Arfeen. Nauman Arfeen's couture ranges from exclusively designed 'sherwanis' to top-of-the-line royal turbans that ensure a strong following for the designer. 'Haute after Dark' by Nauman Arfeen was inspired by Persian art called 'Persian pickles'.
Pakistan's leading leather brand Jafferjees ended the First Act of Day Two with their latest products. Jafferjees spring/summer 2014 collection featured clutches, handbags and travel bags that were crafted with sophisticated details. Jafferjees collection offered mixed textures and patterns including ostrich-print and cross-stitch to delight the most demanding enthusiasts of fine leather.
The Second Act of Day 2 started with a colourful and funky collection by Gulabo. Since its inception in 2005, Maheen Khan's brainchild, Gulabo has grown to become one of the biggest brands in prêt business in Pakistan. Gulabo is a tribute to everything born and bred in Pakistan. Pure truck art-inspired motifs and patterns portray the love of Gulabo for Pakistan and modern 'desi' culture. Aside from hip pret wear for the youth, the label also offers decorative items such as photo frames and accessories with the same theme.
This exciting show was followed by models exhibiting artistic wear by Innaya. Inaaya is a pioneering concept in ethical fashion, combining classic inimitable techniques with artisanal production. Inaaya utilizes skilled workers to create unique, flawless fashion pieces and hand-made goods which are now finding an audience globally with receptive customers, eager for differentiation, embracing the 'one-of-a-kind-finds' trend, especially in fashion, home goods and soft furnishings industries.
This year Fashion Pakistan Week also highlighted the upcoming retail brand, SHEEP. SHEEP offers ready-to-wear designer couture to cater to modern day women. The couture offers smart casuals, work-wear, luxury prêt, Black SHEEP and SHEEP Man. The brand has successfully expanded its reach in the last few years. They offer an exclusive mixture of casual fashions and chic runway designs boasting unique colour schemes. The clothing range is complemented by chic accessories with original designs that are mostly influenced by nature.
The Act culminated with a grand showing by Shamaeel Ansari. Shamaeel's style focuses on magnificence and grandeur. While her couture is luxuriant and distinctly bordering on the regal, her new prêt is a cluster of price-sensitive high fashion that leaves a unique stamp of ingenuity on a mixture of fabrics. Her earlier flamboyance has been replaced with elegant mellowness with a sense of mystery.
Fashion Pakistan Week 2014 is being choreographed by HSY & Productions with back stage management by Production [021] & show production by CKO. Tapu Javeri has been engaged for all official photography for the event while PR of the event has been undertaken by the PR department of HUM Network Ltd.