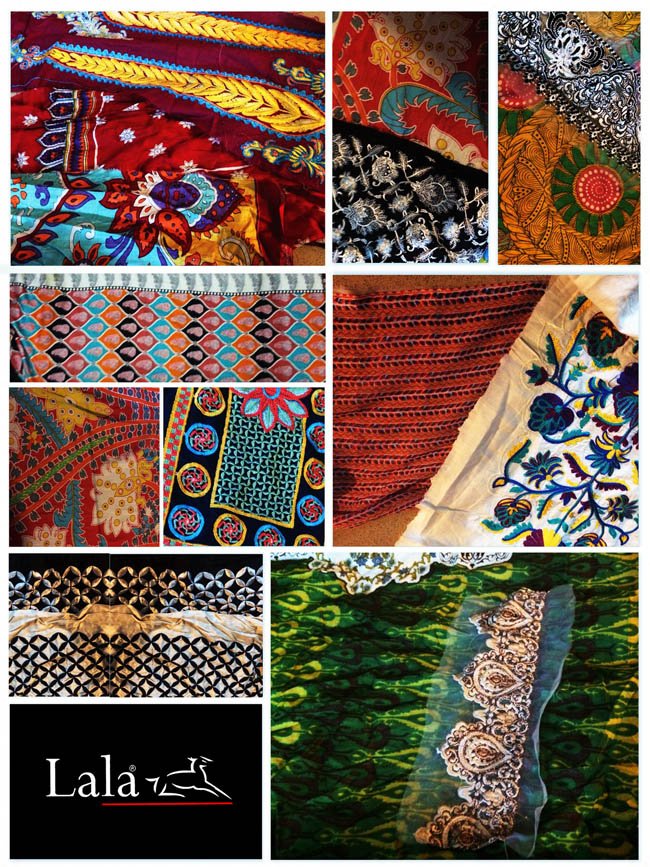 One of Pakistan's leading textile brands, LALA Textiles are set to introduce their SS-2014 collection of prints at Fashion Pakistan Week 6 on Thursday 19th February 2014 with a collection styled by designer Wardha Saleem. With a versatile array of silhouettes, Lala with Wardha Saleem bring to the runway an eclectic mix of fashion, combining the ethnic and vibrant lawn prints of Lala Textiles with the young pret wear aesthetic of Wardha, for a more contemporary outlook.
Speaking about the Lala Textiles debut on the FPW ramp, CEO Pervez Lala said: "We have been showcasing our prints in Lahore, India, the Middle East and Europe throughout 2012 and 2013 and look forward to bringing our new series of prints to the Karachi Fashion Pakistan Week runway in design collaboration with the talented Wardha Saleem. At Lala we intend to expand throughout 2014-2015 in Pakistan and within the expatriate communities in Europe and the US as well as to our Indian audiences and we trust such platforms will give us further accessibility and reach to these markets and aid us with this expansion."
On collaborating with Lala Textiles for the FPW 6, Wardha Saleem says, "It has been a fun experience making ensembles out of Lala Textiles' vibrant prints. Keeping the brand's design ethos in mind, I've styled outfits by mixing and patching different prints, fabrics and embroideries to create a kitsch collection that is in line with the trends of SS2014."
Indeed, having started in Pakistan in 1947, the Lala Textiles brand has today grown to encompass seven diverse retail brands providing accessible summer; mid summer and winter fabric ranges. Today, with their multiple decades of seasoned experience, the Lala brand continues to provide quality material through custom prints throughout the year and has expanded exponentially within Pakistan, India, Bangladesh, the Middle East and the UK. The brand is best known for their seasoned experience in manufactured, producing and retailing quality textile with a commitment to principled trade.