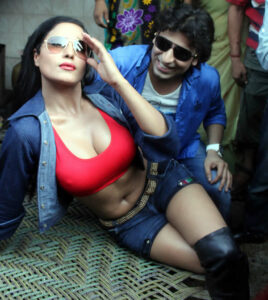 Prostitute is a very hot topic in Bollywood, many producers and directors have taken this controversial topic and had made wonderful movies. They had shown the life of Sex Workers, they had shoot their movie in the area of prostitution but no one has came forward to promote their movie in the actual world of prostitution.
While Bollywood has been to Kamathipura several times for shoots, no one has been thoughtful to spend personal time with sex workers. Bollywood first ever actress Veena Malik was seen promoting her upcoming movie "Ziindagi 50-50" with co star Rajan Verma at Kamathipura Mumbai's oldest and Asia's 2nd largest red light district and making awareness of Safe Sex. The sensational babe Veena who always supports womanhood for a long time so she decided to spend the special day of her life with sex workers. She is of the opinion that women should be worshiped and hence decided to share her happiness with women who were less fortunate.
Veena Malik said, "It was a great experience to visit Kamathipura and have a word with ladies. While playing a character of Sex Worker in my movie "Ziindagi 50-50" I came to such a reality of their life and I am trying to help them by creating awareness of safe sex."
Veena Malik feels that sex workers are considered an 'outcast' by the society which is prejudicial. Hence she wanted to make them feel special so she made a visit to sex workers as they hold a special place in her heart as she in her own words plays the character Madhuri like one of them.
Rajan Verma who is playing a role of auto rickshaw driver said, "I am really happy that we are here in Kamathipura to spread the awareness of safe sex in such a particular area where it is very important." Veena is known to live her life by her rules and the distinctive way in which she promotes her movie makes her bold and beautiful. The movie is stated to release on 24th may.