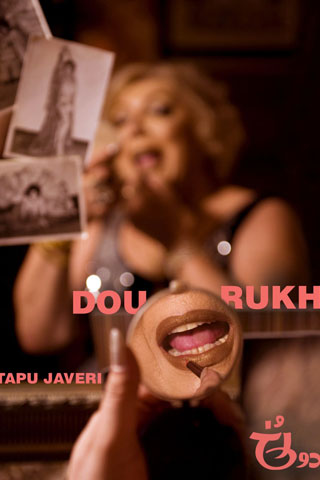 Following the successful launches of their previous titles "BHV Zoo – Life at Bahawalpur Zoo" by Amean J and "Mrs. Azra Syed's Pakistan Cooking", Markings Publishing proudly presents its third venture, "Dou Rukh" [رخ دو] by acclaimed photographers Arif Mahmood and Tapu Javeri.
Indeed "Dou Rukh" is a photographic representation of two individual perspectives using the same subject in portrait format which, all of whom were captured this 2011. Each individual portrait intricately expresses the photographers' distinct compositions, framework, lighting, shadows and connection with the subject. This unique compilation is styled to include two front covers; "Dou Rukh" opens landscape from one side to reveal portraits by Arif Mahmood. Mid way the book pages also rendered the other way round, featuring images by Tapu Javeri in vertical format – Thus, both sides of the book are also the respective front covers.
Personalities captured by Arif Mahmood and Tapu Javeri both, include: humanitarian Abdul Sattar Edhi, qawwals Farid Ayaz and Abu Mohammad, artist Durriya Kazi, TV actor Shakeel, architect Habib Fida Ali, TV host Mathira, musician Ali Zafar, ex-cabaret dancer/socialite Marzi, restaurateur Mahmood Bundo Khan, playwright Haseena Moin, film actress Reema Khan, comedian Durdana Butt, media personality Imran Aslam, fashion designer Rizwan Beyg, fashion model Ayaan, and poetess Zehra Nigah along with both Arif Mahmood and Tapu Javeri themselves portrayed through each others' lens.
Speaking about the book, photographer Arif Mahmood said, "This project was started on our whim. Tapu and I were sitting on a weekend over coffee. We wanted to do portraits. It started with seven personalities, which got extended to fourteen and then the eventual number enclosed within these pages. For the record all portraits were shot in 2011. The list was a sensitive and calculated one. Various people were added and then dismissed as the yardstick varied on our moods and their availability. We had the reins of this ride and it was going to be a great one. So it began… The perspective game."
Speaking about 'Dou Rukh', Tapu Javeri said "'Dou Rukh', conceived over large frothy mugs of coffee with my colleague Arif Mahmood and achieved with the help of more caffeine through its shoots. This concept has lingered in our minds since the 1990's. A great portrait is determined by how much of the photographer is expressed in the subject. 'Dou Rukh' enabled Arif and me to show how differently we envision our subjects and hence the world. Even the layout of the book emphasizes how individualistic we are as photographers."
"Photographers and photography is celebrated for its ability to capture that 'decisive moment'. The fact that it presents a very specific space and time is what makes it a challenge for the photographer and, so intriguing for the onlooker. In this book, both photographers have captured what they have individually interpreted as reality, in each subject.  Some of their respective images  are absurdly opposed to one another. Hence two perspectives,  'Dou Rukh'", quoting Kiran Aman, the entrepreneurial publisher behind Markings.
"Dou Rukh" is being launched at Indus Valley School of Art and Architecture in Karachi on Friday, 30th of September at 07:00 PM. "Dou Rukh" will be available to purchase for PKR 2,000 at Liberty Books and Photo Space Gallery in Karachi.