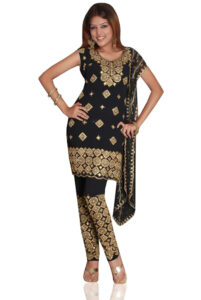 Every latest trend that emerges in the field of fashion usually brings an essence from past tradition. It not only forms a connection between modernity and culture but it also enhances their appeal for the people through their exotic and breath taking combinations. The major spin from Q-lots of 60's and 70's to lavish chooridaar of Mughal era is certainly one of the most warmly greeted trends. You do not have to go to your tailor with a fashion magazine to make him understand the kind of pajama you want. Moreover you do not have to risk your preliminary one/two suits to get your third one better stitched. Chooridaar is an all time favorite. Chooridaar is the amalgamation of style and subtlety. No other trend can make you look so magnificently feminine like chooridaar do.
Chooridaar do not restrict you to wear any particular kind of shirt but it can be wore with straight shirt, Anarkali frock, Angrakha but nowadays, open shirt and chooridaar is considered the best combination. It's not only classy but traditional as well. Whether it is long flowing frocks or open shirts, chooridaar does remind us of royal princesses and luxurious aesthetics of Mughal era.
The impression of chooridaar being a formal wear has altered now. Chooridaar is equally appropriate for both casual and formal wear. Infact, in casual wear it makes you look more elegant. White chooridaar with vibrant colored long shirts or frocks have made this summer very lively and multihued. Undoubtedly, Chooridaar has rejuvenated the elegance and sophistication that women were losing in Q-lots and trousers.
Obviously khussas and kolha puri with chooridaar is a marvelous combination but the best thing about chooridaar is that it gives you freedom to wear any type of shoes from stilettos to flats. Its magnificence makes anything look fascinating.  This turn towards eastern culture is not strict and stringent. Infact chooridaar has proven that eastern culture has the propensity to blend with modernity.