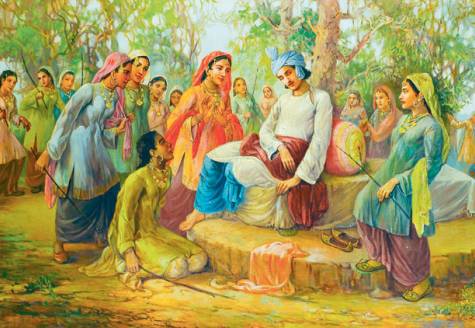 In the suburbs on a hot summer day, you're fascinated by the much admirable truck art that endorses our gigantic carriers. As you further probe through the hearts of Punjab, through the plains of Sindh and across the rough terrain of the Balochs and the Pathans, you may be smart enough to find them as synonymous to the outfits and the lifestyles of the people who live there. Such is the beauty of art and culture and how they peacefully coexist.
Pakistan is a land of rich cultural values and heritage that dates centuries back. And as we take a stroll down the path of art and culture we can very clearly find them to be intertwined.
Pakistani art has a strong affinity for the Mughal painters. Much of our architecture, calligraphy and forms of paintings, especially miniature paintings take origin from their influence.  Although with the intervention of modernization we can see how contemporary forms of art are gradually taking over, the Mughal influence that has been inherited is hard to undermine. As art and culture are two components of one object, tradition plays a similar effect of our culture as it does on art. The traditional music instruments that have a great association with folk and Sufi music are those which have modified versions to compete with various genres.
Art and culture are also brought into the limelight as supplements of tradition as all local weddings, and celebrations, irrespective of religion or race are celebrated in a much colorful and similar manner.
The delicacies which our part of the world is much known for is also another form of art associated to our culture. The agglomerate of art and culture in our every day cuisine is exemplified by the extravagant richness of flavor and aroma consequential to the wide array of spices which are found locally.
The art of culture is one that has great finesse and holds sacred sentimental values to the land of its origin and is incorporated in its people's souls. We are indeed bequeathed with traditions that have weaved a splendid tapestry of art and culture.