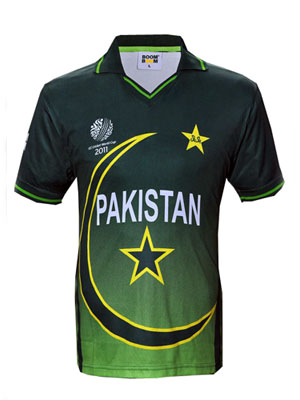 The much awaited Cricket World Cup season is here and people have literally betted their lives for the love and support of their favorite teams.
Currently, it has been witnessed that the world cup t-shirt craze is not just found amongst the die-hard fans of cricket but other people are also in search of grabbing the team shirts to be in fashion. The world cup t-shirt craze has become the hottest fashion at the moment especially in the countries who are taking part in the cricket World Cup 2011.The world cup t-shirt craze is equal in girls and boys. Painting faces with the flags, teaming up the t-shirts with matching sneakers, getting a streak of hair colored to match the t-shirt color and much more is the most popular thing on the fashion scene. The world cup t-shirt craze has gone so high in people that a few people in India and Pakistan have attended their bachelor and bachelorette parties before their wedding in world cup t-shirts.
Currently, The cricket team t-shirt of Pakistan is getting most of the applauses by the people. The wonderfully designed crescent and star on it has grabbed a lot of attention. The wonderful selection of the shades of green mixed with a tinge of fresh yellow has surely made the world up t-shirt craze for Pakistan's team shirt worth it. In Pakistan, a shortage of these t-shirts has risen due to the extreme world cup t-shirt craze. As these cricket t-shirts are a bit costly if they are bought original, therefore, the imitations of these t-shirts are also being sold heavily and they are not very different from the original ones.
Initially, the price of Cricket world cup t-shirt of Pakistan was Rs. 1250 but now it is available for Rs. 700-750 and the imitations cost around Rs. 500-550. Moreover, as the world cup t-shirt craze is at peaks, the price also varies if people want to get these personalized with their own names and specific numbers at the back.
Interestingly, the world cup t-shirt craze is being seen virtually and on the internet too. Special graffiti and personalizing pictures' websites have come up with these special photos of cricket world cup t-shirts for all those who are going through a world cup t-shirt craze phase. People get their names written on these pictures and use these pictures as their display pictures on social networking websites like Facebook, Orkut etc.
Moreover, many popular bakeries and confectionery shops are also making cakes in shape and colors of cricket world cup t-shirts in order to meet up the world cup t-shirt craze these days. These cakes are easily available and are also being done on made to order basis.
Hence, the world cup t-shirt craze has completely taken over the people these days. It would be certainly weird and strange if you don't become a part of this high fever for cricket. Like it or not, cricket World Cup 2011 is indeed the "in" thing right now in this spring season of 2011.