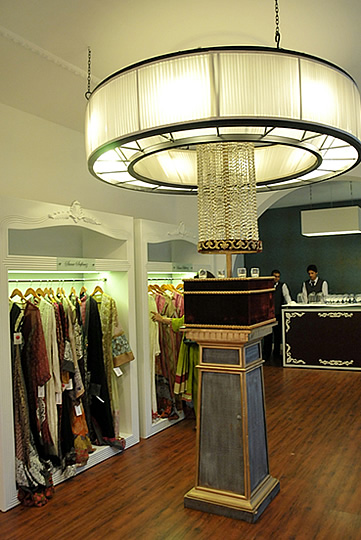 L'atelier (pronounced la-tell-lee-yay), is Islamabad's premier multi-label boutique. Launched in 2010, it came as a much anticipated high end fashion address to the capital's increasingly style focussed clientele. Entrepreneurs Ahsan, Sadaf, Sarah and Zahra Raza, wanted to create an ambiance of luxury and indulgence premised on French interiors and design. L'atelier's motto is to provide a personalised service, exhibit the highest level of professionalism and provide access to fashion suiting every budget and every occasion. Taken together their vision is to provide an altogether superior retail experience.
L'atelier focuses on presenting women with a versatile range of trendy ready to wear options, from everyday wardrobe choices to ensembles more suited to formal occasions. To complement the clothes L'atelier also provides a selection of jewellery, shoes, bags and clutches to accessorise and complete the outfit. The boutique stocks over 40 designers from across the country and beyond. Many of these have been introduced to Islamabad for the first time. The selection includes a rich cross section of design labels ranging from the most renowned houses of fashion to coveted upcoming labels.
Designers currently stocking at L'atelier include: Sana Safinaz, HSY, Kavita Bhartia, TIA by the House of Kamiar Rokni, Body Focus Museum, Anju Modhi, Nomi Ansari, Nickie Nina, Maria B, Sadaf Malaterre, Zara Shahjahan, Maheen Karim, Mahin Hussain, Mehdi, Zarmina, Saai, Fahad Hussayn, Nayna, Divya Chugh, BNS by Bina Sultan, Ruby Shakel, Mahin & Erum, Zahra Habib, Sarah Raza, Jannat & Sadaf, Studio 99, Pashmina, 11/27, Lal Earth, Nazrah Lodhi, Umbereen Sharmeen, Roma Narsighani, Ambreen Ansari, Sonar, Mayhem, Sharmeen and Nazia, Adeela and Fizah, Labels, Le'sac, Ensemble, Aisha Khurram, Maria Khan and Nadias.
L'atelier thus sources a diversity of design aesthetics from Islamabad, Faislabad, Lahore, Karachi and even Delhi, at a range of price points starting from as little as Rs. 1,000, to deliver their brand philosophy of providing a one stop shop for every woman's every fashion need.
In addition to their acclaimed prêt a porter variety, L'atelier also houses an exclusive bridal salon.   Bridal wear is available off the rack and through an appointment based ordering facility with designers Sana Safinaz, Zara Shahjahan, HSY, Mehdi, Ruby Shakel and Sarah Raza.  The multi label boutique also provides a space for designers to hold exclusive exhibitions and trunk shows.  Finally, in keeping with its pledge to ensure client satisfaction and superior service, L'atelier offers an efficient alteration service and free personal shopping facilities for international clients who can rely on boutique staff to source a complete wardrobe.
The partners of L'atelier strongly believe in social responsibility and sustainable growth as an integral part of their business and have thus committed to dedicating a percentage of profits to worthy causes every year.
Consistently innovating, L'atelier plans to expand by opening a lifestyle café to better look after its loyal clientele. Also soon to be stocking at L'atelier are fashion labels Shehla Chatoor, Hina and Shiza, Sara Rohail Asghar and Fauzia and Rida.