Luscious Cosmetics introduces a range of affordable delightfully well-priced diamond finish nail colour, a brand new ultra-shine lip gloss range, Incredible Lash Mascara, and a Deluxe Brush Set!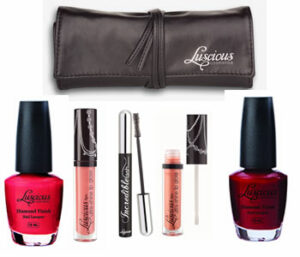 Luscious Diamond Finish Nail Lacquer
Luscious Cosmetics introduces its brand new range of nail colour in 16 irresistible shades that include the hottest colours seen on international catwalks for the season. The formula is free from formaldehyde, DBP and Toluene which are common toxic ingredients present in many nail polish brands and can have serious harmful effects. The high gloss, quick dry formula is perfect to drench your fingertips in unstoppable colour!
Ultra-shine Lip Gloss
Turn on the shine with Luscious Ultra-shine lip gloss in an array of gorgeous super-shiny shades that add a glistening, glassy, splash of colour with a delicious fruity scent. It coats lips with a shot of ultra-glam that goes on smooth and fast with a silky brush applicator, keeping you in perfect control. Protects and nourishes your lips with the powerful antioxidant  trio of  vitamin A, C and E.
Incredible Lash Mascara
Luscious Incredible Lash Mascara provides volume, length and curl for the longest, fullest lashes. The waterproof, all-in-one formula contains conditioning and strengthening ingredients for beautiful, Luscious lashes. The special brush spirals around each lash to lift, curl, and define for a perfect application and intense velvety finish. Hypoallergenic and suitable for sensitive eyes. Get ready for lashes with a little more oomph and a lot more glamour.
12 piece Deluxe Brush Set
A deluxe, twelve-piece brush collection for the diva who's got to have it all. This brush set includes 12 luxury brushes for creating a professional, polished makeup application and includes a face powder brush, a foundation brush, a lip brush, a brow brush, two different eyeliner brushes, and six eye shadow brushes. These high quality brushes have sleek handles and top quality synthetic Taklon hairs in keeping with the cruelty free policy of Luscious Cosmetics. This set comes with its own glamorous faux leather carrying case.
The cosmetics line already includes a line of pressed powders, a whitening base, a range of foundation, lipsticks, lip glosses, eye shadows, and blush and includes an acclaimed mascara and Catwalk eyeliner.
Go Get Luscious! Celebrate Your Beauty!