Mehndi outfits are not only a fashion choice but also carry cultural significance. Especially if you live in the UK, these garments allow you to enjoy your festive events while preserving your cultural identity. However, wearing a trendy Mehndi dress can boost your confidence even more. Fortunately, with the rise of online shopping, exploring Pakistani suits has become more convenient.
But with so many unique options, sometimes women get overwhelmed when selecting one for a special day. In this article, we will showcase some trendy dresses that are easily available online and some renowned Pakistani brands that offer shipping services in the UK.
Mehndi suits in the UK
There is a variety of Pakistani suits that best fit for a pre-wedding ceremony, the Mehndi. Some popular choices for 2023 among women in the UK include:
Lehenga frock
Sharara kurti
Gharara sets
Anarkali dresses
Maxi
Salwar kameez
Angrakha-style frocks
Apart from these ensembles, here are some elegant ever-green attires that can be worn on almost every occasion.
Green-colored Net Maxi embellished with Zardozi work.
Green is a highly symbolic color associated with Mehndi ceremonies. A green-colored net maxi is sure to capture attention at any event. The traditional Zardozi technique adds a touch of elegance to this garment. In addition to that, the shimmering effect created by these metallic threads creates a visually captivating look. Furthermore, the intricate beadwork and sequins enhance the overall beauty and texture of the design.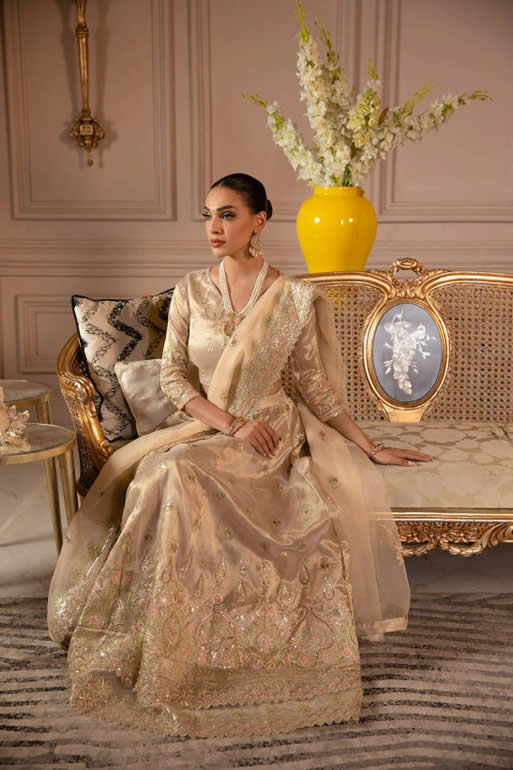 Besides this, it is a dress best suited for all age groups. Whether you are a bride or a mother of a bride, the intricate details and rich color of this mehndi suit can enhance your overall appearance. If you have a pear-shaped body, this outfit can help you draw attention to the upper body and balance the proportions. Also, it perfectly adds curves and dimension to a rectangular body shape.
Organza Parrot Green & Orange Gharara with a shirt
It is another popular mehndi dress that combines vibrant colors and intricate embellishments. The parrot green and orange color combination exudes joy, energy, and celebration. Moreover, it pairs well with traditional Mehndi decor elements, such as colorful floral arrangements and vibrant drapes.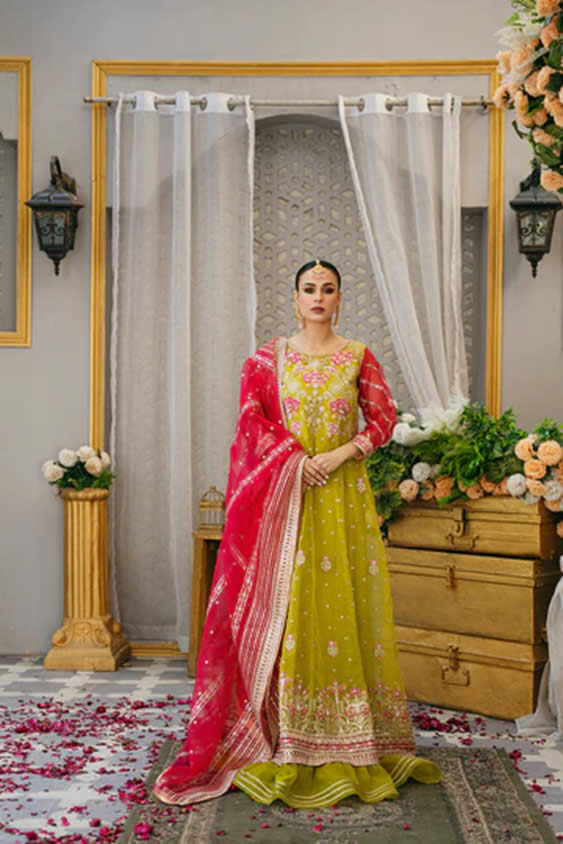 If you choose golden Shabnam detailing on the shirt, it will further add a touch of glamor. In comparison, Shabnam refers to delicate and intricate sequin or beadwork that creates a glittering effect. Similarly, the golden embellishments catch the light, adding a radiant glow to the outfit.
The Gharara, having a flared silhouette, also suits various body shapes. Ladies with warm undertones are recommended to choose this beautiful outfit as it can help to bring out their natural glow. However, with its vibrant colors, this ensemble can also suit individuals with neutral or cool undertones.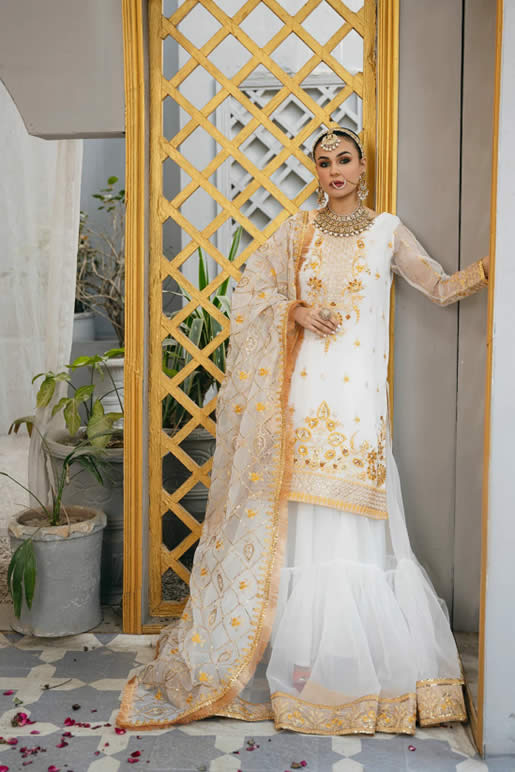 Multi-colored lehenga frock
This fusion creates a graceful and regal look. The combination of vibrant hues like pink, orange, yellow, green, and blue is commonly present in this Mehndi outfit in the UK. Furthermore, the embellishments of kora, dabka, and Mukesh work enhance the beauty of the ensemble. Whereas Kora's work involves intricate thread embroidery, Dabka's work features heavy embroidery using metallic threads. However, dedication and craftsmanship are required for all these embellishments.
That is why it is essential to buy from well-known online Platforms that understand the essence of Pakistani clothing.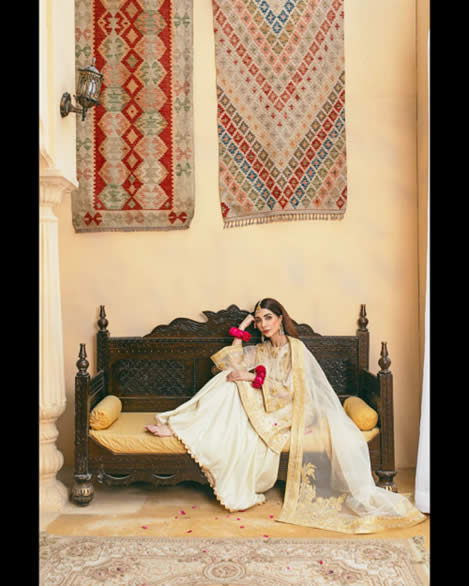 Popular Online Platforms for Pakistani Clothing in the UK
No doubt, finding the perfect Mehndi dress in the UK can be an exciting yet challenging task. Fortunately, several renowned platforms are serving the opportunity of shopping online. For example:
These brands have proved their online presence in the UK. Their dresses feature handcrafted ensembles with exquisite detailing, such as zardozi, gota, and mirror work. Also, they provide budget-friendly options without compromising on quality and style.
Conclusion
One of the most exciting aspects of preparing for a Mehndi occasion is choosing the perfect dress code. Various online platforms now offer a wide range of options that combine traditional elegance with a modern flair. You can embrace vibrant colors, intricate embroidery, fusion silhouettes, and luxurious fabrics via these brands while living in the UK. Browse their websites to find the perfect outfit that reflects your style and captures the essence of this joyous celebration.