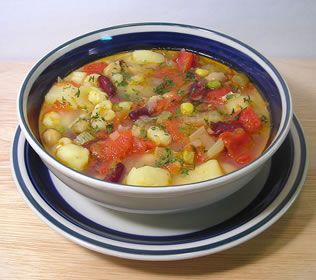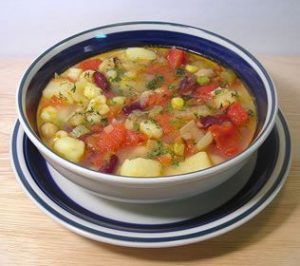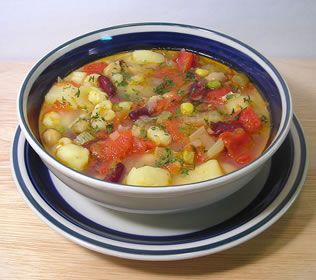 This delicious VEGETABLE BEAN SOUP is a low fat soup having healthy vegetables and tasty beans...
Ingredients
Dried navy beans: 1 pound
Water: 8 cups
Dried basil: 2 teaspoons
Salt: 1 1/2 teaspoons
Dried marjoram: 1 teaspoon
Pepper: 1/4 teaspoon
Chopped onion: 2 cups
Sliced zucchini: 2 cups
Chopped celery: 1 cup
Chopped red bell pepper: 1 cup
Sliced carrot: 1 cup
Garlic cloves, minced: 6
Tomato paste: 1 (6-ounce) can
Grated fresh Romano cheese: 1/3 cup
Directions
Firstly, sort the beans, wash them and then place in a large Dutch oven. Now, cover the beans with water to 2 inches and bring to a boil. Then cook for 2 minutes. Remove from the oven; cover and let it cool down for 60 minutes. Now drain beans and put back into the pan.
Add 8 cups water and next 5 ingredients (water through pepper) and bring to a boil. Cover, reduce heat, and simmer 1 1/2 hours. Add onion and next 5 ingredients (onion through garlic); simmer, uncovered, 50 minutes or until vegetables are tender. Add tomato paste. stir it well; cook for more 10 minutes. Your delicious vegetable beans soup is ready.