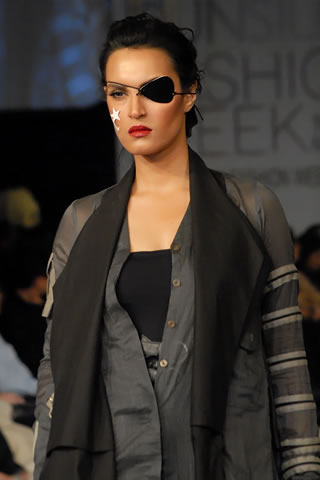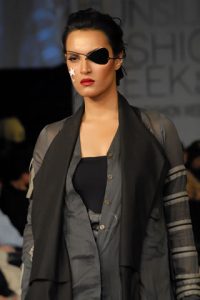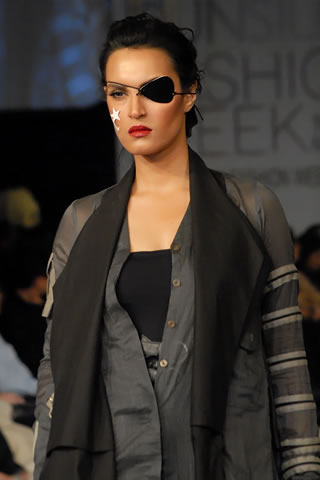 'TEEJAYS' womenswear and menswear collection for Fashion Week, entitled "TEEJAYS EVOLUTION", which was inspired by the forty years of fashion showcased at PFDC Fashion Week Karachi.
Act 1's second show belonged to '
TEEJAYS
' womenswear and menswear collection for Fashion Week, entitled "
TEEJAYS EVOLUTION
", which was inspired by the forty years of fashion, from 1970 to 2010, at TEEJAYS - from the bohemian 70s, to the creation of military awami at
TEEJAYS
in the 80s and 90s and then into the 2000s where vintage was brought in with a twist, and recently, with the space age. The fabric used was mainly cotton with a hint of leather used as lowers and trimmings. Beginning with the 70s theme, the show was more flowy at the start leading into a structured look with details and finally, ending with a defined structure silhouette this brand also presented their colledtion for
charity show
called "
Fashion Gives Back
" in which the
Fashion Week
and other designers participated featuring live music from the famous band "
Fuzon
". Talking about her collection for the
Fashion Week
the designer said "Style makes man, man makes revolutionary fashion. The collection states the evolution of Teejay's revolution."
TEEJAYS
was started in 1970 as a movement by
Tanvir Jamshed
in order to create affordable fashion for all - to break down the trend of obvious disparity in the way the nation dressed.
Feeha Jamshed
joined her father Tanvir's movement and while her signature is similar to the
TEEJAYS
brand aesthetic, it is distinct in that she emphasises specifically on the cut, simplicity and the style of her designs.
TEEJAYS
has in the past been a recipient of the prestigious
Lux Style Award
and the Indus Style Award for Lifetime Achievement.
Tanvir Jamshed
was awarded the
Sitar-i-Imtiaz
, the highest civilian award in Pakistan, owing to his contribution to fashion thus making him the only fashion designer or label to have ever received such an honour.
At the debut
PFDC Sunsilk Fashion Week
in February 2010,
fashion designer Feeha Jamshed
showcased a Prêt-à-porter collection for her brand TEEJAYS, entitled 'Diamond City'. The collection focused on womenswear along with pieces for men, inspired by Lahore, which the designer has interpreted as a city that is indeed a 'diamond' in every sense: culturally, historically, physiologically and politically. In this ode to Lahore, Feeha Jamshed's emphasis lay in the cuts and cotton fabric, Pakistan's national export.